Abu Dhabi Skyline, United Arab Emirates by Nick Fewings on Unsplash.
Travel Notes: Middle East: United Arab Emirates - Abu Dhabi Travel Notes.
Short URL: https://tnot.es/AUH
Abu Dhabi Travel and Tourism on Travel Notes
Find Abu Dhabi Travel and Tourist Information with links to official travel and tourism websites and state resources for visitors to Abu Dhabi.
About Abu Dhabi
Abu Dhabi is a popular tourist destination with many attractions and activities. Visitors can enjoy desert safaris, water sports, and cultural experiences
Some popular places to visit in Abu Dhabi include the Sheikh Zayed Grand Mosque, Emirates Palace Hotel, the Corniche, and the Louvre Abu Dhabi.
Map of Abu Dhabi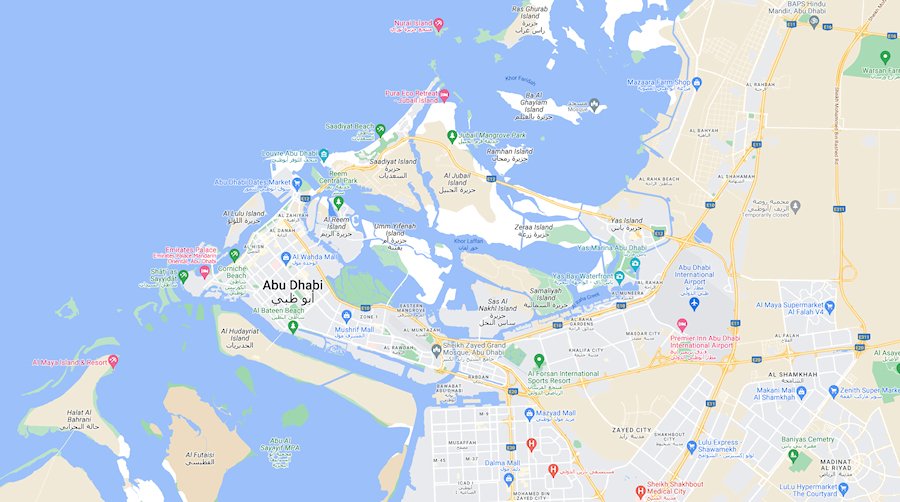 Abu Dhabi is the largest and most populous of the seven Emirates, and was made the federal capital of the newly formed United Arab Emirates, in 1971.
Human society started settling in Abu Dhabi in the late 1760s, when the Bani Yas tribe discovered water and built a fort to protect the resource.
From what was just a pearl and fishing village, the later discovery of black liquid to fuel motor engines has seen Abu Dhabi expand into a sprawling capital; making it one of the most modern cities and business centres in the Arab world.
Old Abu Dhabi
The oldest part of Abu Dhabi is the Bateen area, where traditional fishing dhows still deliver their daily catch of prawns and other seafood, just like the old days, from the fishing grounds around the Arabian Gulf.
Unchanged for years, the Bateen Shipyard is worth a visit to see the boat builders continue their ancient crafts in a traditional atmosphere.
Visiting Al Ain
Located about 160km east of Abu Dhabi, Al Ain is an oasis city and the second largest in the emirate of Abu Dhabi.
Many visitors to the Emirates still prefer the elegant beach hotels in Dubai but then that makes Abu Dhabi all the more interesting.
Abu Dhabi Attractions
Be sure to visit Qasr al-Hosn, built on the site of the original water well.
Also known as the White Fort, the oldest historical building in Abu Dhabi has been restored several times and adjoins the Abu Dhabi Cultural Foundation.
Abu Dhabi's Corniche
The 4-mile long Corniche is a landscaped, seafront boulevard and the main thoroughfare of Abu Dhabi. The massive Blue Mosque is also located here.
Department of Culture and Tourism
The Department of Culture and Tourism is responsible for promoting and developing the tourism sector in Abu Dhabi.
Lulu Island
Located off the Corniche, work began in 1988 to transform this man-made island into Abu Dhabi's superlative holiday resort area; a recreational paradise with hotels, restaurants, gardens, bird and animal sanctuaries and of course, fun-parks for the children. If the children enjoy themselves today, they might come back to Abu Dhabi as high-spending adults in the future.
Where to Stay in Abu Dhabi
Emirates Travel Guides - Emirates Maps.
Travel Notes Online Guide to Travel
Africa - Asia - Caribbean - Europe - Middle East - North America - Oceania - South America.

The Travel Notes Online Guide to Travel helps visitors plan their trip with country and city travel guides, local tourist information, reviewed web sites, and regular travel articles.
Travel and Tourism Guides on Travel Notes
If Travel Notes has helped you, please take a moment to like us on Facebook and share with your friends on social media.


Travel & Tourism With Industry Professionals.
West Bank.