Cuba by Alexander Kunze on Unsplash.
Travel Notes: Latin America - Caribbean - Cuba Travel Notes.

Short URL: https://tnot.es/CU
Cuba Travel and Tourism on Travel Notes
Find Cuba Travel and Tourist Information with links to official travel and tourism websites and state resources for visitors to Cuba.
About Cuba
Cuba is a beautiful Caribbean island, with a rich history and culture, stunning landscapes, and beautiful beaches.
Visitors to Cuba can explore the historic cities of Havana and Trinidad, hike in the Sierra Maestra, or relax on the beaches of Varadero and Cayo Largo.
Map of Cuba
The Republic of Cuba, derived from its aboriginal name of Cubanascnan, lies just south of Florida and is the largest island in the Caribbean.
Christopher Columbus landed on Cuba during his first voyage (October 28, 1492) and originally called the island Juana.
Cuba is an island country located in the Caribbean Sea, south of the United States and east of Mexico.
It is the largest island in the Caribbean and has a population of approximately 11 million people.
The capital city is Havana.
Complex History
Cuba has a complex history, having been a Spanish colony until the late 19th century, followed by US occupation and influence during the early 20th century.
In 1959, a socialist revolution led by Fidel Castro and his allies overthrew the US-backed government and established a socialist state.
The Cuban government has been led by the Communist Party of Cuba since then, with Raul Castro succeeding his brother Fidel as president in 2008 and serving until 2018.
Culture
Cuba is known for its vibrant culture, including music, dance, art, and literature.
Economy
Cuba has a mixed economy, with the state controlling much of the means of production and distribution while allowing for some private enterprise.
The government provides universal healthcare, education, and housing to its citizens, but the country also faces economic challenges such as a lack of foreign investment and a reliance on imports.
Exports
Cuba is well-know for its cigars, which are among the most sought-after in the world.
Tourism is an important industry for Cuba, with visitors coming to see its beautiful beaches, colonial architecture, and historic landmarks such as the old town of Havana and the Bay of Pigs.
Visiting Cuba
When planning a trip to Cuba, you should also consider your accommodations, transportation, and activities.
There are many hotels, resorts, and guesthouses in Cuba, and you can also rent a car or use public transportation to get around.
You may want to consider hiring a local guide for insights into the country's history, culture, and daily life.
Enty Requirements
If you plan to visit Cuba, you will need to obtain a visa.
There are several types of visas available, including tourist visas, business visas, and cultural exchange visas.
You can obtain a visa by contacting the Cuban embassy or consulate in your country.
Language
Spanish is the official language of Cuba.
While English is spoken in tourist areas, it's a good idea to learn a few basic Spanish phrases before your trip.
Pesos
Cuba has two currencies - the Cuban Peso (CUP) and the Cuban Convertible Peso (CUC).
Tourists usually use the CUC, which is pegged to the US dollar.
Popular Activities in Cuba
Some popular activities in Cuba include visiting the historic cities of Havana and Trinidad, exploring the beaches of Varadero, and hiking in the mountains of the Sierra Maestra.
You may also want to try some of the local cuisine, such as ropa vieja, moros y cristianos, and flan.
You can also soak up the local culture by taking a salsa dancing or cooking class, or by attending a live music performance.
Safety
Cuba is generally a safe country, but like any other destination, you should take precautions to ensure your safety.
Avoid carrying large amounts of cash, keep an eye on your belongings, and be aware of your surroundings.
Some Challenges
Keep in mind that Cuba is a developing country, and while it has many attractions for visitors, it also has some challenges.
The infrastructure may not be as modern as you are used to, and some areas may be more difficult to navigate than others.
However, if you are willing to embrace the culture and the spirit of adventure, Cuba can be a fascinating and rewarding travel destination.
Tourist Attractions in Cuba
Cuba has a lot to offer visitors, from historic cities like Havana and Trinidad to beautiful beaches in Varadero and Cayo Coco.
You can also visit museums, art galleries, and enjoy the local music and dance scene.
You can explore Cuba's fascinating history by visiting landmarks such as the Museum of the Revolution or the Che Guevara Mausoleum.Be prepared to queue for an ice-cream.
Transportation
The most popular mode of transportation in Cuba is the classic cars that have become a symbol of the country.
Taxis, buses, and rental cars are also available.
Where to Stay in Cuba
Cuba has a variety of accommodation options ranging from budget hostels to luxury hotels.
You can also consider staying in a Casa Particular, which is a private room or apartment rented out by locals.
Havana, the capital of Cuba, is the largest city in the West Indies.
Map of Havana, Cuba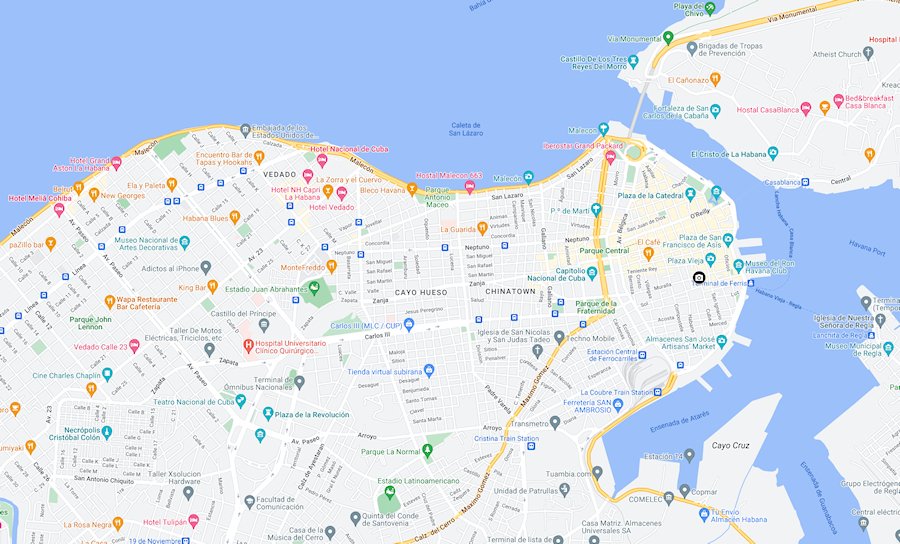 In the 1500's the Spanish used Cuba as a supply base for expeditions into Mexico and Florida, and subsequently fortified Havana to keep pirates away from their booty.
On the northern coast of the island, the port of Havana is situated on one of the safest harbours in the world; less than 100 miles from Key West.
Havana's 16th-century Fort Morro is in good condition and affords a wonderful view of the city.
Although there are many shortages in Havana, due to the US trade embargo, it's still one of the most interesting places to visit in Latin America.
Another old fortress, that was built to protect the Havana approach, is Castillo de la Punta; on the western side of the strait.
The old city, with its narrow, crooked streets, and historic landmarks is near the inner entrance to the harbour. You can even have a drink in Ernest Hemmingway's favourite bar; if you don't mind sitting shoulder to shoulder with tour groups in straw hats.
The Cathedral of the Immaculate Conception dates from 1656. You should also visit the former palace of the colonial governors; now the City Hall. It was completed in 1792 and is an excellent example of Spanish colonial architecture.
The city post office dates from 1575 and was once the Church of San Francisco.
The main boulevard is the Paseo de Marti, or Prado, while the Avenida del Puerto extends along the edge of the bay, for cooling breezes on a humid evening.
Cuba Tourism News from Granma International, the official newspaper of the Cuban Communist Party.
Travel to Cuba
If you're travelling in Mexico, one of the best ways to visit Cuba is to fly in from Merida.
Where to Stay in Cuba
By staying in private accommodation (casa particulares) you help the Cuban people; get a real feel for Cuba and its culture; make friends with locals; improve your Spanish; and save money.
Cheap Hotels and Hostels in Cuba:
Budget accommodation in Cuba.
Situated in the south-east of the island, Santiago de Cuba was founded by Diego Velazquez in 1514.
During the Spanish- American War, in July 1898, the US occupied Santiago and eventually forced Spain to relinquish control of Cuba, Puerto Rico, and Guam.
As a result of the war, the US emerged as a major power with foreign interests, and Spain concentrated more on affairs at home.
The Revolution
The first uprising against Batista occurred on July 26, 1953, when forces loyal to a young lawyer named Fidel Castro attempted an attack on the Moncada army barracks in Santiago.
The uprising was crushed, but in the late 1950's Fidel formed the July 26th movement and slowly gathered the support needed to overthrow the increasingly unpopular Batista.
Carnival in Cuba is celebrated in July, to commemorate the Revolution.
Through an agreement signed with Cuba in 1903, the United States obtained the right to maintain a naval base at Guantanamo Bay, in south-eastern Cuba; Bahia de Guantanamo in Spanish.
The sheltered harbour's strategic position near the Windward Passage, between Cuba and Haiti, enables the US to keep an eye on shipping between the United States and the Panama Canal.
Cuba Travel Guides - Cuba Maps.
Weather in the Caribbean:
Local weather forecasts for destinations around the Caribbean region.
Travel Notes Online Guide to Travel
Africa - Asia - Caribbean - Europe - Middle East - North America - Oceania - South America.

The Travel Notes Online Guide to Travel helps visitors plan their trip with country and city travel guides, local tourist information, reviewed web sites, and regular travel articles.
Travel and Tourism Guides on Travel Notes
If Travel Notes has helped you, please take a moment to like us on Facebook and share with your friends on social media.


Travel & Tourism With Industry Professionals.
Curacao.