Short URL: https://tnot.es/HT
Haiti occupies the western third of the island of Hispaniola.
Quick Links
Haiti Travel and Tourist Information with links to official travel and tourism websites and state resources for visitors to Haiti.
Cap-Haitien, Gonaives, Haiti Travel Guides, Hispaniola, Les Cayes, Map of Haiti, Port-au-Prince, Voodoo.
Haiti consists of two peninsulas, separated by the Golfe de la Gonave.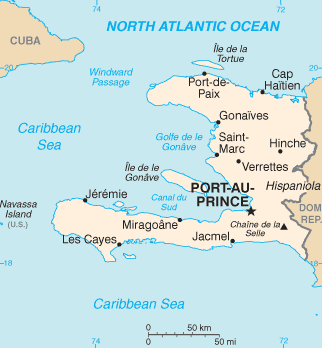 Gonave Island is the largest of Haiti's offshore islands and sits in the Gulf; sheltering the capital, Port-au-Prince.
Weather in the Caribbean:
Local weather forecasts for destinations around the Caribbean region.
Gonaives, on the coast in western Haiti, is where the declaration of independence was made in 1804.
Voodoo seems too complex a religion, or practice, to make any brief conclusion about. It was developed, I imagine, to give the bought people of Africa something that they could retreat into and call their own.
Perhaps these spirits that vacated the sun, moon, sea, earth, rivers and towns of Africa, could fill the body that they had no right to call their own; something that no white man could buy and sell, or take away.
Up to 30,000 Negroes a year were said to be arriving by the middle of the 18th century. For these people, chained to sweaty labours in the cane-fields, the idea of a spiritual freedom (coupled with fantasies of their homeland) took off faster than the rising price of sugar on the European markets.
The succeeding generations knew only of their homeland roots, the mystical words of others. The names of these rivers and towns took on mythical, almost theological, proportions.
How could these people relate to a white Christ, who 'died on a cross for them', when they suffered daily at the hands of European plantation owners.
I wondered how much of the voodoo today is little more than a show for the tourists?
Located in the south-west of Haiti, Les Cayes was used by the Venezuelan patriot, Simon Bolivar, while preparing to liberate the Spanish colonies in South America, in 1816.
Some fine 17th-century forts are among the historic buildings worth a visit.
Le Cap is in the north of Haiti, on the Bahia de Manzanillo.
During French rule, Cap-Haitien was known as Little Paris; the capital of their colony of Saint-Domingue for a while.
Self proclaimed King Henri Christophe, actually born in Grenada, made Cap-Haitien his capital; when he ruled northern Haiti from 1811 to 1820.
Before he suffered a stroke and shot himself, Christophe oversaw the construction of the Sans Souci Palace and the fortress of Citadelle Laferriere.
The capital of Haiti is situated between the country's two peninsulas, on the Golfe de la Gonave.
Founded by the French in 1749, Port-au-Prince served as the capital of the French colony of St-Domingue from 1770 to 1804.
Points of interest include the National Palace, the Basilica of Notre Dame, and the stone quay; built by the French in the 1780s.
Port-au-Prince is snugly positioned in a horseshoe bay, at the foot of surrounding hills. An island at the mouth of the bay protects the capital from intruding gales, but the wide, treeless main streets do little to shelter the people from the bright light and the tormenting heat of the midday sun.
Ebony pores glistened with sweat in the continual competition for space. Baskets on the floor were continually being pulled aside, or pitches picked up completely, for the through passage of huge, laden barrows, or motor vehicles that should have had no right of way.
Others looking for places to sell, balanced the goods on their heads and stepped through dirty puddles and piles of waste; flicking splash marks up tender calves.
A white face in their midst is a strange occurrence:
"Hey Blanc, where you go? You want something?"
All anybody could want is for a big, fluffy cloud to scud over from the neighbouring mountains, or a gust of wind to swirl around the doorkeeper, Gonave Island, and ventilate the stinky streets.
Haiti may be one of the poorest nations in the Western Hemisphere, but there is certainly colour and resourcefulness in the lives of the people. Rickety old pick-ups and little lorries have been colourfully transformed into public transport (tap-taps).
Just like people on a crowded street, these vehicles weave in and out: pulling in close to a crowd to pick up and drop off passengers, and pulling out just as swiftly, without ever seeming to collide.
Perhaps there are occasional scrapes, but on the whole, cars seemed in a better condition than in the neighbouring Dominican Republic.
Then there are the evangelical signs on the tap-taps, like those on Filipino jeepneys, praising Dieu and Don Jesus: Jesus Roi des Rois, and Dieu avant tous among the many variants on the theme.
Even in the poorer mountain regions, groups of children could be seen walking to school in clean uniforms. If they succeeded with an education then they were less likely to suffer from the splash stains and constant sweating from the labours of the market streets.
Sandy left his birthplace to study in the United States, and subsequently rose to prominence in the world of engineering.
As well as bearing him three children, his wife also succeeded in business management.
From New York, they moved nearer home to Miami, and twenty years after his initial departure, Sandy returned to his birthplace with his young family.
"I have seen it all," he said, "What more can I do but return home?"
But he would always be grateful for his start in life, and now he was pleased to see a world-wide crackdown on the evil drug trade that threatened to ruin so many young lives.
"If you have the will, you can do anything. At college in the States, not once did I even smoke a cigarette," he offered; condemning those who are so easily swayed by others.
Sandy was into the third month of his six month leave of absence, and if things worked out with his little restaurant, and the political future seemed stable, he would stay.
"They have an American school here, but of course you have to pay! To have a chance today, it is important for my children to have that education," he shrugged. I was the only customer in the restaurant, and my bill would hardly pay for a satchel to carry the books.
The proud father would not have his son pushing a barrow three times his size, or his girls carrying their merchandise on their heads and squatting to trade in the dirt.
They would be the luckier ones, and if another unsavoury regime snapped upon them, he had his American passport and property in the States.
His heart was in Haiti, and even though he was tentatively testing the shark infested waters with his big toe, the undercurrent of his birth would work strongly to keep him.
However, education had taught him caution, and I wished Sandy well.
Petionville
Petion-Ville is located in the cool hills above Port-au-Prince.
El Rancho:
The El Rancho was more like a palatial private estate than an hotel, it was once the home of Albert Silvera; a world-renowned collector of classic cars, who in 1950 decided to convert it into the most elegant resort in Haiti.
Hotel Villa Creole:
The Hotel Villa Creole continues a half century tradition of welcoming distinguished travellers to Haiti; with an international reputation for discreet service, impeccable accommodations and a friendly staff.
Located off Avenue John Brown - the road from Port au Prince to Petionville - most rooms at the Hotel Montana have a view of the city, mountains and bay.

Add a Business Listing - Add a Destination Guide - Add a Place to Stay.


If you find Travel Notes useful, please take a moment to like us on Facebook and share with your friends on social media.
Caribbean Index - Caribbean Tourism - Caribbean Travel Websites.