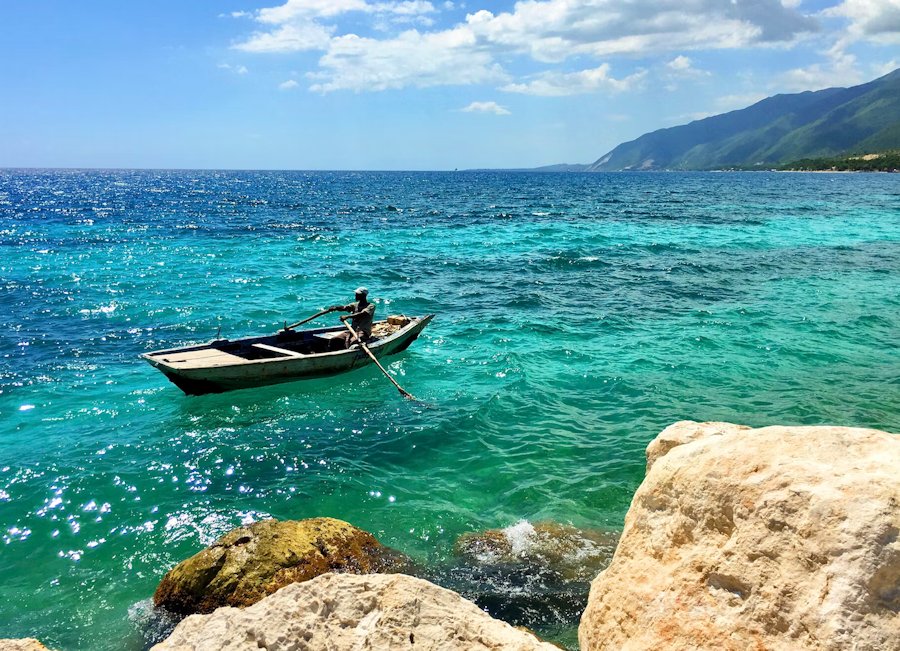 Wahoo Bay Beach, Carriès, Haiti by Tim Wildsmith on Unsplash.
Travel Notes: Latin America - Caribbean - Haiti Travel Notes - Updated 16 July, 2023.
Short URL: https://tnot.es/HT
Haiti Travel and Tourism on Travel Notes
Find Haiti Travel and Tourist Information with links to official travel and tourism websites and state resources for visitors to Haiti.
About Haiti
With a rich history and culture, beautiful beaches, and unique architecture, there are many things to see and do in Haiti.
However, there are also some safety concerns that travellers should be aware of.
Map of Haiti
Haiti consists of two peninsulas, separated by the Golfe de la Gonave.
The capital and largest city is Port-au-Prince.
Gonaives
Gonaives, on the coast in western Haiti, is where the declaration of independence was made in 1804.
Haiti, officially known as the Republic of Haiti, is a country located on the island of Hispaniola in the Caribbean Sea.
Haiti occupies the western third of Hispaniola and shares the island with the Dominican Republic, which borders it to the east.
Culture
Haitian culture is vibrant and diverse, influenced by its African roots and French colonial heritage.
It is expressed through music, dance, art, literature, and cuisine.
Compas, a popular genre of music, originated in Haiti and has gained international recognition.
Haitian art, characterized by bright colors and intricate designs, is highly regarded in the art world.
Economy
Haiti is classified as a low-income country with an economy heavily reliant on agriculture. The most important crops include coffee, mangoes, cocoa, and sugarcane.
Haiti has faced significant challenges in terms of poverty, inequality, and limited access to basic services.
The country has been working towards economic development, but progress has been slow due to political instability, natural disasters, and other factors.
Geography
Haiti covers an area of some 27,750 square kilometres.
Its terrain is characterized by rugged mountains, fertile valleys, and coastal plains.
The highest peak is Pic la Selle, reaching 2,680 meters above sea level.
Haiti is vulnerable to natural disasters, including hurricanes, earthquakes, and periodic flooding.
History
Haiti gained independence from France on 1st January, 1804, becoming the first independent nation in Latin America and the Caribbean, as well as the first Black-led republic in the world.
The country has a rich history and cultural heritage influenced by African, French, and indigenous Taíno cultures.
Political Challenges
Haiti faces numerous challenges, including political instability, corruption, poverty, inadequate infrastructure, and environmental issues.
The country has experienced recurring political crises, which have hindered economic growth and social development. The devastating earthquake in 2010 and subsequent hurricanes further strained the nation's resources and recovery efforts.
Population
Haiti is the most populous country in the Caribbean, with an estimated population of around 11 million people.
The majority of the population is of African descent, with Haitian Creole and French being the official languages.
The country is predominantly Catholic, but there is also a significant Protestant population and practitioners of Vodou, a syncretic religion.
Tourism
Despite its challenges, Haiti has potential as a tourist destination.
The country offers beautiful beaches, historic sites such as the Citadelle Laferrière and Sans-Souci Palace - both UNESCO World Heritage sites - and ecotourism opportunities in its national parks and natural reserves.
However, the tourism industry has been limited due to concerns over safety and infrastructure.
Visiting Haiti can be an enriching experience for adventurous travellers, offering a chance to explore its unique culture, historical sites, and natural beauty.
Highlights and Travel Tips for Visitors to Haiti
When planning your trip to Haiti, it's essential to stay informed about travel advisories, safety precautions, and current conditions in the country.
Be sure to check with your embassy or consulate for the latest travel information and consider travelling with a reputable tour operator who can provide guidance and assistance throughout your visit.
Bassin Bleu
Located in the Jacmel region, Bassin Bleu is a series of natural pools and waterfalls surrounded by lush vegetation.
The turquoise-coloured waters are perfect for swimming and cooling off in a serene setting.
Consider taking a guided hike to explore the area's natural beauty.
Cap-Haïtien
Visit Cap-Haïtien, Haiti's second-largest city, known for its French colonial architecture.
Explore the historic sites such as the Sans-Souci Palace, an UNESCO World Heritage site, and the nearby ruins of the Palace of Milot.
You can also relax on the nearby beaches of Labadie and Cormier.
Citadelle Laferrière
Located near the city of Cap-Haïtien, the Citadelle Laferrière is an UNESCO World Heritage site and a symbol of Haitian independence.
This fortress, built atop a mountain, offers breathtaking panoramic views of the surrounding landscape.
It's worth taking a guided tour to learn about its history and significance.
Jacmel
Known for its vibrant arts scene and picturesque colonial architecture, Jacmel is a coastal town with a laid-back atmosphere.
Explore the local art galleries, enjoy the beautiful beaches, and witness the lively carnival celebrations during the pre-Lenten season.
Labadee
If you're looking for a beach getaway, head to Labadee, a private resort leased by the Royal Caribbean International cruise line.
This idyllic spot offers stunning beaches, clear waters, and a range of water activities, including snorkelling, kayaking, and jet skiing.
National Parks and Nature Reserves
Haiti boasts several national parks and nature reserves that offer opportunities for ecotourism and outdoor activities.
Consider visiting Pic Macaya National Park, La Visite National Park, or the Parc National Historique - Citadelle, Sans-Souci, Ramiers, where you can explore diverse ecosystems, hike through scenic trails, and observe native wildlife.
Port-au-Prince
Start your journey in the capital city, Port-au-Prince.
Explore the vibrant local markets, such as the Iron Market (Marché en Fer), where you can find traditional handicrafts, artwork, and local cuisine.
Visit the Musée du Panthéon National Haïtien (MUPANAH) to learn about Haiti's history and cultural heritage.
Le Cap is in the north of Haiti, on the Bahia de Manzanillo.
During French rule, Cap-Haitien was known as Little Paris; the capital of their colony of Saint-Domingue for a while.
Self proclaimed King Henri Christophe, actually born in Grenada, made Cap-Haitien his capital; when he ruled northern Haiti from 1811 to 1820.
Before he suffered a stroke and shot himself, Christophe oversaw the construction of the Sans Souci Palace and the fortress of Citadelle Laferriere.
Located in the south-west of Haiti, Les Cayes was used by the Venezuelan patriot, Simon Bolivar, while preparing to liberate the Spanish colonies in South America, in 1816.
Some fine 17th-century forts are among the historic buildings worth a visit.
Gonave Island is the largest of Haiti's offshore islands and sits in the Gulf; sheltering the capital, Port-au-Prince.
The capital of Haiti is situated between the country's two peninsulas, on the Golfe de la Gonave.
Founded by the French in 1749, Port-au-Prince served as the capital of the French colony of St-Domingue from 1770 to 1804.
Points of interest include the National Palace, the Basilica of Notre Dame, and the stone quay; built by the French in the 1780s.
Map of Port-au-Prince
An Englishman in Port-au-Prince
Port-au-Prince is snugly positioned in a horseshoe bay, at the foot of surrounding hills. An island at the mouth of the bay protects the capital from intruding gales, but the wide, treeless main streets do little to shelter the people from the bright light and the tormenting heat of the midday sun.
Ebony pores glistened with sweat in the continual competition for space. Baskets on the floor were continually being pulled aside, or pitches picked up completely, for the through passage of huge, laden barrows, or motor vehicles that should have had no right of way.
Others looking for places to sell, balanced the goods on their heads and stepped through dirty puddles and piles of waste; flicking splash marks up tender calves.
A white face in their midst is a strange occurrence:
"Hey Blanc, where you go? You want something?"
All anybody could want is for a big, fluffy cloud to scud over from the neighbouring mountains, or a gust of wind to swirl around the doorkeeper, Gonave Island, and ventilate the stinky streets.
Haiti may be one of the poorest nations in the Western Hemisphere, but there is certainly colour and resourcefulness in the lives of the people. Rickety old pick-ups and little lorries have been colourfully transformed into public transport (tap-taps).
Just like people on a crowded street, these vehicles weave in and out: pulling in close to a crowd to pick up and drop off passengers, and pulling out just as swiftly, without ever seeming to collide.
Perhaps there are occasional scrapes, but on the whole, cars seemed in a better condition than in the neighbouring Dominican Republic.
Then there are the evangelical signs on the tap-taps, like those on Filipino jeepneys, praising Dieu and Don Jesus: Jesus Roi des Rois, and Dieu avant tous among the many variants on the theme.
Even in the poorer mountain regions, groups of children could be seen walking to school in clean uniforms. If they succeeded with an education then they were less likely to suffer from the splash stains and constant sweating from the labours of the market streets.
Sandy left his birthplace to study in the United States, and subsequently rose to prominence in the world of engineering.
As well as bearing him three children, his wife also succeeded in business management.
From New York, they moved nearer home to Miami, and twenty years after his initial departure, Sandy returned to his birthplace with his young family.
"I have seen it all," he said, "What more can I do but return home?"
But he would always be grateful for his start in life, and now he was pleased to see a world-wide crackdown on the evil drug trade that threatened to ruin so many young lives.
"If you have the will, you can do anything. At college in the States, not once did I even smoke a cigarette," he offered; condemning those who are so easily swayed by others.
Sandy was into the third month of his six month leave of absence, and if things worked out with his little restaurant, and the political future seemed stable, he would stay.
"They have an American school here, but of course you have to pay! To have a chance today, it is important for my children to have that education," he shrugged. I was the only customer in the restaurant, and my bill would hardly pay for a satchel to carry the books.
The proud father would not have his son pushing a barrow three times his size, or his girls carrying their merchandise on their heads and squatting to trade in the dirt.
They would be the luckier ones, and if another unsavoury regime snapped upon them, he had his American passport and property in the States.
His heart was in Haiti, and even though he was tentatively testing the shark infested waters with his big toe, the undercurrent of his birth would work strongly to keep him.
However, education had taught him caution, and I wished Sandy well.
Where to Stay in Petionville
Petion-Ville is located in the cool hills above Port-au-Prince.
Hotel Montana Haiti
Hotel Montana Haiti: Rue Frank Cardozo, Pétion-Ville, Haiti.
Located at the top of the hill, this 63-room hotel is framed by gardens and panoramic views of Pétion-Ville, Port-au-Prince Bay and the surrounding mountains.
Located off Avenue John Brown - the road from Port au Prince to Petionville - most rooms at the Hotel Montana Haiti have a view of the city, mountains and bay.
NH Haiti El Rancho
NH Haiti El Rancho: Rue Jose Marti 5, Petionville, Haiti.
More like a palatial private estate than an hotel, Albert Silvera decided to convert this place into the most elegant resort in Haiti back in 1950.
Seven kilometres from central Port-au-Prince, the El Rancho has an outdoor pool, next to which is a large terrace, known as the Piazza, dotted with palm trees. There's also a restaurant serving Haitian and international cuisine.
Voodoo seems too complex a religion, or practice, to make any brief conclusion about. It was developed, I imagine, to give the bought people of Africa something that they could retreat into and call their own.
Perhaps these spirits that vacated the sun, moon, sea, earth, rivers and towns of Africa, could fill the body that they had no right to call their own; something that no white man could buy and sell, or take away.
Up to 30,000 Negroes a year were said to be arriving by the middle of the 18th century. For these people, chained to sweaty labours in the cane-fields, the idea of a spiritual freedom (coupled with fantasies of their homeland) took off faster than the rising price of sugar on the European markets.
The succeeding generations knew only of their homeland roots, the mystical words of others. The names of these rivers and towns took on mythical, almost theological, proportions.
How could these people relate to a white Christ, who 'died on a cross for them', when they suffered daily at the hands of European plantation owners.
I wondered how much of the voodoo today is little more than a show for the tourists.
Haiti Travel Guides - Haiti Maps.
Weather in the Caribbean:
Local weather forecasts for destinations around the Caribbean region.
Travel Notes Online Guide to Travel
Africa - Asia - Caribbean - Europe - Middle East - North America - Oceania - South America.

The Travel Notes Online Guide to Travel helps visitors plan their trip with country and city travel guides, local tourist information, reviewed web sites, and regular travel articles.
Jamaica.
Travel and Tourism Guides on Travel Notes
If Travel Notes has helped you, please take a moment to like us on Facebook and share with your friends on social media.


Travel & Tourism With Industry Professionals.