Short URL: https://tnot.es/BB
Barbados Travel and Tourism Information on Travel Notes
Find Barbados Travel and Tourist Information with links to official travel and tourism websites and state resources for visitors to Barbados.
About Barbados
The island of Barbados was made an English Crown possession in 1663, although other explorers had probably landed on the island before.
Barbados entered the Commonwealth of Nations as an independent state in 1966.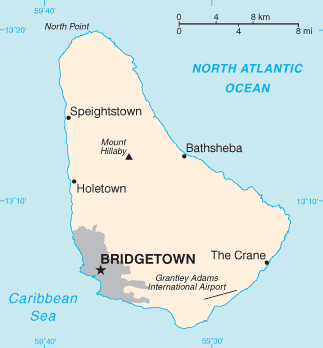 Thanks to tourism, Barbados no longer has to rely so heavily on the price of sugar and the export of rum - foreigners now fly in to drink it.
The capital of Barbados, founded by the English in 1628, is situated on Carlisle Bay; in the south-west of the island.
Like London, Bridgetown also has a Trafalgar Square, with its very own statue of Nelson.
Garrison Savannah, a former parade ground, is now host to international cricket matches and other sporting events.
Weather in the Caribbean:
Local weather forecasts for destinations around the Caribbean region.
Accommodation in Barbados
About Barbados:
Fun Barbados have put together an excellent presentation about the island.
Barbados Beaches:
Brief text sketches on the various beaches around Barbados. A map and a few photographs would have been a good idea.
Barbados' Best Secrets:
A collection of other people's comments about the island really. You can even add your secret.
Barbados Guide:
Comprehensive guide to Barbados with useful information to help you plan your Barbados vacation.
Getting Around Barbados
Airlines and Airports:
Grantley Adams International Airport is located at Seawell, in the south-east of the island.
Trans Island Air: (TRD)
Registered in Barbados, Trans Island Air 2000, familiarly known as TIA, is the largest charter carrier in the English speaking Caribbean. TIA also operates a shared charter service between Barbados and the Grenadines.
Glory Tours:
Offers a minimum of three must see paid attractions on most full day tours, Barbados' best scenic sights and a full meal including drinks.

Add a Business Listing - Add a Destination Guide - Add a Place to Stay.


If you find Travel Notes useful, please take a moment to like us on Facebook and share with your friends on social media.
Caribbean Index - Caribbean Tourism - Caribbean Travel Websites.