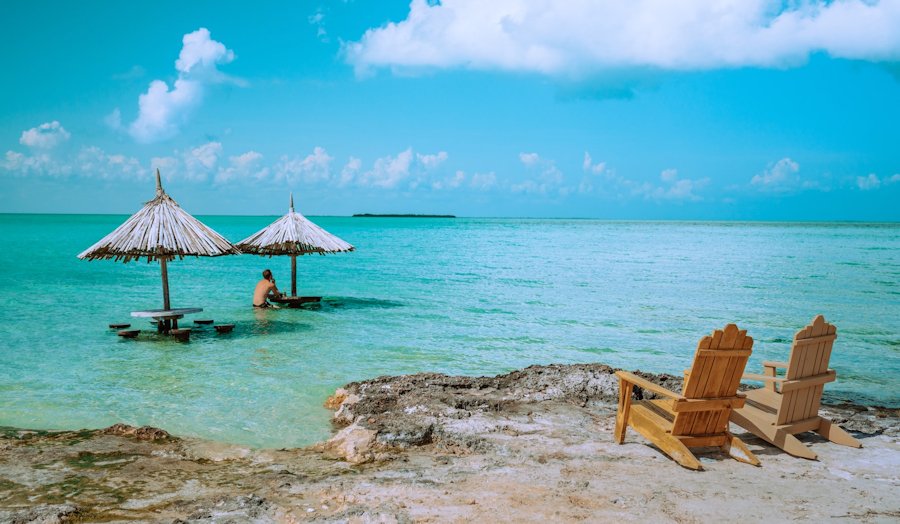 San Pedro, Belize by Meritt Thomas on Unsplash.
Travel Notes: Latin America - Belize Travel Notes.

Short URL: https://tnot.es/BZ
Belize Travel and Tourism on Travel Notes
Find Belize Travel and Tourist Information with links to official travel and tourism websites and state resources for visitors to Belize.
About Belize
Belize is a popular travel destination in Central America; its beautiful beaches, coral reefs, and ancient Mayan ruins the perfect balance of nature and culture.
With a little planning and careful preparation, travellers to Central America will certainly enjoy their visit to this enchanting country.
Countries neighbouring Belize: Guatemala and Mexico
Map of Belize
Belize is bordered by Mexico to the north, Guatemala to the west and south, and the Caribbean Sea to the east.
The capital of Belize is Belmopan, but the largest city is Belize City.
Belize was part of the Mayan territory long before the arrival of the Spanish and British.
Known for its natural beauty, cultural diversity, and warm hospitality, Belize is located in Central America.
Belize has a diverse population of approximately 408,000 people, with a mix of ethnic groups including Creole, Mestizo, Maya, Garifuna, and others.
Belmopan

Map of Belmopan.
Culture and Heritage
Belize has a rich cultural heritage, with a mix of indigenous and colonial influences.
The ancient Maya civilization flourished in the region for centuries, and there are many Maya ruins and archaeological sites throughout the country.
Belize was also a British colony until 1981, and today it is a member of the Commonwealth of Nations.
The people of Belize are of mixed racial and ethnic descent, but proud to be Belizean first.
Economy
The country's economy is heavily reliant on tourism, with visitors drawn to Belize's beautiful beaches, coral reefs, and diverse wildlife.
Belize is home to several large nature reserves, including the Belize Barrier Reef, a UNESCO World Heritage Site.
Language
The official language is English, but Spanish, Creole, and various Mayan languages are also spoken in Belize.
Belize History
Belize was included in the viceroyalty of Nuevo Espana in the 1500's. Then in 1683 English lumbermen from Jamaica settled on the Belize River.
Spain failed to remove the British during the wars between the two countries in the 1700s.
After the liberty of Central America from Spanish rule in 1836, the British claimed the right to administer the region.
It was declared an independent crown colony in 1884, after two years as a British colony subordinate to Jamaica.
Formerly known as British Honduras, Belize gained full independence in 1981.
Belize is a beautiful country located in Central America, with a rich culture and stunning natural beauty.
Visit Belize
Some suggestions of things to see and do if you decide to visit Belize.
Explore the Ancient Mayan Ruins
Belize is home to some of the most impressive Mayan ruins in the world, including Xunantunich and Caracol.
Go Cave Tubing
One of the most popular activities in Belize is cave tubing.
You can float down underground rivers, through dark caves and see unique rock formations and wildlife.
These ruins are a testament to the incredible civilization that once thrived in this area.
Go Snorkeling or Diving
Belize is home to the world's second-largest barrier reef, which means there are plenty of opportunities for snorkeling and diving.
You can explore colourful coral reefs and swim alongside sharks, sea turtles, and other marine life.
Relax on the Beaches
Belize has some of the most beautiful beaches in the world, with soft white sand and crystal-clear water.
You can spend your days lounging on the beach, swimming, or taking part in water sports like kayaking or paddleboarding.
Sample Local Cuisine
Belizean cuisine is a blend of African, Caribbean, and Latin American influences, with dishes like rice and beans, stewed chicken, and fried plantains.
Be sure to try the local seafood, including conch and lobster.
Visit the Belize Zoo
The Belize Zoo is an unique and exciting attraction, featuring native animals like jaguars, tapirs, and howler monkeys.
You can also take a night tour to see some of the animals that are more active after dark.
With its natural beauty and rich culture, Belize is a wonderful destination for anyone looking for adventure and relaxation.
Most people arrive in Belize on direct flights from the United States.
Flights to Belize - BZE
Airlines and Airports - Flights.
Tropic Air - The Airline of Belize.
Other airlines seving Belize are Alaska Air, American Airlines, Copa, Delta, Frontier Airlines, Southwest Airlines, Sun Country, United Airlines and WestJet.
Getting to Belize From From Southern Guatemala
Take a ferry or boat from Puerto Barrios or Livingston (Guatemala) to Punta Gorda (Belize), from where you can fly north to your destination in Belize.
Overland From Mexico
Take a first class bus to Chetumal, on the Mexico-Belize border, and then board a premier class Batty Bus from Chetumal to Belize City.
Total travel time is around 8 hours.
Around Belize by Air
Flying is the easiest, most economical and time efficient method of travel in Belize.
Around Belize by Road
Driving around Belize is easy, if sometimes a little bumpy when journeying off-road.
Be sure to book your four-wheel drive vehicle with a reputable company. Most rental companies will not allow you to cross the border into Guatemala or Mexico, so ask before you rent.
Taxis, shuttles and public buses serve most of the country.
Belize has an inexpensive and reliable bus service between all the major towns. Almost every day, buses leave Belize City every hour for towns to the north and west. Towns to the south, like Dangriga and Placencia, are limited to a few runs each day. The buses are comfortable and safe... and the views are spectacular.
Belize Excursions
Although most of these items are available in Belize, you may be staying at a lodge far from town and supplies, so be sure to bring along:
A flashlight and spare batteries; camera, spare film (or memory card) and batteries; Ziploc plastic bags for camera, documents, money and medicine; personal medication and basic first aid kit; lightweight rain poncho; Bandana hat; sunscreen and insect repellent.
You may also want to bring bird books, binoculars and a Swiss army knife.
Keep in mind that your clothes could get wet in the rainy season so bring extras.
You'll also need shoes with a good sole for the bush; sandals for the beach and caye; sunglasses; small backpack for day trips; and of course, a water bottle.
Belize Hotel Association:
Probably the best directory of where to stay in Belize.
Belize Tourism Industry Association:
A broad-based tourism umbrella organization that seeks to bring together tourism related interests to meet the challenges of a dynamic and growing tourism industry in Belize.
Belize Tourist Board:
'Life is what you make of it, and Belize offers you every opportunity to make it spectacular. From ziplining through the jungle to relaxing on the beach, pounding on a Garifuna drum to diving deep beneath the sea, we hope you'll enjoy every moment here in Belize as much as we enjoy having you'.
Mayan Ruins
An important part of Belize's history is the Mayan legacy of outstanding palaces and temples; hidden in the jungle for centuries.
Belize is sub-tropical and has the Caribbean at its door.
With the longest coral in the western hemisphere, Belize attracts many diving enthusiasts to its shores.
Even with a snorkel and flippers it's like swimming in a giant aquarium. The waters around Belize are some of the clearest you'll ever see, and the fish offer a true kaleidoscope to bewilder even the most jaded traveller.
Ambergis Caye is a 15-minute flight from Belize City, or you could skim over the sea in a water taxi.
Where to Stay in Ambergis Caye
Banana Beach Resort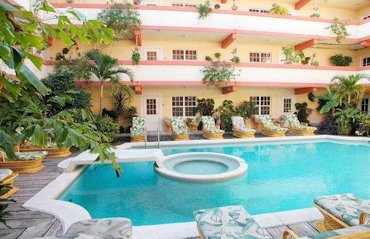 Banana Beach Resort: Coconut Drive, San Pedro.
Located on the Caribbean shores of Belize's Ambergris Caye and resting gracefully on the finest beach; just far enough south of San Pedro Town for real tranquillity.
No detail is too small to make your stay at Banana Beach Resort as memorable as possible.
Coconuts Caribbean Hotel
Coconuts Caribbean Hotel: Coconut Drive.
Located right on the beach of Ambergris Caye, just south of San Pedro Town, the Coconuts Caribbean Hotel offers 18 beautiful rooms looking out on the private courtyard garden and pool; with incredible views of the Caribbean.
Settled by British adventurers in the early 17th century, Belize City became the capital of British Honduras in 1884.
The low-lying coastal city is vulnerable to hurricanes and has been devastated three times this century: 1931, 1961, and 1978.
Most people use Belize City as their base for exploring the crystal clear ocean and coastal lagoons, and may not be aware that the present day capital of Belmopan is in the interior, on the way to Guatemala.
Some old colonial houses can still be found in Belize City, with their distinct red roofs and wooden walls. Unfortunately wood doesn't stand up well to hurricanes; probably why the early Mayans used stone.
Situated on the Belize River, about 80 km from the Gulf of Honduras.
Belmopan's protected inland site made it the ideal choice as the new capital of Belize, after coastal Belize City was devastated by another hurricane in 1961.
Banana Bank Lodge
Banana Bank Lodge: Mile 47 Western Highway, Belmopan.
As Belize's premiere equestrian centre, you can also go on horse-rides through 4,000 acres of mostly prime jungle vegetation.
Just two miles from Belmopan, Banana Bank Lodge has 16 rooms, a restaurant/bar and swimming pool.
The island of Caye Caulker is located 18 miles north-east of Belize City.
There are regular flights from Belize International Airport (Goldson) and water taxis from Belize City marine terminal arrive at the pier.
As well as a regular scheduled service between Belize City, Caye Caulker and San Pedro charters are available for those who prefer to be on their own.
Where to Stay in Caye Caulker
Tree Tops Hotel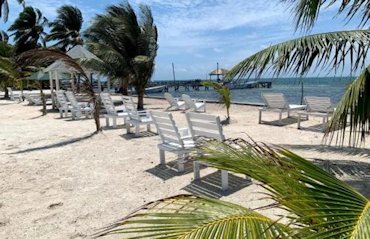 Tree Tops Hotel: Beach Front.
One of the oldest hotels on the island, its beach front location gives visitors unspoiled views of the sea and reef.
Overlooking the Caribbean Sea, The Tree Tops stirs a tasty mélange of Caribbean, Belizean and Italian design elements to create the perfect spot to unwind.
Caye Caulker Activities
DDive the famous Blue Hole, Half Moon Caye and Long Caye.
Blancaneaux Lodge
Blancaneaux Lodge: Mountain Pine Ridge Reserve.
In the early 1980s, Francis Ford Coppola visited Belize, immediately fell in love with the location, and purchased the abandoned Blancaneaux Lodge.
For more than a decade the hideaway was used as a family retreat before Francis opened his tropical paradise, Blancaneaux Lodge, to the public in 1993.
Chan Chich Lodge:
The lodge is located in the lower plaza of an ancient Maya city and is in a private nature reserve of over 250,000 acres. The 12 thatched-roof cabanas surround two central buildings that contain the reception desk, restaurant, bar, gift shop, and library.
Hickatee Cottages:
Memorable, comfortable and affordable accommodation for nature and adventure holidays in Southern Belize.
Laminai Outpost Lodge:
Adjacent to the spectacular Maya ruins of the Lamanai Archaeological Reserve, The Outpost is one of Belize's special places where adventure, education, and leisure come together in a magical blend.
Turtle Inn
Turtle Inn: Placencia Village.
Located on the southern coast of Belize, just outside the village of Placencia, each Balinese-inspired cabana has artisan-crafted furnishings, a luxury private bath and a panoramic view of the sea.
Francis and Eleanor Coppola acquired this beachside hideaway in 2001 and created an idyllic refuge at Turtle Inn for those seeking a relaxing or adventure-filled getaway to Belize.
Belize Travel Guides - Belize Maps.
Weather in South America:
Local weather forecasts for destinations around Latin America.
Travel Notes Online Guide to Travel
Africa - Asia - Caribbean - Europe - Middle East - North America - Oceania - South America.

The Travel Notes Online Guide to Travel helps visitors plan their trip with country and city travel guides, local tourist information, reviewed web sites, and regular travel articles.
Travel and Tourism Guides on Travel Notes
If Travel Notes has helped you, please take a moment to like us on Facebook and share with your friends on social media.


Travel & Tourism With Industry Professionals.
Bermuda.