Vientiane, Laos by Molydar Souama on Unsplash.
Travel Notes: Asia - Laos Travel Notes.

Short URL: https://tnot.es/LA
Laos Travel and Tourism on Travel Notes
Find Laos Travel and Tourist Information with links to official travel and tourism websites and state resources for visitors to Laos.
About Laos
Popular destinations in Laos include Luang Prabang, Vientiane, Si Phan Don (Four Thousand Islands), and the Plain of Jars.
Visitors to Laos can explore Buddhist temples and monasteries, trek through scenic landscapes, go tubing down rivers, and enjoy the laid-back atmosphere.
Countries neighbouring Laos: Cambodia, Vietnam, China, Myanmar and Thailand.
Map of Laos
Laos is bordered by China to the north, Vietnam to the east, Cambodia to the south-east, Thailand to the west, and Myanmar (Burma) to the north-west.
The capital of Laos is Vientiane.
Laos, officially known as the Lao People's Democratic Republic, is a landlocked country located in South-east Asia.
The Lao People's Democratic Republic is a mountainous country with the Mekong River forming its border with Thailand.
With a population of around seven million people, Laos is one of the least densely populated countries in the region.
Brief History
Laos has a rich history that dates back thousands of years.
The region was originally inhabited by various indigenous tribes, and the area saw the rise and fall of several ancient kingdoms.
In the mid-14th century the Khmer king at Angkor, Jayavarman Paramesvara, married his daughter to a Lao prince, Fa Ngum, and helped him found the independent kingdom of Lan Xang - Million Elephants - with its capital at Muong Swa; present-day Louangphrabang.
Fa Ngum, a great warrior, united the Lao principalities and was frequently at war with both the kingdom of Ayutthaya and Annam. His Khmer queen encouraged the Lao to adopt Theravada Buddhism.
In the 19th century, Laos came under French colonial rule and was part of French Indochina.
Laos gained independence in 1953 and subsequently experienced political turmoil and conflict, particularly during the Vietnam War.
Challenges
Laos faces various challenges, including poverty, limited access to healthcare and education, and the impact of unexploded ordnance from the Vietnam War era, which continues to pose a threat in rural areas.
The country also grapples with environmental issues, such as deforestation and wildlife trafficking.
Culture and Language
The people of Laos are primarily of Lao ethnic origin, and their culture is influenced by Theravada Buddhism, which is the dominant religion.
The official language is Lao, but a number of ethnic minority languages are also spoken throughout the country.
Economy
Laos has a developing economy that is largely based on agriculture, particularly the cultivation of rice.
Other important sectors include hydroelectric power generation, mining, and tourism.
The government has been working to attract foreign investment and promote economic growth and diversification in recent years.
Geography
Laos is predominantly mountainous, with the Annamite Range running along the eastern border.
The Mekong River, one of South-east Asia's major waterways, forms a significant portion of Laos' western border.
The country is known for its lush forests, scenic landscapes, and numerous rivers and waterfalls.
Tourism
Laos is known for its natural beauty and offers opportunities for ecotourism, adventure tourism, and cultural exploration.
Popular tourist destinations include the UNESCO World Heritage site of Luang Prabang, with its well-preserved traditional architecture and Buddhist temples, the capital city of Vientiane, the scenic Plain of Jars, and the beautiful 4,000 Islands region in the south.
Laos is a country with an unique blend of natural beauty, cultural heritage, and a laid-back way of life.
Laos Highlights
Known for its stunning landscapes, rich cultural heritage, and tranquil atmosphere, Laos offers visitors a chance to explore its historical sites, enjoy its picturesque landscapes, and experience the warmth and hospitality of its people.
Remember to check the current travel requirements and visa regulations before your trip.
Laos has a relatively laid-back and relaxed atmosphere, so be prepared to embrace the slow pace of life while enjoying the country's natural beauty and cultural richness.
Bolaven Plateau
Head to southern Laos and discover the scenic Bolaven Plateau; famous for its waterfalls, coffee and tea plantations, ethnic villages, and lush green landscapes.
Take a leisurely hike to Tad Fane or Tad Yuang Waterfalls and enjoy the cool misty atmosphere.
If you enjoy motorbike adventures, consider embarking on the Bolaven Loop; a popular motorcycle route that takes you through the stunning landscapes of southern Laos.
Kong Lor Cave
Located in central Laos, Kong Lor Cave is a remarkable natural wonder.
Take a boat ride through this colossal cave, which stretches for over seven kilometres, and marvel at the stalactites, stalagmites, and unique rock formations.
Local Cuisine
Don't forget to indulge in Laos' delicious cuisine.
Try traditional dishes like laap (a spicy minced meat salad), sticky rice, and a variety of flavorful noodle soups.
Freshly brewed Lao coffee is also a must-try for coffee enthusiasts.
Luang Prabang
Start your journey in Luang Prabang, an UNESCO World Heritage site.
Explore the city's well-preserved architecture, visit the Royal Palace Museum, and witness the captivating morning alms-giving ceremony.
Don't miss the opportunity to visit Kuang Si Falls, a picturesque waterfall located a short distance from the city.
Plain of Jars
Located in central Laos, the Plain of Jars is a mysterious archaeological site with thousands of stone jars scattered across the landscape.
It's an intriguing place to visit and learn about the ancient history and local legends associated with these jars.
The Mekong River
Laos is blessed with the majestic Mekong River, and a river cruise or boat trip along its waters is a fantastic way to experience the country.
You can enjoy breathtaking scenery, visit riverside villages, and witness the traditional rural life along the riverbanks.
Vientiane
The capital city of Laos, Vientiane, offers a blend of colonial-era buildings, ancient temples, and bustling markets.
Visit the iconic Pha That Luang, the national symbol of Laos, and explore the serene Wat Si Saket and the impressive Buddha Park.
The capital of Laos is on the Mekong River, almost opposite Nong Khai, Thailand. After the division of the ancient Lao kingdom of Lan Xang into two kingdoms in the late 17th century, Vientiane became the capital of Wieng Chan.
Map of Vientiane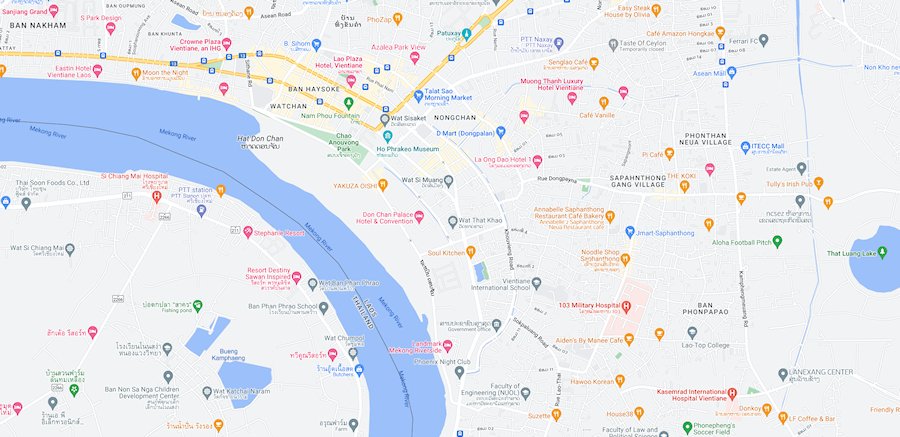 When the Siamese seized control of Vientiane Kingdom in 1827, the city was virtually destroyed. A rebuilt Vientiane was made the administrative capital of the newly created state of Laos in 1946.
In a capital with very few street signs, directions are given by the way of traffic lights and various wats.


Pha That Luang
This is the most important monument in Laos; a symbol of both the Buddhist religion and Lao sovereignty.
Follow our interesting journey by dusty road, from Vientiane to Savannakhet, in Sleepy Laos.
Hotels in Vientiane - Hotels in Savannakhet.
Luang Prabang is a sleepy town in northern Laos, at the confluence of the Mekong River and the Nam Khan. It was the early capital of Lan Xang, between 1353 and 1545.
The French were in town from 1893 to 1954, with Luang Prabang again serving as the royal capital of Laos; from 1950 until the country became a republic, in 1975.
Most of the historic temples are between the Phu Si hill and the Mekong River. The Royal Palace Museum is a good place to start, as the displays give you a good idea of the area's history.
Laos Experiences
An UNESCO World Heritage Site, the Town of Luang Prabang is an outstanding example of the fusion of traditional architecture and Lao urban structures with those built by the European colonial authorities in the 19th and 20th centuries.
Where to Stay in Luang Prabang
Grand Luang Prabang Hotel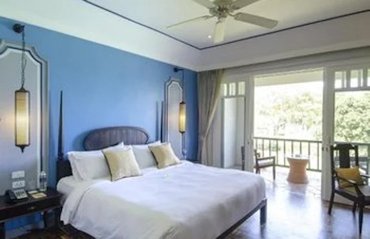 Grand Luang Prabang Hotel: Ban Xiengkeo, Khet Sangkalok.
Blending French Colonial and traditional Lao design, Prince Phetsarath chose the site of Xiengkeo Palace for its tranquillity, stunning views of the mighty Mekong River and breathtaking landscape of the mountains surrounding Luang Prabang.
Couples in particular liked the romatic location of the Grand Luang Prabang and its elegant outdoor swimming pool.
Villa Santi Hotel: Sakkarine Road, Luang Prabang.
Lao's leading boutique hotel, in Luang Prabang, was the former house of a Lao Royal Princess and has been elegantly renovated to gracefully blend Royal Lao and the classic French colonial decoration themes.
Guests at the Villa Santi Hotel enjoyed the tranquility and warm Lao hospitality.
By Rail
Laos has no railways.
By Road
The condition of the roads outside of the major towns are appalling, so only those who have to, or enjoy dusty adventures, use them. To travel long distance often means going by truck.
The lorry will be carrying anything from rice to petrol, quite likely both, and the passengers sit on top; squeezing in where they can.
By Air
Because of the terrain and poor land connections, an internal air service is important in Laos.
By Boat
The Mekong river is the main waterway in this landlocked exotic country of less than 5 million inhabitants; as it flows down the entire length of the country.
Other smaller rivers such as the Nam Ou, Nam Khan, Nam Ngum in the north, and Se Don in the south all run into the Mekong.
Ferries with overnight accommodation are rather basic. For shorter, water trips use the river taxis.
Engine-mounted long-tail boats, Thai-made speedboats, and even rowing boats are all available for hire.
The official language of Laos is Lao, one of the Sino-Tibetan languages. French is also used in bureaucracy.
Numerous ethnic groups have kept their own languages and dialects. Laos has 68 ethnic minorities and some of the most unspoiled countryside in Asia.
The best time to visit Laos is between November and April.
The hot season, from March to May, is very dry; making some river trips not feasible.
The Embassy of Laos in Washington DC is located at 2222 S St. NW.
Laos Highlights
When travelling within Laos, from north to south, you'll never find two places that have the same environment and style.
From historic temples, lush landscapes and welcoming smiles, the heart of Southeast Asia is waiting to be explored.
Discover Laos
From the rolling mountains of the north to the river islands of the south, ours is a land of untouched wonder and rare beauty. Rich in history, traditions, diverse landscapes and cultures, Laos is sure to captivate your inner explorer.
Laos Tourism Marketing Department:
Ministry of Information, Culture and Tourism,
Lane Xang Avenue, Hatsadi Village,
Chanthabouly District Vientiane Capital.
Luang Namtha, Laos' north-western most province, has large and diverse ethnic groups many of whom still live traditional life styles.
The main ethnic groups in the area are Tai Yuan, Black Red and White Tai, Tai Lue, Khmu, Rok, Akha, Lanten, Mien and Hmong.
When in Laos, make certain to bring a comfortable amount of smaller US dollar notes, as the local currency is too bulky to carry; given the exchange rates and denomination of their notes.
Lightly populated, Laos offers visitors a breathtaking array of stunning scenery, history, culture, great food and adventure, coupled with the opportunity to see how its diverse peoples live.
Laos Travel Guides - Laos Maps.
Weather in Asia:
Local weather forecasts for destinations around Asia.
Travel Notes Online Guide to Travel
Africa - Asia - Caribbean - Europe - Middle East - North America - Oceania - South America.

The Travel Notes Online Guide to Travel helps visitors plan their trip with country and city travel guides, local tourist information, reviewed web sites, and regular travel articles.
Travel and Tourism Guides on Travel Notes
If Travel Notes has helped you, please take a moment to like us on Facebook and share with your friends on social media.


Travel & Tourism With Industry Professionals.
Macau.