Cambodia by Paul Szewczyk on Unsplash.
Travel Notes: Asia - Cambodia Travel Notes.
Short URL: https://tnot.es/KH
Cambodia Travel and Tourism on Travel Notes
Find Cambodia Travel and Tourist Information with links to official travel and tourism websites and state resources for visitors to Cambodia.
About Cambodia
Cambodia's rich culture and history has made it a popular tourist destination in recent years.
The best time to visit Cambodia is from November to March, during the dry season.
As this is peak tourist season in Cambodia, expect higher prices and larger crowds.
Prices may be lower in Cambodia, from May to October, but the water level is higher and some tourist sites may be closed; due to flooding.
Countries neighbouring Cambodia: Thailand, Laos and Vietnam.
Map of Cambodia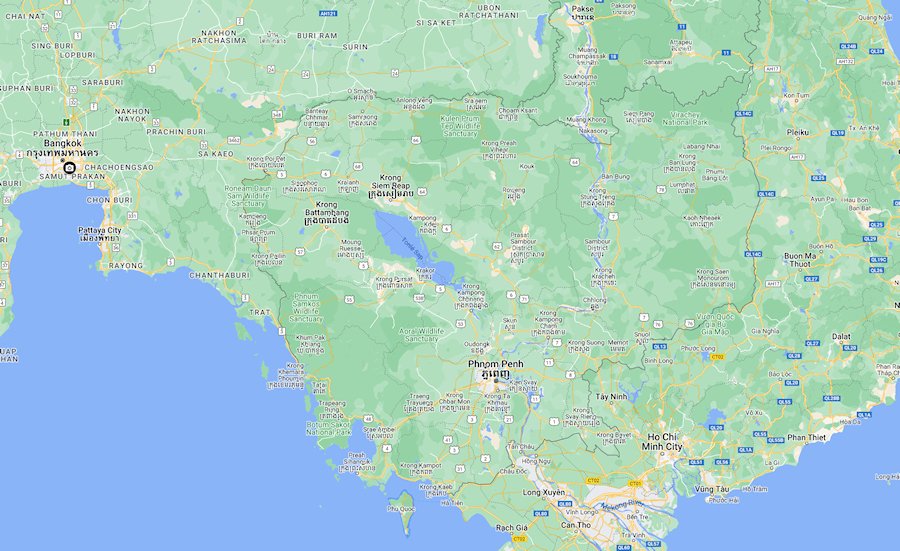 Cambodia is bordered by Thailand to the west and north-west, Laos to the north, Vietnam to the east, and the Gulf of Thailand to the south.
The capital of Cambodia is Phnom Penh.
Cambodia, also known as Kampuchea, is just above the alluvial plain of the Mekong River.
In the rainy season, the flood waters back into the Tonle Sap.
Economy
Cambodia 's economy is primarily driven by agriculture, with rice being the main crop.
Cambodia also has a growing tourism industry, with visitors drawn to its beautiful temples, stunning beaches, and vibrant cities.
History
Cambodia has a rich history that dates back to the Khmer Empire, which dominated much of Southeast Asia from the 9th to the 15th centuries.
The empire's most famous legacy is the temple complex of Angkor Wat, which is one of the world's most iconic and breathtaking ancient ruins.
Khmer Rouge
In the 20th century, Cambodia experienced a turbulent period of war, genocide, and civil unrest.
From 1975 to 1979, the Khmer Rouge, a communist regime led by Pol Pot, orchestrated a brutal genocide that claimed the lives of an estimated 1.7 million people.
The country has since undergone significant reconstruction and development, though its history still weighs heavily on its people.
Landscape
Cambodia is a developing country with a population of over 16 million people.
It is known for its beautiful landscapes, rich culture, and unique cuisine.
Cambodia is a beautiful country in South-east Asia with a rich history, stunning temples, and delicious cuisine.
Visit Cambodia
Some suggestions for visitors to Cambodia.
Angkor Wat
This iconic temple complex in Siem Reap is a must-visit for any traveler to Cambodia.
Built in the 12th century, it is one of the largest religious monuments in the world and is a UNESCO World Heritage site.
Beaches in Cambodia
Cambodia has some beautiful beaches, including Sihanoukville and Koh Rong.
Spend a few days relaxing on the beach, swimming in the warm waters, and enjoying the local seafood.
Be Respectful
Remember to be respectful of Cambodia's culture and traditions during your visit.
Dress modestly when visiting temples and remove your shoes before entering.
Cambodian Cuisine
Cambodian food is delicious and varied.
Try dishes such as amok (fish curry steamed in a banana leaf), lok lak (beef stir-fried with vegetables), and num pang (a delicious baguette sandwich).
Floating Villages
In some parts of Cambodia, entire villages are built on stilts above the water.
Take a boat tour to see these fascinating communities and learn about their way of life.
Local Markets
Cambodian markets are a riot of colors, sounds, and smells.
Visit the Central Market in Phnom Penh or the Old Market in Siem Reap to buy Cambodian souvenirs, clothes, and handicrafts.
Phnom Penh
The capital city of Cambodia is a vibrant and bustling city with plenty of sights to see.
Visit the Royal Palace, the National Museum, and the Tuol Sleng Genocide Museum to learn about Cambodia's history.
Wildlife in Cambodia
Cambodia is home to a wide variety of wildlife, including elephants, tigers, and monkeys.
Take a trip to the Cardamom Mountains to see some of these animals in their natural habitat.
The capital of Cambodia is situated in the southern part of the country, where the Mekong and Tonle Sap rivers meet.
Map of Phnom Penh
The Khmers established a settlement here in the late 14th century.
Phnom Penh was abandoned and reoccupied several times before it became Cambodia's capital in 1867.
The civil war of the mid- 1970s tore the city apart; most of its 1 million inhabitants were forced to evacuate Phnom Penh and move to the countryside as agricultural workers.
The city was resettled during the 1980s, and some of its cultural and educational institutions reopened.
Once a picturesque Asian city with a French colonial atmosphere, Phnom Penh is slowly attracting tourists again.
Phnom Penh Post:
Cambodia's independent news and views.
Phnom Penh, like other Cambodian tourist destinations, is in the midst of rapid change.
Over the past few years the number of restaurants and hotels has grown considerably and in the last year there has been a huge increase in the number of visitors. There are now direct daily flights from several Asian cities and four overland border crossings have opened since 1998.
While in Phnom Penh you can visit the palaces of former rulers of Cambodia and numerous Buddhist temples, or wats.
The Royal Palace, the official residence of King Norodom Sihanouk, and many other buildings in Phnom Penh are decorated in the Khmer architectural style and use such Hindu motifs as the garuda; a mythical symbolic bird.
Wat Phnom is one of the capital's major landmarks. Monkeys live in the trees around the hill, and elephant rides are a popular Sunday event.
The Tuol Sleng museum was once a high school, taken over by Pol Pot's security forces and turned into the infamous Security Prison 21.
The Killing Fields of Choeung Ek should never be forgotten.
The mass graves of those sent here from the S-21 prison were exhumed in 1980. More than 8,000 skulls of those beaten to death have been arranged behind glass screens according to age and sex.
The Killing Fields of Choeung Ek are about 15 km south-west of downtown Phnom Penh.
There's one main reason the small town of Siem Reap has become a tourist destination.
Angkor Wat and the other temples are among the world's most magnificent historical monuments.
Angkor Wat's archaeological significance and overall impact on the visitor puts it in a class with sites like the Pyramids, the Taj Mahal and Machu Pichu.
Unlike so many other world class monuments, Angkor Wat, Bayon and the other ruins are as yet unspoiled by commercialism and over-development.
From Phnom Penh to Siem Reap.
Many travellers use the water to reach Angkor Wat from the capital, Phnom Penh.
The old capital of the Khmer kingdoms of Cambodia, at Angkor, is the site of Hindu and Buddhist temple complexes: Angkor Wat and Angkor Thom.
Each Khmer king built his own temple based on the Hindu concept of the god-king; with himself depicted as the deity.
Angkor Wat was built under King Suryavarman II, who reigned from 1113 to 1150. He intended the temple to present him as the incarnation of Vishnu.
Angkor Wat may well have been the downfall of the Khmer.
Faced with invasion by the kingdom of Champa, faith was no longer held in the power of the Hindu gods to protect.
Cambodia Attractions
King Jayavarman VII, who reigned from 1181 to 1219 and toppled the Champa, was a Mahayana Buddhist. He created a vast monument to the north of Angkor Wat.
Angkor Thom, designed with Buddhist cosmology in mind, was meant to surpass Angkor Wat. The enormous face likeness on the Bayon represent both the almighty Buddha and the king himself.
Succeeding rulers defaced the monuments by destroying earlier effigies and adding their own in Hindu-inspired iconoclasm.
The Thais invaded in 1431, and devastated the area, but the decaying Angkor Wat remains a centre of Buddhist pilgrimage.
Beginning in the 1860s the French made extensive research and reclamation of the Ankor area, but looting and civil war have added to the neglect and deterioration of the monuments.
Also known as Batdambang, Battambang is an ancient Khmer city with 10th-century ruins.
In the west of Cambodia, Battambang was a part of Siam, now Thailand, from 1794 to 1907 and from 1941 to 1946.
Tropical getaway, port community, fledgling resort town; all describe Sihanoukville, Cambodia's 'second city'.
Whereas the temples of Siem Reap are the country's top tourist magnet and Phnom Penh is the commercial centre, the unspoiled beaches and relaxed atmosphere of Sihanoukville are just now being discovered.
The Cambodian Ministry of Foreign Affairs has launched e-Visa, which enables you to apply for a Cambodia tourist visa online.
Instead of applying through a Cambodian Embassy, just complete the online application form and pay with your credit card.
After receiving your visa through e-mail, print it out and take it along when you travel to Cambodia.
Official Kingdom of Cambodia e-Visa Application:
Tourist visa is valid for 3 months (starting from the date of issue).
By Road
Care needs to be taken not to stray from the main routes, as the countryside has not been totally cleared of landmines.
Cambodian buses are crowded, so you may prefer to join others and share a taxi. There is a bus from Phnom Penh to Vietnam.
By Rail
A railway between Phnom Penh and Battambang also continues north-east to the Thai border.
Another rail line connects Phnom Penh with the port of Kampong Saom (Sihanoukville).
By Boat
An interesting way to get to Siem Reap, for a visit to Angkor.
Ferries leave Phnom Penh to Phnom Krom, about 25km south of Siem Reap.
The trip involves an overnight stay at Kompong Chhnang. There is also an irregular faster service.
By Air
Royal Air Cambodge is the national airline. There are a number of domestic services around the country. Of interest to most visitors is the half hour flight from Phnom Penh to Siem Reap.
China Southern Airlines also offer a twice weekly schedule between Guangzhou and Phnom Penh: Flights from Guangzhou to Phnom Penh depart every Monday and Friday at 10:00 a.m. and arrive at 11:20 a.m. Flights departing Phnom Penh leave at 12:10 p.m. and arrive in Guangzhou at 3:30 p.m. Check the schedules.
The official language of Cambodia is Khmer.
The French language was used in colonial times, but is not more so widespread; the Coca Cola culture is creeping in amongst the youth.
Theravada Buddhism is the main religion of Cambodians, although Hinduism has had an important cultural and historical influence.
News From Cambodia
The Cambodia Daily is an independent non-profit digital news service for Cambodia and Cambodians.
Cambodia Motorcycle Adventures:
Sam and Emily have been guiding motorcycle tours in Cambodia since June 2012 and, as they love everything about the country and cruisin' around on motorbikes, would love to share their passion with you.
Travel Guides - Cambodia Maps.
Weather in Asia:
Local weather forecasts for destinations around Asia.
Travel Notes Online Guide to Travel
Africa - Asia - Caribbean - Europe - Middle East - North America - Oceania - South America.

The Travel Notes Online Guide to Travel helps visitors plan their trip with country and city travel guides, local tourist information, reviewed web sites, and regular travel articles.
Travel and Tourism on Travel Notes
If Travel Notes has helped you, please take a moment to like us on Facebook and share with your friends on social media.


Travel & Tourism With Industry Professionals.
China.