Victoria Harbour, Hong Kong by Andres Garcia on Unsplash.
Travel Notes: Asia: Hong Kong - Hong Kong Highlights.
Britain first used the island as a naval base during the opium wars with China. The first opium war ended in 1842, and Hong Kong was ceded to the British by the treaty of Nanking.
If you intend to visit China, we recommend you fly to Hong Kong first.
The South China Sea and Fragrant Harbour are names to romanticise about: trade winds and pirates, and the gateway to the land of a billion people.
The former British colony was always the best place to get visas for China; often in 48 hours.
Hong Kong, in the black of night, a gleaming liner lies at anchor: whiter and brighter, with all its lights, than the full moon above it; a true Princess of the sea.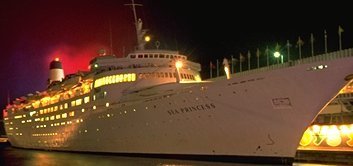 To look at such a vessel, so majestic in the harbour, focuses the mind, concentrates one's thoughts, and then spins the imagination.
Where had it been? Where was it going? And what about all the people drawn together upon it.
From the quay, many watch their fishing-rods keenly and listen for the tinkle of tiny bells at the end of their line. Tourists from the liner file past, on their way to the shops in Ocean Terminal.
The peninsular is the base for many visitors to Hong Kong; the area near the harbour known as Tsimshatsui.
Map of Kowloon
Nathan Road is lined with shops, restaurants, night-spots and cheap places to stay. Budget travellers tend to head for Chungking Mansions; five blocks of guest houses and dormitories.
By blocks, I mean high-rise. You need to queue for the lifts in an arcade behind the main shops. It may look intimidating, but I've never had any problems here, and I've stayed there three times.
Hong Kong Attractions
The capital of Hong Kong is Victoria, on Hong Kong Island.
Green and white Star Ferries run across Victoria Bay to the island regularly, where buses connect to Aberdeen and Stanley.
Between the modern financial offices of Central Hong Kong, old trams still trundle along Des Voeux Road and peddlers tinkle bicycle bells, as if the diesel-fuelled double-deckers were not behind them.
No-one stands still for a moment, even the Chinese working on the Star Ferry wear gleaming gold chains, to show that they had made it in Hong Kong.
The British have gone, and with them the noon-day gun tradition, but Hong Kong has always been very Chinese; it's only a short train ride into China proper.
Take the tram up to Victoria Peak, for stunning views of the harbour.
The Floating Restaurant has always drawn tourists to Aberdeen.
Although most of the sampan dwellers have been re-located, hagglers still approach the tourists to offer them half-hour tours around the remaining houseboats; some of them gleaming white yachts.
On the quayside, restaurant owners and old ladies look for the best price as fishermen offload their catch.
If you're in Hong Kong with the little ones, they'll probably appreciate Ocean Park (aquarium) and Water World (swimming pools and water slides).
If it's beach weather when you're in Hong Kong, Stanley is a popular place go.
You can also visit Repulse Bay and Deep Water Bay.
If you're in Hong Kong for more than a few days, then there's plenty of outlying islands to discover.
The easiest to get to are Cheung Chau, Lamma, Lantau, and Peng Chau.
Perhaps you'll forget about mainland China altogether.
Hong Kong Travel Notes:
Since its return to China, Hong Kong has been referred to as 'one country, two systems'.
Hong Kong Travel Guides - Hong Kong Maps.
Travel Notes Online Guide to Travel
Africa - Asia - Caribbean - Europe - Middle East - North America - Oceania - South America.

The Travel Notes Online Guide to Travel helps visitors plan their trip with country and city travel guides, local tourist information, reviewed web sites, and regular travel articles.
Travel and Tourism Guides on Travel Notes
If Travel Notes has helped you, please take a moment to like us on Facebook and share with your friends on social media.


Travel & Tourism With Industry Professionals.
India.