Short URL: https://tnot.es/KM
Comoro Travel and Tourism on Travel Notes
Find Comoro Islands Travel and Tourist Information with links to official travel and tourism websites and state resources for visitors to Comoro Islands.
About Comoro Islands
Three of the Comoro Islands gained independence in 1975, while the islanders of Mayotte voted to remain a part of the French administration.
The Comoros are off the coast of northern Mozambique, north-west of Madagascar.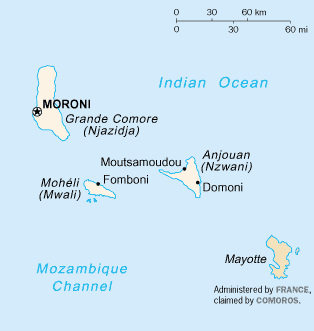 The Comoros consist of four main islands. Ngazidja, Nzwani, Mwali; and Mayotte, still administered by the French.
Weather in Africa:
Local weather forecasts for destinations around Africa.
The French called Ngazidja 'Grande Comore'.
Ngazidja is the largest of the islands in the Comoro archipelago and it is where the capital of Moroni is situated.
The first president of the independent country, Ahmed Abdallah, was from Nzwani, and his shrine is in his hometown of Domoni.
Mwali is the smallest of the Comoro Islands; known to the French as Moheli.
Mayotte, in the Indian Ocean, is still an administrative territory of France, and is closest to Madagascar.
Mamoudzou, known as Momoju in the local Shimaore language, is the capital of the French overseas region and department of Mayotte.
Located on Grande-Terre (or Mahore), the main island of Mayotte.

Add a Business Listing - Add a Destination Guide - Add a Place to Stay.


If you find Travel Notes useful, please take a moment to like us on Facebook and share with your friends on social media.
Africa Index - Africa Tourism - Africa Travel Websites.