Okavango Delta, Botswana by Secret Travel Guide on Unsplash.
Travel Notes: Africa - Botswana Travel Notes - Updated 05 August, 2023.
Short URL: https://tnot.es/BW
Botsawana Travel and Tourism on Travel Notes
Find Botswana Travel and Tourist Information with links to official travel and tourism websites and state resources for visitors to Botswana.
About Botswana
Botswana, a beautiful country in southern Africa, offers visitors an unforgettable travel experience with its beautiful landscapes, wildlife, and cultural heritage.
Countries neighbouring Botswana: Namibia, Angola, Zambia, Zimbabwe and South Africa.
Map of Botswana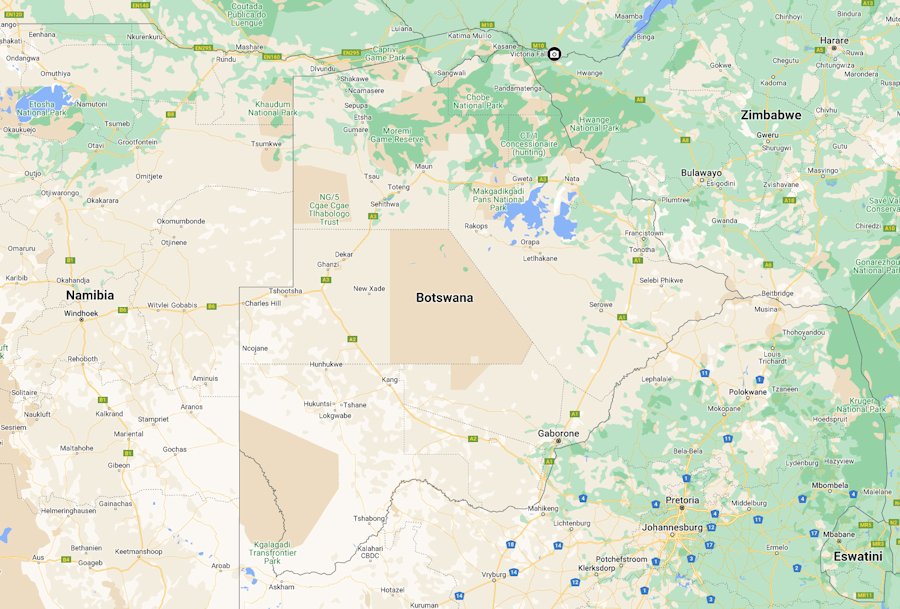 Land-locked in Southern Africa, Botswana is bordered by Namibia to the west and north, Zimbabwe to the north-east, and South Africa to the south and south-east.
Gaborone is the capital of Botswana.
Botswana is a stable and prosperous country with a rich cultural heritage and stunning natural landscapes.
The country has a population of around 2.4 million people and its capital and largest city is Gaborone.
Bantu Tswana
The Bantu Tswana migrated to the area that is now Botswana, around 1800, and displaced the indigenous San.
Often called the Bushmen, by early white settlers, the San people are still hunter gathers in the dry Kalahari Desert.
David Livingstone and Robert Moffat came to the Botswana area in the early 19th century.
Bechuanaland, as the territory was formerly called, came under British protection in 1885, at the request of Tswana chiefs who claimed that Boers were invading their territories from the Transvaal.
The country achieved independence, under the name Botswana, in 1966 and has since become one of Africa's most stable and prosperous nations.
Economy
Botswana has a relatively stable political system and economy, which is based largely on diamond mining, tourism, and cattle ranching.
Botswana is the world's largest producer of diamonds, and the diamond industry accounts for over 70% of the country's exports. The country also has a growing tourism industry, with visitors attracted to its wildlife, natural landscapes, and cultural heritage.
The country has been successful in using its mineral wealth to achieve one of the highest economic growth rates in Africa and has managed to maintain a relatively low level of corruption compared to other countries in the region.
Although Botswana opposed the former apartheid policies of South Africa, economic necessity forced them to maintain close ties with the neighbouring country.
Language and Culture
English is the official language of Botswana, but many people still speak Setswana; the language of the Tswana people who lend their name to the country.
Botswana has a diverse population with several ethnic groups, including the Tswana, Kalanga, and San people.
Christianity is the dominant religion, although there are also significant numbers of Muslims and followers of traditional African religions.
National Parks and Game Reserves
Botswana is known for its wildlife and has a number of national parks and game reserves, including the Central Kalahari Game Reserve, Chobe National Park, and the Okavango Delta.
Okavango Delta
The Okavango Delta is a vast inland delta and UNESCO World Heritage site, which supports a wide variety of wildlife, including elephants, lions, giraffes, and hippos.
Sustainable Development
Botswana is known for its commitment to conservation and sustainable development, with wildlife and nature protection being a significant focus of government policy.
Botswana is a beautiful country in southern Africa, known for its wildlife, natural landscapes, and rich culture.
A trip to Botswana wouldn't be complete without a visit to Botswana's Okavango Delta.
Planning a Visit to Botswana
If you are planning to visit Botswana, here are some things you can see and do to make your trip more memorable.
Cultural Heritage
Botswana has a rich cultural heritage, and you can experience it by visiting a traditional village, attending a cultural festival, or trying local food and drink.
The San people, also known as the Bushmen, have lived in Botswana for thousands of years, and you can learn about their traditional way of life by visiting the Kalahari Desert.
Discover the Okavango Delta
The Okavango Delta is one of the largest inland deltas in the world, and it is a unique ecosystem that supports a diverse range of wildlife.
You can take a mokoro (traditional dugout canoe) ride through the delta, go on a game drive, or take a walking safari to see elephants, lions, hippos, and other animals.
Explore the Kalahari Desert
The Kalahari Desert is a vast, arid region that covers much of Botswana.
Despite its harsh environment, it is home to a surprising diversity of wildlife, including meerkats, cheetahs, and Kalahari lions.
You can take a guided tour to explore the desert and learn about the plants and animals that call it home.
Visit Chobe National Park
Chobe National Park is home to one of the largest concentrations of elephants in Africa, as well as other animals such as lions, leopards, and buffaloes.
You can take a boat cruise on the Chobe River to see the wildlife up close or go on a game drive.
The capital of Botswana is characterless Gaborone, and travellers might find themselves here if they are travelling between Zimbabwe and South Africa by rail.
Map of Gaborone
Gaborone houses the national museum and art gallery.
Where to Stay in Gaborone
If you're thinking about an amazing vacation in Africa, consider a Botswana safari holiday.
Botswana is a wonderful destination for anyone interested in wildlife, natural landscapes, and cultural experiences. It is a safe and welcoming country with friendly people and a rich history.
Luxury Safari Lodges in Botswana
Botswana has several luxury lodges and camps that offer comfortable accommodations and a range of activities.
You can go on guided tours, enjoy spa treatments, or simply relax and enjoy the beautiful scenery.
Botswana Tourism Organisation:
Fairscape Precinct, Plot 70667
Fairgrounds Office Park
Building 1A & 1B, 2nd Floor (East Wing) Gaborone, Botswana.
Botswana Travel Tips
Driving at night in Botswana is extremely dangerous due to the high level of domestic animals wandering on the road. Try to avoid night driving wherever possible.
Try to buy meat as close to your destination as possible. Regulations regarding the moving of animal products between veterinary zones are constantly changing and you could find yourself having your meat and dairy products confiscated at the veterinary cordon fences.
By Drive Botswana.
Botswana Attractions
Botswana Travel Guides - Botswana Maps.
Weather in Africa:
Local weather forecasts for destinations around Africa.
Travel Notes Online Guide to Travel
Africa - Asia - Caribbean - Europe - Middle East - North America - Oceania - South America.

The Travel Notes Online Guide to Travel helps visitors plan their trip with country and city travel guides, local tourist information, reviewed web sites, and regular travel articles.
Burkina Faso.
Travel and Tourism Guides on Travel Notes
If Travel Notes has helped you, please take a moment to like us on Facebook and share with your friends on social media.


Travel & Tourism With Industry Professionals.