Okavango Delta, Botswana by Secret Travel Guide on Unsplash.
Travel Notes: Africa - Botswana Travel Notes.
Short URL: https://tnot.es/BW
Botsawana Travel and Tourism on Travel Notes
Find Botswana Travel and Tourist Information with links to official travel and tourism websites and state resources for visitors to Botswana.
About Botswana
Botswana is a landlocked country in southern Africa.
Map of Botswana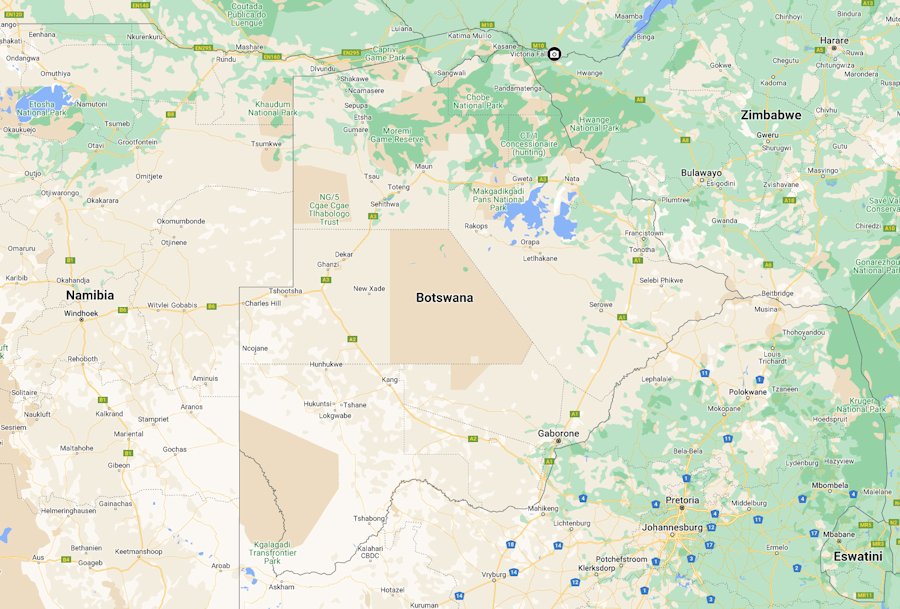 Countries neighbouring Botswana: Namibia, Angola, Zambia, Zimbabwe and South Africa.
Botswana Travel Guides - Botswana Maps.
Weather in Africa:
Local weather forecasts for destinations around Africa.
Botswana Background
The Bantu Tswana migrated to the area that is now Botswana, around 1800, and displaced the indigenous San.
English is the official language of Botswana, but many people still speak Setswana; the language of the Tswana people who lend their name to the country.
Often called the Bushmen, by early white settlers, the San people are still hunter gathers in the dry Kalahari Desert.
David Livingstone and Robert Moffat came to the Botswana area in the early 19th century.
Bechuanaland, as the territory was formerly called, came under British protection in 1885, at the request of Tswana chiefs who claimed that Boers were invading their territories from the Transvaal.
The country achieved independence, under the name Botswana, in 1966.
Although Botswana opposed the former apartheid policies of South Africa, economic necessity forced them to maintain close ties with the neighbouring country.
Diamond mining has helped the country to prosper during the last decade.
The capital of Botswana is characterless Gaborone, and travellers might find themselves here if they are travelling between Zimbabwe and South Africa by rail.
Gaborone houses the national museum and art gallery.
A trip to Botswana wouldn't be complete without a visit to Botswana's Okavango Delta.
Botswana Safaris
If you're thinking about an amazing vacation in Africa, consider a Botswana safari holiday.
Botswana Tourism Organisation:
Fairscape Precinct, Plot 70667
Fairgrounds Office Park
Building 1A & 1B, 2nd Floor (East Wing) Gaborone, Botswana.
Botswana Travel Tips
Driving at night in Botswana is extremely dangerous due to the high level of domestic animals wandering on the road. Try to avoid night driving wherever possible.
Try to buy meat as close to your destination as possible. Regulations regarding the moving of animal products between veterinary zones are constantly changing and you could find yourself having your meat and dairy products confiscated at the veterinary cordon fences.
By Drive Botswana.
Travel Notes Online Guide to Travel
The Travel Notes Online Guide to Travel helps visitors plan their trip with country and city travel guides, local tourist information, reviewed web sites, and regular travel articles.

Join Michel on Meta-Travel.
Airlines and Airports.

Add a Business Listing - Add a Destination - Add a Place to Stay - Add URL.



Affiliates - Africa Tourism - Africa Travel Websites.
If you find Travel Notes useful, please take a moment to like us on Facebook and share with your friends on social media.
Travel and Tourism with Industry Professionals