Find out more about Washington State before you travel. Order tourist brochures then research things to do and places to stay in Washington State.
Washington Hotel Reservations.
Book a Rental Car - Check out Flights - Compare Hotel Rooms.
Choose a City in Washington State
US Hostels:
Ideal for backpackers and those travelling on a budget: dorms, shared accommodation and private rooms.
Become a Washington State City Guide:
You really know the Washington State scene - where to eat, where to stay, and what to do. Tell our visitors more about the sights and delights and how to make the most of their time in Washington State.
Washington State at a Glance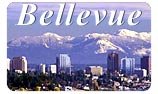 Bellevue, Washington State:
Bellevue may be a bedroom community, but for visitors there is so much to see and do that it certainly cannot be described as sleepy little town anymore.
Bellevue is a major center for cultural and economic activity in the Puget Sound area's Eastside communities. It is a town where high tech services and strong businesses thrive side by side in secure safe neighborhoods and a coastal natural environment that attracts visitors from all walks of life.
Scheduling a visit to Bellevue is ideally based on what you want to do in this well-sited city, which provides easy access to an amazing array of outdoor activities. If you are in the area to ski, obviously you'll want to come from late Autumn through March. If whitewater rafting brings you to Bellevue then Summer is ideal. If you want to hike on Friday and catch the Seattle Mariners on Sunday then plan accordingly.
Seattle, Washington:
From seven historic neighbourhoods with a total of more than 200 historic buildings to the brand new home of the Seattle Mariners - Safeco Field - Seattle is a perfect blend of preserving the past while moving into the future.
If business travel sends you to Seattle, consider yourself blessed. Seattle is a city so seductive that even an anxious Type A road warrior will find himself stopping along the waterfront to sip a cup of coffee and drink in the view.
Seahawks football and Mariners baseball can dictate visits for sports fans. The citywide Seafair festival in August is an exciting opportunity for warm-weather visitors while Seattle's multiple attractions and moderate climate make it a perfect year-round destination for the rest of us.
Seattle Attractions
Boeing Everett Tour Center
Catalyst Cruises
Comedy Underground
Frye Art Museum
Ride The Ducks Tours
Seatle Aquarium
Seattle Art Museum
Seattle Center
Seattle Childrens Museum
Seattle Mariners
Seattle Museum Of Flight
Seattle Opera
Seattle Space Needle
Seattle Symphony
Seattle Walking Tours
Spirit Of Puget Sound Cruises
The Paramount Theatre
Tillicum Village
Wild Waves Enchanted Village
Wind Works Sailing Center
Wing Luke Asian Museum
Woodland Park Zoo
Washington State @ Travel Notes:
Travel and tourism links for Washington State.
Seattle, Washington
Difference Between 1876 and Now: by Gregory J. Robb.
By car, bus or ferry, you can travel back in time 75 minutes northwest of Seattle, Washington. As you dart like an arrow through potato farms and dots of forestry by the roadside, La Conner, Washington welcomes you in the spirit of never forgetting the comforts of small-town American life.
Seattle Isn't Just 'Frazier' Country: by Leon Schwarzbaum.
Literally millions of TV viewers, following the foibles of fictional Frazier Crane and his brother Niles, think of Seattle's inhabitants as mid-30's to mid-40's pompous singles living in elegant apartments and passing the time of day in upscale coffee houses. Well, maybe some of them do, but most of Seattle's residents live somewhat different lives.
Whidbey Island Has It All: by Rita Cook.
Whidbey Island is 27 miles from Seattle and 50 miles from British Columbia. Whidbey's shoreline spans 148 miles, perfect for intense beachcombing. There's also excellent hiking at Goose Rock Trail in Deception Pass State Park.
Write For Travel Notes
Submit a Washington State Travel Article:
If you're on the road or have just returned from somewhere in Washington State, send us your updates for publication.
Sightseeing Tours, Events and Attractions.
Washington State Travel Guides:
Browse Amazon's best-selling list of books on travel in Washington State.
Backpackers:
Budget accommodation around the United States and Canada.
Travel by Car:
Driving distances between major cities in the United States.
Travel Industry
Add Your Tours - Add Your Property

Add a Business Listing - Add a Destination Guide - Add a Place to Stay.


If you find Travel Notes useful, please take a moment to like us on Facebook and share with your friends on social media.
North America Index - North America Tourism - North America Websites.