Find out more about New York before you travel. Order tourist brochures then research things to do and places to stay in New York.
Book a Rental Car - Check out Flights - Compare Hotel Rooms.
Choose a City in New York
US Hostels:
Ideal for backpackers and those travelling on a budget: dorms, shared accommodation and private rooms.
Become a New York City Guide:
You really know the New York scene - where to eat, where to stay, and what to do. Tell our visitors more about the sights and delights and how to make the most of their time in New York.
New York at a Glance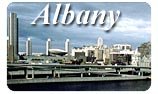 Albany, New York:
Situated between the Adirondack Mountains and the Catskills, the Albany, New York lies at the northern terminus of the Hudson River Channel and the junction of the Erie Canal.
There are a number of cultural opportunities in Albany, including the Palace Theatre, the Albany Symphony Orchestra and the Park Playhouse, one of the largest outdoor theatres on the East Coast. The Albany Institute of History and Art presents both permanent and temporary exhibits about Albany's art and cultural scene.
Horse racing at the Saratoga racecourse runs from July through Labor Day weekend. You can catch the Capital District Scottish Games annually each Labor Day weekend. Over Memorial Weekend, you'll find the Saratoga Festival and craft show and dressage event.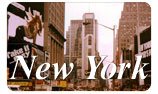 New York City, New York:
New York City is divided into five boroughs: Brooklyn; Bronx; Manhattan; Queens; and Staten Island. But when most people think of New York City, they're thinking of Manhattan. That's the island where you will find most of the tourist attractions, convention centers and the greatest concentration of eateries and nightlife.
Whatever your taste, you can find it in New York. Long a mecca for travellers from far and wide, the Big Apple offers accommodations, dining pleasures, business opportunities and entertainment for every wallet and schedule.
Christmas is a spectacular time to hit this vibrant city, when it's decorated to a tee and as aesthetically pleasing as a picture postcard. The streets are bustling, shoppers are making mad last-minute dashes and the weather is cold - as it should be this time of year.
New York City Attractions
Carnegie Hall
Cathedral of St. John the Divine
Central Park
Chinatown
Chrysler Building
Cloisters Museum
Convervatory Garden
Ellis Island
Empire State Building
Equitable Tower Atrium
Ferry Ride down East River
Fifth Avenue
Ford Foundation Building
Frick Collection Museum
Gracie Mansion
Grand Central Terminal
Greenwich Village
Guggenheim Museum
Hayden Planeterium
Lincoln Center
Little Italy
Macy's
Metropolitan Opera
Museum of Modern Art
Museum of Natural History
NBC Studio Tours
New York Aquarium
New York Botanical Garden
New York Comedy Club
New York Skyride
New York Stock Exchange
Pierpoint Morgan Library
Poets House
Radio City Music Hall
Rockefeller Center
Roosevelt Island
Russian and Turkish Baths
Saint Patrick's Cathedral
Showboat
South Street Seaport
Staten Island Ferry
Statue of Liberty
Studio of Today Show
Tavern on the Green
TEN's Cabaret
Times Square
United Nations
Whitney Museum
Woolworth Building
Niagara Falls, New York:
Niagara Falls hotels abound in both countries, with the favourable exchange on the American dollar, Canadians may opt to stay put and Americans may consider crossing the bridge. That having been said, accommodations are more plentiful on the Canadian side and may be preferable if a view of the falls is imperative - many Ontario hotels offer a falls view.
Niagara Falls is actually two cities - one in Ontario, Canada, the other in New York - joined by the bridge across the Niagara River. The Canadian side claims the Horseshoe Falls, aptly named for its curved formation. The American side, slightly higher than the Canadian, runs straight across with Goat and Luna Island separating it from the smallest of the falls; the Bridal Veil.
Niagara Falls has been a premier honeymoon destination for over a hundred years. Expect large crowds of newlyweds in June. As the falls themselves are the prime attraction, it's best to avoid a vacation during the dead of the winter.
New York @ Travel Notes:
Travel and tourism links for New York.
Cooperstown, New York
Hit a Grand Slam in Cooperstown: by Eileen Sateriale.
Cooperstown is often called the 'Home of Baseball' or 'Village of Museums'.
Lake George, New York
Adirondacks: More Than Mountains: by Deborah Straw.
Often called 'The Great American Wilderness', The Adirondack Park in upstate New York is made up of 6,000,000 acres of public and private land. At its heart is The Forest Preserve, the largest in the continental United States, containing approximately 2,500 lakes and ponds and more than 30,000 square miles of rivers and streams.
Lake Placid, New York
In the Heart of the Adirondacks: by Deborah Straw.
Driving through the Adirondacks is awe-inspiring and sometimes a bit intimidating. This is one of the most remote, wild areas in the country, and more specifically in the Northeast.
New York City, New York
A Tour of History Along the Hudson.
Historic Hudson River Towns is a consortium of communities located on the East and West banks of New York's majestic Hudson River, from Yonkers to Albany.
Ellis Island - Journey to America.
The Ellis Island Immigration Museum is dedicated to the individuals who made the long voyage in search of the American dream.
The Beaches of Long Island.
Long Island beaches are world-renowned for their fine white sand, spectacular waves, miles of boardwalks, beach trails, restaurants, picnic areas, and beautiful sunrises and sunsets.
The Met: New York's Crown Jewel.
The Metropolitan Museum contains more than two million works of art from medieval armor to European paintings.
Staten Island, New York
A Stroll Through Richmond Town: by Wendy Schatzman.
One of New York City's best-kept secrets to visitors is the Staten Island Ferry, which connects lower Manhattan to the North Shore of Staten Island - free of charge!
Once on Staten Island, which was originally settled by the Dutch, you can take the #S 74 bus to Historic Richmond Town.
Write For Travel Notes
Submit a New York Travel Article:
If you're on the road or have just returned from somewhere in New York, send us your updates for publication.
Sightseeing Tours, Events and Attractions.
New York State Travel Guides:
Browse Amazon's best-selling list of books on travel in New York.
Backpackers:
Budget accommodation around the United States and Canada.
Travel by Car:
Driving distances between major cities in the United States.
Travel Industry
Add Your Tours - Add Your Property

Add a Business Listing - Add a Destination Guide - Add a Place to Stay.


If you find Travel Notes useful, please take a moment to like us on Facebook and share with your friends on social media.
North America Index - North America Tourism - North America Websites.