Find out more about Indiana before you travel. Order tourist brochures then research things to do and places to stay in Indiana.
Book a Rental Car - Check out Flights - Compare Hotel Rooms.
Choose a City in Indiana
US Hostels:
Ideal for backpackers and those travelling on a budget: dorms, shared accommodation and private rooms.
Become an Indiana City Guide:
You really know the Indiana scene - where to eat, where to stay, and what to do. Tell our visitors more about the sights and delights and how to make the most of their time in Indiana.
Indiana at a Glance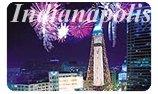 Indianapolis, Indiana:
There are many motel and hotel chain establishments located at major intersections and interstate highways. The area downtown has several high-rise hotels, which house a large percentage of corporate travelers.
If you want to be completely immersed in all the activities to celebrate the greatest spectacle in racing then plan your visit to include Memorial weekend and the Indy 500 Race.
Northern Indiana's Amish Country is a popular day trip from the Indianapolis area. You can call the Elkhart County Visitors Bureau at 1-800-262-8161 for information about it.
Indiana @ Travel Notes:
Travel and tourism links for Indiana.
Indianapolis, Indiana
Visit Indy: by Leon Schwarzbaum.
Not many people know much about Indianapolis, the capital and largest city in Indiana, other than the fact that the Indianapolis 500 automobile race takes place there on Memorial Day Weekend.
Write For Travel Notes
Submit an Indiana Travel Article:
If you're on the road or have just returned from somewhere in Indiana, send us your updates for publication.
Sightseeing Tours, Events and Attractions.
Indiana Travel Guides:
Browse Amazon's best-selling list of books on travel in Indiana.
Backpackers:
Budget accommodation around the United States and Canada.
Travel by Car:
Driving distances between major cities in the United States.
Travel Industry
Add Your Tours - Add Your Property

Add a Business Listing - Add a Destination Guide - Add a Place to Stay.


If you find Travel Notes useful, please take a moment to like us on Facebook and share with your friends on social media.
North America Index - North America Tourism - North America Websites.