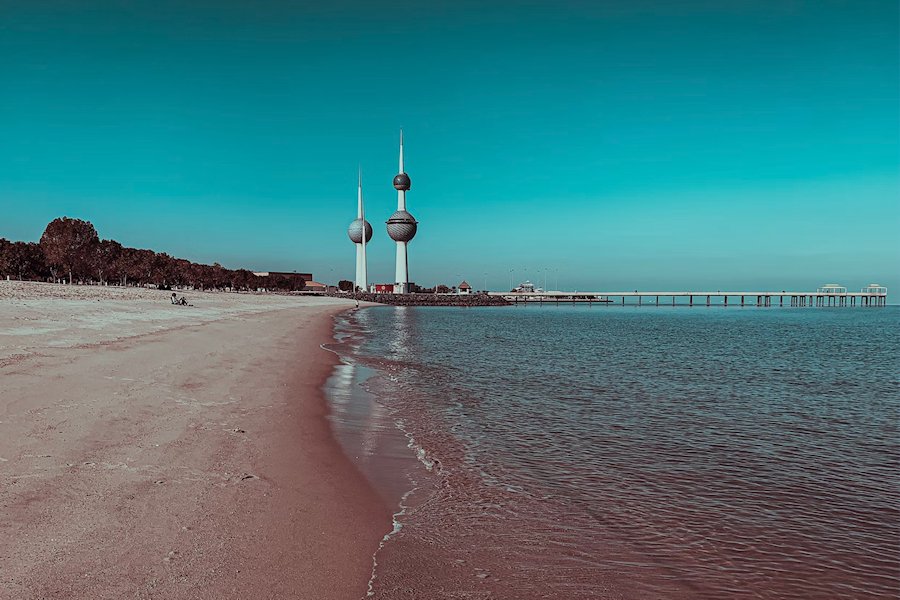 Kuwait Towers, Arabian Gulf Street, Kuwait City by Masrur Rahman on Unsplash.
Travel Notes: Middle East - Kuwait Travel Notes - Updated 17 July, 2023.
Short URL: https://tnot.es/KW
Kuwait Travel and Tourism on Travel Notes
Find Kuwait Travel and Tourist Information with links to official travel and tourism websites and state resources for visitors to Kuwait.
About Kuwait
Visitors to Kuwait enjoy world-class shopping, beautiful beaches, and fine dining, while enjoying an unique blend of modernity and traditional Arabian culture.
Countries neighbouring Kuwait: Iraq and Saudi Arabia.
Map of Kuwait
Kuwait is bordered by Iraq to the north and Saudi Arabia to the south.
The independent state of Kuwait includes the islands of Bubiyan, Warbah, and Faylakah.
Kuwait, officially known as the State of Kuwait, is a small country located in the northeastern part of the Arabian Peninsula in Western Asia.
The country has a rich history, a diverse culture, and is known for its oil reserves and prosperous economy.
Brief History of Kuwait
Kuwait has a long history dating back to ancient times, with evidence of settlements as early as the 3rd millennium BC.
It was a hub for trade and pearl diving in the Arabian Gulf.
Kuwait became a sheikhdom when thhe founder of the al-Sabah dynasty became sheikh, in 1756.
The country was briefly a part of the Ottoman Empire, until 1899; when the British stepped in, at the request of the reigning emir.
In the early 1920's the northern and southern borders of Kuwait were properly established, after raids from the Saudi Arabian province of Najd saw the British come to the emirate's aid again.
Kuwait gained full independence on June 19th, 1961, with its sheikh taking the title of emir, and formal British protection was ended.
From August 1990 to February 1991, Saddam Hussein restated Iraq's historical claim to Kuwait and occupied the region as Iraq's 19th province.
Allied troops stormed the desert to liberate the country and plug its leaking oil.
Culture and Society
Kuwaiti culture is influenced by Islamic traditions and Arab heritage.
Kuwaitis are known for their hospitality and respect for traditions.
Traditional Kuwaiti cuisine includes dishes like machboos (spiced rice with meat), biryani, and various seafood dishes.
Economy
Kuwait is a leading exporter of oil and petroleum products, and one of the wealthiest countries in the world; thanks to its significant oil reserves.
The country has a well-developed and diversified economy, with industries such as finance, real estate, construction, and services playing a vital role.
Kuwait is also actively working towards diversifying its economy and reducing its dependence on oil.
Education and Healthcare
Kuwait places great emphasis on education and healthcare.
The country has a well-established education system, with both public and private schools and universities.
Healthcare services are of high quality and easily accessible to both citizens and expatriates.
Geography
Kuwait has a total area of some 17,818 square kilometres.
The country's terrain is mostly flat desert with some small hills and a coastline along the Arabian Gulf.
Kuwait City, the capital and largest city, is located on the country's eastern coast.
Government
Kuwait is a constitutional monarchy with a parliamentary system.
The Emir is the head of state, and the government is led by the Prime Minister.
The National Assembly, consisting of elected members, holds legislative power.
Population
Kuwait has a population of around 4.3 million people.
The majority of the population consists of expatriates, with Kuwaiti citizens making up about 30% of the total population.
The official language is Arabic, and Islam is the dominant religion.
Tourist Attractions
Kuwait offers several landmarks and attractions for visitors, including the Kuwait Towers, Liberation Tower, Grand Mosque, Souq Al-Mubarakiya (traditional market), and the Scientific Centre.
The country also hosts various cultural events, exhibitions, and festivals throughout the year.
Known for its rich history, vibrant culture, and modern development, Kuwait offers a variety of attractions and experiences for visitors.
When visiting Kuwait, it's important to respect the local customs and traditions, including dressing modestly and being mindful of Islamic practices.
It's also advisable to check the current travel requirements and any safety guidelines or restrictions that may be in place.
Kuwait City
Start your exploration in Kuwait City, the capital and largest city of Kuwait.
Visit iconic landmarks like the Kuwait Towers, a symbol of the country, which offers panoramic views from its observation deck.
Explore the Grand Mosque, a magnificent Islamic architectural marvel, and learn about Kuwait's history at the National Museum.
Kuwaiti Cuisine
Kuwaiti cuisine is a blend of flavours influenced by Persian, Indian, and Arabian culinary traditions.
Don't miss the opportunity to try traditional dishes such as Machboos (spiced rice with meat or fish), Gabout (Kuwaiti dumplings), and Harees (a wheat and meat dish).
Kuwaiti Heritage Village
Explore the Kuwaiti Heritage Village to get a glimpse of traditional Kuwaiti life.
The Village showcases Bedouin culture, traditional crafts, and architectural styles.
You can also witness live performances and demonstrations.
Kuwaiti Islands
Kuwait is surrounded by several islands, offering a tranquil escape from the city.
Visit Failaka Island, known for its archaeological sites and historical ruins dating back to the Bronze Age.
You can also explore other islands like Warba and Bubiyan, which are popular for their natural beauty.
Scientific Centre
For a family-friendly outing, visit the Scientific Center in Salmiya.
It houses an aquarium, a Discovery Place interactive museum, and an IMAX theater, offering educational and entertaining experiences for all ages.
The Avenues Mall
If you're interested in shopping, don't miss The Avenues Mall, one of the largest and most luxurious malls in the Middle East.
The Mall offers a wide range of international brands, entertainment options, and dining experiences.
The capital, Kuwait City, dates from 1710; when Anizah migrants from the central Arabian Peninsula set up shop there.
Map of Kuwait City
The city's drinking water is contained in two large minaret-style storage tanks.
Liberation Tower
Admire the impressive Liberation Tower, one of the tallest telecommunications towers in the world.
The tower symbolises Kuwait's liberation from Iraqi occupation and offers stunning views of the city.
Souq Mubarakiya
Immerse yourself in the local culture by visiting Souq Mubarakiya, a traditional market in the heart of Kuwait City.
Here, you can find a variety of goods, including spices, textiles, perfumes, and traditional handicrafts.
Enjoy the bustling atmosphere and indulge in delicious street food.
Kuwait Travel Guides - Kuwait Maps.
Weather in the Middle East:
Local weather forecasts for destinations around the Middle East.
Travel Notes Online Guide to Travel
Africa - Asia - Caribbean - Europe - Middle East - North America - Oceania - South America.

The Travel Notes Online Guide to Travel helps visitors plan their trip with country and city travel guides, local tourist information, reviewed web sites, and regular travel articles.
Lebanon.
Travel and Tourism Guides on Travel Notes
If Travel Notes has helped you, please take a moment to like us on Facebook and share with your friends on social media.


Travel & Tourism With Industry Professionals.