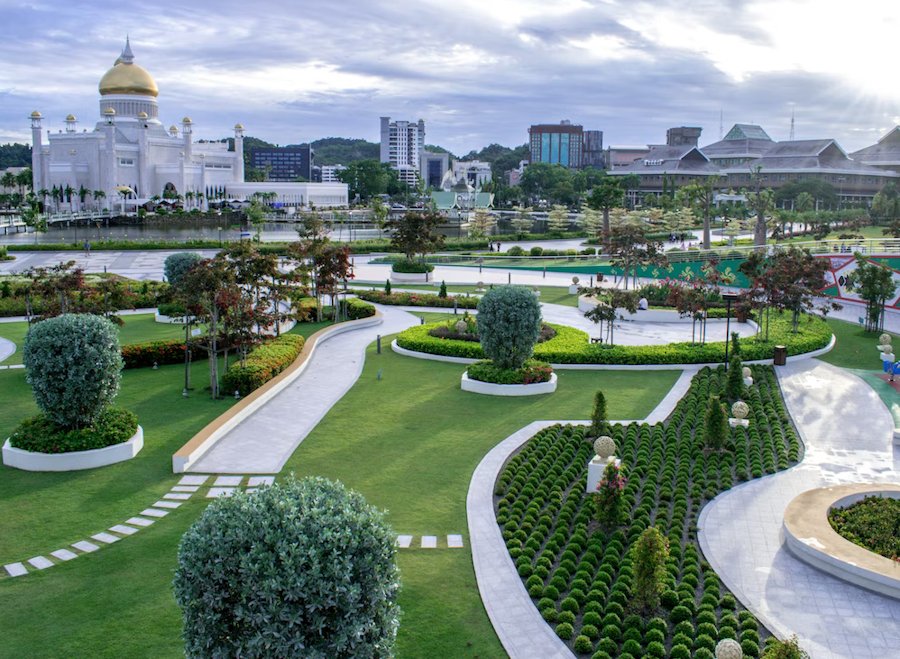 Bandar Seri Begawan, Brunei by Merah Lee on Unsplash.
Travel Notes: Asia - Brunei Darussalam Travel Notes.

Short URL: https://tnot.es/BN
Brunei Travel and Tourism on Travel Notes
Find Bhutan Travel and Tourist Information with links to official travel and tourism websites and state resources for visitors to Bhutan.
About Brunei
Brunei Darussalam is a small, oil-rich country located on the island of Borneo, surrounded by Malaysia and the South China Sea. Despite being a lesser-known travel destination, Brunei offers a range of attractions and activities to keep tourists happy.
Map of Brunei
Officially called the Nation of Brunei, Abode of Peace - Negara Brunei Darussalam, in Malay.
Countries neighbouring Brunei: Malaysia and Indonesia; or rather the Malaysian provinces of Sabah and Sarawak, and Indonesian Borneo.
Brunei is a small sovereign state located on the island of Borneo in Southeast Asia.
It is bordered by the Malaysian state of Sarawak to the north and surrounded by the South China Sea on all other sides.
Climate
Brunei has a tropical climate, with high temperatures and humidity throughout the year.
Economy
The country is known for its large reserves of oil and natural gas, which have helped it to become one of the wealthiest nations in the world.
Tourism is a growing industry in Brunei, with visitors attracted by the country's natural beauty and cultural attractions, such as the Royal Regalia Museum and the Omar Ali Saifuddien Mosque.
The country is also known for its traditional arts and crafts, including woven textiles and brassware.
Government
The government of Brunei is an absolute monarchy, with the Sultan of Brunei serving as both the head of state and the head of government.
The country's legal system is based on Islamic law, and the majority of the population is Muslim.
The Government of Brunei:
Latest official news and links to ministry websites from the Brunei Darussalam Prime Minister's Office.
Language
The official language of Brunei is Malay, but English is also used for official purposes.
Population
Brunei has a population of approximately 440,000 people and its capital city is Bandar Seri Begawan.
Rainforests
The country's rainforests are home to a diverse range of flora and fauna, including the proboscis monkey, which is native to Borneo.
Sultanate
Brunei was once a sultanate with nominal authority over the whole of Borneo and some of the lesser islands of The Philippines.
Although the Spanish captured the capital in 1580, they could not control piracy in the region and were forced to leave.
In the mid 19th century the British, seeking to protect commerce between Singapore and north-west Borneo, started operations against the pirate fleets and eventually destroyed them.
James Brooke was granted Sarawak by the Sultan of Brunei, Omar Ali Saifuddin II. The British army officer assumed the title of raja and gradually extended his territory at the Sultan's expense.
Brunei became a British protectorate in 1888, although the sultan remained in nominal authority.
Brunei became an independent sovereign country on 1st January, 1984.
Travel to Brunei
If you travel to Brunei from Sarawak, you will pass Seria, where the first oil fields were discovered in 1929.
Brunei owes most of its health, social and welfare development to the enormous oil and gas reserves.
Brunei Darussalam's vision is to promote the country as a unique tourist destination and gateway to tourism excellence in South East Asia.
Brunei Bay, on the north-west coast of Borneo, is boarded on three sides by mangroves, rainforests and mountains. It opens to the west onto the South China Sea.
Visit Brunei
Some things to consider when planning a trip to Brunei.
Best Time to Visit
The best time to visit Brunei is between February and May when the weather is dry and sunny. However, be prepared for high temperatures and humidity during this time.
Brunei Accommodation
There are many hotels in Brunei, ranging from budget options to luxury resorts. Some of the popular hotels include The Empire Hotel & Country Club and The Rizqun International Hotel.
Culture
Brunei is an Islamic country, and visitors are expected to respect local customs and traditions.
Dress modestly when visiting mosques and other religious sites.
Food
Brunei's cuisine is heavily influenced by Malay and Chinese flavors.
Some popular dishes include nasi lemak, satay, and laksa.
Muslim Country
Brunei is primarily a Muslim nation, and visitors are expected to abide by local customs and laws.
Transportation
Brunei is a small country, and it is relatively easy to get around.
Taxis are readily available, and there are also buses that connect major towns and cities.
Visa Requirements
Depending on your country of origin, you may need to obtain a visa to enter Brunei. You can check the visa requirements on the website of the Brunei Ministry of Foreign Affairs.
Brunei Attractions
Some of the must-see attractions in Brunei include the Sultan Omar Ali Saifuddien Mosque, the Kampong Ayer Water Village, the Royal Regalia Museum, and the Ulu Temburong National Park.
Istana Nurul Iman
The palace of the Sultan of Brunei is one of the largest residential palaces in the world.
Jerudong Park Playground
This amusement park offers a range of rides and attractions for visitors of all ages.
Kampong Ayer
Known as the 'Venice of the East', Kampong Ayer is a traditional water village built on stilts over the Brunei River.
It is the largest water village in the world and comprises more than 40 small 'kampungs', or traditional settlements, that are built on stilts, connected by a network of wooden walkways.
Omar Ali Saifuddien Mosque
This mosque is a beautiful example of Islamic architecture and is one of the most famous landmarks in Brunei.
Ulu Temburong National Park
Te Ulu Temburong National Park covers over 50,000 hectares of rainforest and is home to a variety of wildlife and vegetation.
The capital of Brunei was formerly called Brunei Town.
Map of Bandar Seri Begawan
Brunei Sightseeing
A royal palace and one of the largest mosques in Asia are notable attractions in Bandar Seri Begawan.
When in the capital of Brunei, you can also visit the open air markets, and take a ride around Kampung Ayer, a collection of water villages behind the mosque, on one of the many water taxi launches.
The Sultan Omar Ali Saifuddin Mosque was named after the 28th Sultan of Brunei. Designed by an Italian architect, the mosque was built in 1958.
The golden-domed structure is the tallest building in the city, and a stone replica of a 16th-century barge rests in the Brunei River in front of the mosque.
The Istana Nurul Iman, the sultan's palace, is 4km out of town on the other side of Jalan Tutong's Edinburgh Bridge. The Istana is only open to the public at the end of Ramadam, but you can always drool at it from the front gates.
Brunei News
Brunei News is a stand-alone site covering news of the area, including stories from around the region and beyond. Brunei News.Net has been in operation since 1999 and is part of an international news service all with the news.net extension.
Where to Stay in Brunei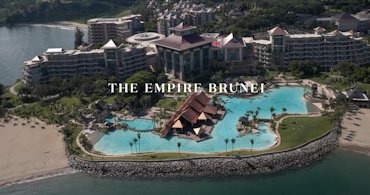 Located in Jerudong, The Empire Hotel and Country Club is an enchanting tropical retreat in beautiful Brunei.
The Empire Brunei welcomes discerning travellers with its sumptuous luxury, warm hospitality and pure serenity.
The prestigious five-star resort comprises stunning private beaches, lagoons, five pools, a championship golf course, six restaurants and a cinema.
Brunei Embassies Abroad
Embassy of Brunei Darussalam in Washington DC:
3520 International Court NW, Washington D.C. 20008.
Sultan Haji Hassanal Bolkiah Mu'izzaddin Waddaulah came to the throne in 1967.
Calling itself the Malay Muslim Monarchy, in 1990, offended some of Brunei's large Chinese population.
At the helm of the only remaining Malay Islamic Monarchy in the world, the Sultan of Brunei comes from a family line that dates back over 600 years, to 1405.
His Majesty, The Sultan of Brunei's official residence is the Istana Nurul Iman, which is also the country's seat of administration; he is, after all, also the Prime Minister, Minister of Defence, and Minister of Finance.
Brunei Travel Guides - Brunei Maps.
Weather in Asia:
Local weather forecasts for destinations around Asia.
Travel Notes Online Guide to Travel
Africa - Asia - Caribbean - Europe - Middle East - North America - Oceania - South America.

The Travel Notes Online Guide to Travel helps visitors plan their trip with country and city travel guides, local tourist information, reviewed web sites, and regular travel articles.
Travel and Tourism on Travel Notes
If Travel Notes has helped you, please take a moment to like us on Facebook and share with your friends on social media.


Travel & Tourism With Industry Professionals.
Cambodia.