Short URL: https://tnot.es/KN
St. Kitts and Nevis Travel and Tourism on Travel Notes
Find St. Kitts Travel and Tourist Information with links to official travel and tourism websites and state resources for visitors to Saint Kitts and Nevis.
About St. Kitts
The Federation of St Kitts and Nevis is in the eastern Caribbean; to the west of Antigua and Barbuda, north-west of Guadeloupe, and south-east of Puerto Rico.
Christopher Columbus landed here in 1493 and named St Kitts after his patron saint, St Christopher.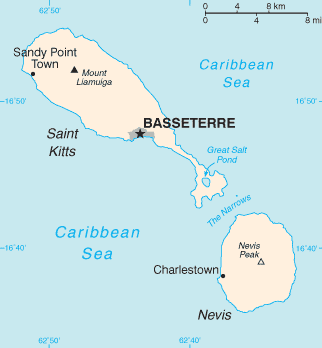 The English settled here in the 1620s, although St Kitts was seized by the French several times during the 17th and 18th centuries.
The islands were ceded to Great Britain by the Treaty of Paris in 1783, with St Kitts, Nevis, and Anguilla being united as a British dependency in 1871.
The island of St Kitts, also known as St Christopher, has a central mountain range; with Mount Misery its highest peak at 1,315 m.
St. Kitts is located in the Eastern Caribbean about 150 miles from St. Croix; 1300 miles from Miami; 2000 miles from New York City and 4000 miles from London.
Nevis Island is to the south of the larger St Kitts.
Weather in the Caribbean:
Local weather forecasts for destinations around the Caribbean region.
The capital of the federation is on the southern central coast of St Kitts Island, and is served by Golden Rock airport to the north-east.
Founded by the French in 1627, Basseterre became a British colonial possession in 1783, and the capital of independent St Kitts and Nevis in 1983.
Accommodation in Basseterre
Ottley's Plantation Inn:
Originally a 17th century sugar plantation, Ottley's transports guests to a bygone era of gracious living, hospitality and elegance. The 35-acre historic inn is a magnificent hideaway and has been beautifully renovated to preserve its aura of colonial grandeur and graciousness while adding modern luxuries desired by today's discerning traveller.
Frigate Bay Resort:
With stunning views of the Atlantic Ocean and Caribbean Sea, a continual ocean breeze wafts through the 64-room resort. Although the tranquil waters of the Caribbean are just steps away, there's a luxuriously tiled Olympic sized pool with swim-up bar and poolside Bistro restaurant on the premises.
St Kitts Marriott Resort and Royal Beach Casino:
This incredible resort offers an unparalleled island vacation experience. The luxury guest rooms are trimmed with West Indian accents and cutting-edge comforts. There's plenty of choice of where to eat and relax; with 8 restaurants and 3 lounges; a 35,000 sq ft Casino; 15,000 sq ft Spa, with men's and women's saunas, hot and cold tubs, and relaxation lounges.
Charlestown is the main port on Nevis.
Attractions include the Museum of Nevis History, Botanical Gardens, Martha's West Indian Tea House, Eva Wilkin Gallery at Clay Ghaut, and Captain Horatio Nelson Museum at Bellevue.
From a Colony to Independence:
Information and history about the Federation of St. Kitts and Nevis in the Eastern Caribbean.
Non-Tourist Trap Nevis:
Michael S. Maxson's original non-tourist-trap guide to Nevis presents Nevis' friendly people, local cuisine, charming lodging, unique nightlife, and numerous activities.
Nevis Travel Information:
Travel tips for foreign visitors to Nevis.
Accommodation in Charlestown
Montpelier Plantation Inn: Saint Johns Parish.
Set high in the hills amid 30 acres of lush tropical vegetation, this historic 18th-century sugar plantation is distinguished by the warm hospitality of a private country house. The Inn was host to the marriage of Lord Nelson and Fanny Nesbit in 1787 and retains many relics from those times, including a windmill which was in use until 1933.
The Hermitage Inn: St John Figtree Parish.
The Hermitage Plantation is one of the oldest wooden houses in the Caribbean, with a very long tradition of welcoming guests to Nevis. This charming boutique hotel slumbers at 800 feet above sea level at the base of Nevis Peak, the 3,000 foot, rainforest covered mountain, with the beautiful beaches of Nevis less than a 15 minute drive away from the hotel.
Guests can enjoy the library, sitting room, freshwater pool, sun terrace, tennis court with complimentary rackets and balls, horseback riding, and carriage rides. Onsite dining is available at the Hermitage Restaurant, considered to be one of the finest hotel dining rooms on the island.

Travel Professionals Based in St Kitts and Nevis.
Become a Member to Add Your St Kitts Listing.

Add a Business Listing - Add a Destination Guide - Add a Place to Stay.


If you find Travel Notes useful, please take a moment to like us on Facebook and share with your friends on social media.
Caribbean Index - Caribbean Tourism - Caribbean Travel Websites.