St Vincent and the Grenadines by iSAW Company on Unsplash.
Travel Notes: Latin America - Caribbean - The Grenadines Travel Notes - Updated 16 July, 2023.
Short URL: https://tnot.es/GV
Grenadines Travel and Tourism on Travel Notes
Find Grenadine Islands Travel and Tourist Information with links to official travel and tourism websites and state resources for visitors to The Grenadines.
About The Grenadine Islands
Whether you're looking for a romantic getaway, a family vacation, or an adventure-filled trip, you're sure to find it in the beautiful and welcoming Grenadines.
The Grenadines includes a chain of islands in the Caribbean, with St. Vincent serving as the main island and gateway to the rest of the Grenadines.
Map of Bequia
The Grenadines is a group of islands in the Caribbean Sea, located between Saint Vincent and Grenada.
It is part of the country of St. Vincent and the Grenadines, which is a sovereign state composed of 32 islands and cays.
Northern Grenadines
The Islands of the northern Grenadines include Bequia, Canouan, Mustique, Mayreau, and Union - all part of the independent country of St Vincent and the Grenadines.
The Grenadine Islands became British dependencies in the 18th century.
The Grenadines is known for its stunning beaches, crystal-clear waters, and coral reefs, which make it a popular destination for diving and snorkeling.
Famous Islands in The Grenadines
Some of the most famous islands in the Grenadines include Bequia, Mustique, Canouan, Union Island, and Petit St. Vincent.
Canouan is known for its spectacular beaches and world-class golf course, while Union Island is a popular spot for kiteboarding and windsurfing.
Petit St. Vincent is a secluded private island that offers a peaceful retreat from the hustle and bustle of everyday life.
Cultural Heritage
The Grenadines has a rich history and cultural heritage, with influences from Africa, Europe, and the Caribbean.
Local cuisine features fresh seafood and tropical fruits, and the islands are known for their vibrant music and dance scene.
You can experience the local culture by attending festivals, visiting historic sites, or listening to live music at local bars and restaurants.
Tourism
Tourism in the Grenadines is an important industry, providing employment for a significant portion of the population.
The Grenadines is a popular destination for travel and tourism, known for its beautiful beaches, coral reefs, turquoise lagoons, and lush tropical rainforest.
A group of about 600 small islands in the Caribbean Sea, the Grenadines is a breathtakingly beautiful and culturally rich destination that offers something for everyone, whether you're looking for relaxation, adventure, or a combination of both.
Travellers visiting the Grenadines can enjoy a range of activities, including eco-adventures such as hiking and exploring the rainforest, as well as water-based activities like diving, snorkeling, and sailing.
Popular tourist attractions in the Grenadines include Macaroni Beach, Friendship Bay Beach, Lower Bay Beach, Princess Margaret Beach, and Saltwhistle Bay Beach.
Accommodations
The Grenadines offer a range of accommodations, from luxurious resorts to more affordable guesthouses and vacation rentals.
Some of the most popular options include the Mandarin Oriental on Canouan, the Cotton House on Mustique, and the Palm Island Resort on Palm Island.
Activities
There are plenty of activities to enjoy in the Grenadines, including snorkeling, diving, sailing, hiking, and exploring local villages and markets.
Some of the must-see attractions include the Tobago Cays Marine Park, the Old Hegg Turtle Sanctuary on Bequia, and the La Soufriere volcano on St. Vincent.
Food
The Grenadines offer a variety of delicious Caribbean cuisine, including fresh seafood, jerk chicken, roti, and locally grown fruits and vegetables.
Be sure to try some of the local specialties, such as grilled lobster or conch fritters.
Getting There
The easiest way to get to the Grenadines is by flying into the Argyle International Airport on St. Vincent, which offers connections to various Caribbean destinations and North America.
From there, you can take a ferry or a small plane to the other islands in the Grenadines.
Bequia is the largest island in the Grenadines and is known for its scenic harbour, charming villages, and vibrant local culture.
Bequia Tourism
The Bequia Tourism Association (BTA) was formed in December 1999 by a group of individuals from the Bequia business community, with the dual aims of protecting and enhancing the island's resources for both visitors and the community, and of attracting more visitors to the island through its own promotional and marketing initiatives.
The tiny island of Bequia has an unique, magical charm which is hard to find anywhere else in the Caribbean.
With fewer than six thousand inhabitants, it feels like home from the moment you arrive; friendliness is the watchword, and the pace is relaxed and easy-going.
Bequia Dive Adventures
Bequia Dive Adventures is a full service PADI Dive Centre conveniently located on the harbour walk in Belmont, a few steps from numerous excellent guest houses, small hotels and restaurants.
Bequia Ferries
A fun way to arrive in Bequia is by local ferry boat departing from the nation's capital, Kingstown, on St. Vincent. Allow 15-20 minutes from E.T. Joshua airport to the ferry pier in Kingstown.
Bequia Net:
Directory of information and links related to the Grenadine island of Bequia.
Getting Around Bequia:
Bequia's famous open-backed taxis are well known for their courteous and friendly operators. Taxis are widely used for getting around -- to and from Port Elizabeth, to the beaches, to restaurants -- and home again in the evening.
Old Fort Bequia:
This historic, formerly defendable French plantation house, is now a wonderful hilltop country inn with tropical gardens on a 30 acre estate; overlooking dozens of islands in the sparkling Caribbean sea. The Old Fort offers five comfortable rooms - four doubles and a single - all with ensuite bathroom.
Spring on Bequia:
Small, family run hotel with 9 rooms on a 225 year old, 28 acre working plantation. Situated on the windward side of Bequia, about a mile from the main town of Port Elizabeth.
Where to Stay in Bequia
Gingerbread Hotel
Gingerbread Hotel: Belmont, Bequia.
Centrally located on Admiralty Bay, Bequia's wide and gentle harbour.
The Gingerbread Hotel is located within a few minutes' walk of Port Elizabeth, the island's administrative centre; where you will find local shopping, restaurants and the ferry dock.
Frangipani Hotel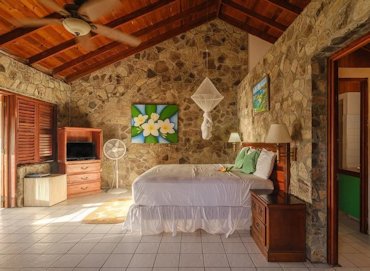 Frangipani Hotel: Belmont, Bequia.
This shingle-sided, two-storey building has gracefully presided over the nautical comings and goings of Admiralty Harbour ever since a Bequia sea captain built it for his family, almost a century ago.
The more luxurious garden rooms at the Frangipani Hotel are hand-crafted of local stone and hardwoods: Each has a balcony facing westward over the yacht basin, where the setting sun dips down behind the palms.
Mustique is a private island that is popular with the rich and famous, and features luxurious resorts and villas.
Map of Mustique
Getting to Mustique
Mustique Airways
Mustique Airways is your gateway to the wonderful Islands of Mustique, St. Vincent, Canouan, Bequia, and throughout the Caribbean.
Flying across the Caribbean for over 40 years, Mustique Airways continues to offer passengers an exclusive private charter service in The Grenadines and a scheduled service to St. Vincent and beyond.
Where to Stay in Mustique
Mustique Island Villa Rentals
Mustique is a secluded 1,400 acre island surrounded by beaches of pure white sand. It is a private retreat of barefoot luxury for those who visit and a peaceful setting where one can rest, recuperate and indulge.
Mustique Island has eighty-five private residences and a large majority are available for rent throughout the year.
Carriacou
Carriacou, in the south, is part of the independent country of Grenada.
Island Time Holidays
Island Time Holidays is a small company specialising in tailor-made holiday packages for travellers who want to spend their precious vacation time in this undiscovered destination in the Caribbean.
Windward Islands - Caribbean Island Maps.
Weather in the Caribbean:
Local weather forecasts for destinations around the Caribbean region.
Travel Notes Online Guide to Travel
Africa - Asia - Caribbean - Europe - Middle East - North America - Oceania - South America.

The Travel Notes Online Guide to Travel helps visitors plan their trip with country and city travel guides, local tourist information, reviewed web sites, and regular travel articles.
Guadeloupe.
Travel and Tourism Guides on Travel Notes
If Travel Notes has helped you, please take a moment to like us on Facebook and share with your friends on social media.


Travel & Tourism With Industry Professionals.