Short URL: https://tnot.es/GF
French Guiana is the oldest of the overseas possessions of France and the only remaining French territory on the American mainland.
Overseas Departments of France.
Quick Links
French Guiana Travel and Tourist Information with links to official travel and tourism websites and state resources for visitors to French Guiana.
Cayenne, European Space Agency, French Guiana Maps, French Guiana Overview, French Guiana Travel Guides, French Territory on American Mainland, Kourou, Map of The Guianas, Penal Colonies, Tourism in French Guiana.
French Guiana is located on the north-eastern coast of South America, between Suriname and Brazil.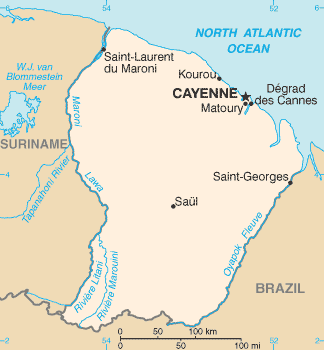 If you've travelled around South America speaking Spanish and Portuguese, it's nice to sip a Kronenbourg and speak a little French for a change.
Weather in South America:
Local weather forecasts for destinations around Latin America.
The capital of French Guiana is on Cayenne Island, at the mouth of the Cayenne River.
The harbour is too shallow for large ships, although there is boat service to other coastal points in French Guiana.
The French established their first settlement at Cayenne in the early 17th century.
The Dutch occupied it a couple of time in the 1660s, with the French acquiring permanent control early in the 18th century.
Best Western Hotel Amazonia: 28 Av. General De Gaulle.
The Best Western Hotel Amazonia, a large complex with a restaurant, bar and a residential apartment building, is located on Cayenne's main shopping avenue.
Grand Hotel Montabo: Chemin Hilaire, route de Montabo.
The former Novotel is located in a tropical garden, close to the beach.
The French established a penal colony here in the 1850s, with nearby Devil's Island another notorious penal colony.
Devil's Island, off the steamy coast of French Guiana, is famous for being infamous.
Cruise liners stop by where once the prison ships landed their cargoes of hardened criminals. A must-see on the South American tourist circuit.
Papillon:
Henri Charriere was a Frenchman, convicted in 1931 of a murder he did not commit. Sentenced to life imprisonment, he spent 12 years in the penal colony of French Guiana. After eight unsuccessful attempts to escape, he finally got away to Venezuela. More than 20 years later, when he was 60, Charriere wrote this story.
Hotel Mercure Kourou Ariatel: Avenue de St Exupery.
Situated on the outskirts of Kourou, on the edge of the Bois Diable lake, on four acres of private grounds.
The European Space Agency operates a satellite launching facility at Kourou, from where the Ariane rocket was first launched in 1983.
Rockets roar into space, bearing roughly half the world's commercial satellites, from the same South American coastal rainforest where convicts once did time on infamous Devil's Island.
Arianespace:
Latest launch news from the Guiana Space Centre, also known as the Spaceport. Its strategic location near the Equator provides optimum operating conditions for commercial launches. Access to the Spaceport is strictly controlled.
French Guiana receives over 50,000 tourists a year.
Guyane Tourism:
The official presentation from the Tourist Board of French Guiana.
Guyane Touristique:
Tourism guide to French Guiana for speakers of French.
Gabe's French Guiana:
Personal site hosted on Geocities with pictures of places to see and things to do around French Guiana.
Guyane Introduction:
Brief introduction to French Guiana and the ecosystem.
Map of French Guiana:
Very basic map of French Guiana, showing the localities.
Map of French Guiana:
Large map of French Guiana showing roads, rivers and localities.

Add a Business Listing - Add a Destination Guide - Add a Place to Stay.


If you find Travel Notes useful, please take a moment to like us on Facebook and share with your friends on social media.
South America Index - South America Tourism - South America Websites.