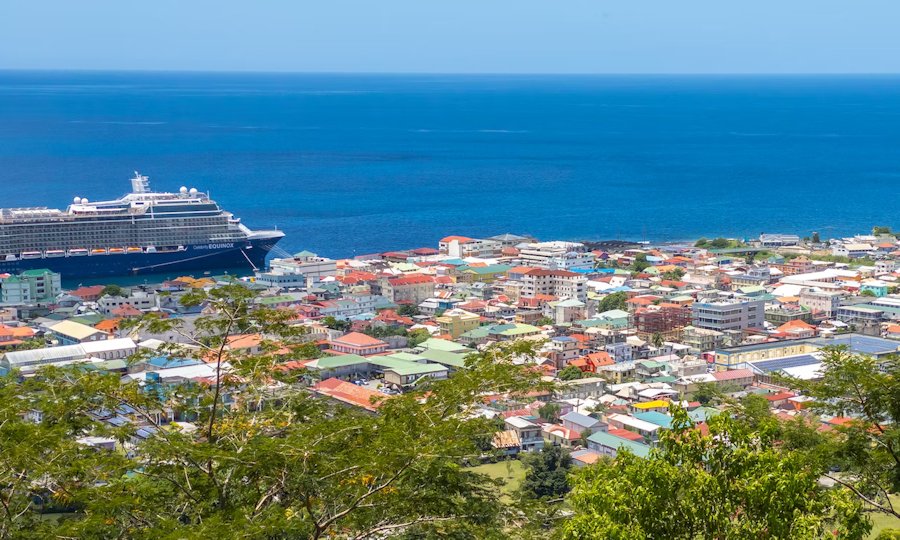 Roseau, Dominica by Nario Esprit on Unsplash.
Travel Notes: Latin America - Caribbean - Dominica Travel Notes.
Short URL: https://tnot.es/DM
Dominica Travel and Tourism on Travel Notes
Find Dominica Travel and Tourist Information with links to official travel and tourism websites and state resources for visitors to Dominica.
About Dominica
Dominica, also known as the 'Nature Island of the Caribbean', is a great travel destination for those interested in nature, outdoor activities, and sustainable tourism.
Some popular activities include hiking, diving, snorkeling, and whale watching.
Map of Dominica
Dominica is a mountainous island of volcanic origin in the Lesser Antilles, with Roseau its capital and main port.
One of the Windward Island republics in the West Indies, Dominica has Guadeloupe to the north and Martinique to the south.
Dominica is a small island country in the eastern Caribbean Sea.
Part of the Lesser Antilles, Dominica is located between the French islands of Guadeloupe and Martinique.
Brief History
Christopher Columbus first sighted the island on November 3rd, 1493 and named it Dominica.
The French arrived in 1632, but the island was handed over to the British in 1763 by the Treaty of Paris.
Dominica gained full independence from Great Britain on November 2nd, 1978.
Cultural Heritage
Dominica has a rich cultural heritage, influenced by its history of colonization by the French and British.
Its music, dance, and cuisine are a blend of African, European, and indigenous Kalinago traditions.
Language
The official language of Dominica is English, although a French patois is also spoken among the Roman Catholic islanders.
Natural Beauty
Dominica is known for its natural beauty, with lush rainforests, sparkling rivers, and towering mountains.
People
The island has a population of approximately 75,000 people, and its capital city is Roseau.
Politics
Dominica is a parliamentary democracy with a president as the head of state and a prime minister as the head of government.
The country is a member of the Commonwealth of Nations and the United Nations.
Tourism
Tourism is an important industry in Dominica, with visitors drawn to its unspoiled natural beauty and abundant opportunities for outdoor activities like hiking, diving, and snorkeling.
The island is also known for its hot springs and natural spas.
A beautiful island nation located in the Caribbean Sea, Dominica is a wonderful destination for anyone looking to immerse themselves in nature and experience the warmth and hospitality of Caribbean culture.
Culture
Dominica has a rich cultural heritage, with a vibrant music scene, colourful festivals, and a deep connection to the natural world.
Some popular events include Carnival, the World Creole Music Festival, and the Nature Island Literary Festival.
Food
Dominica's cuisine is a fusion of African, European, and Caribbean influences, with plenty of fresh seafood, tropical fruits, and spicy flavors.
Some must-try dishes include callaloo soup, codfish cakes, and pepperpot stew.
Getting to Dominica
The easiest way to get to Dominica is by flying into the Douglas-Charles Airport, which is the island's main airport.
American Airlines offer all sorts of savers and programmes.
Several other airlines have flights to Dominica from major cities in the Caribbean and North America.
Things to Do
Roseau's Roman Catholic cathedral was built in the 18th century, and you can also visit the botanical gardens.
Dominica is a nature lover's paradise, with plenty of opportunities for hiking, diving, snorkeling, and exploring the lush rainforests, waterfalls, and hot springs.
Some popular attractions include the twin waterfalls at Trafalgar, Morne Trois Pitons National Park, Boiling Lake, and Champagne Reef.
Dominica Excursions
Where to Stay in Dominica
Dominica offers a variety of accommodations options, ranging from eco-lodges and budget-friendly guesthouses to luxury resorts.
Some areas to consider staying in include Roseau, Portsmouth, and Soufriere.
Map of Roseau
Popular options include Jungle Bay Resort & Spa, Secret Bay, and Rosalie Bay Resort.
Dominica Travel Guides - Dominica Maps.
Weather in the Caribbean:
Local weather forecasts for destinations around the Caribbean region.
Travel Notes Online Guide to Travel
Africa - Asia - Caribbean - Europe - Middle East - North America - Oceania - South America.

The Travel Notes Online Guide to Travel helps visitors plan their trip with country and city travel guides, local tourist information, reviewed web sites, and regular travel articles.
Dominican Republic.
Travel and Tourism Guides on Travel Notes
If Travel Notes has helped you, please take a moment to like us on Facebook and share with your friends on social media.


Travel & Tourism With Industry Professionals.