Sandwich Harbour, Namibia by Sergi Ferrete on Unsplash.
Travel Notes: Africa - Namibia Country Guide - Updated 17 July, 2023.
Namibia Country Guide on Travel Notes
The Orange River, forming Namibia's southern border with South Africa, is one of the few all year rivers in the country.
About Namibia
Namibia is a destination with unique landscapes, abundant wildlife, and a rich cultural heritage.
Whether you are interested in natural wonders, cultural experiences, or thrilling adventures, Namibia has something to satisfy every type of traveller.
The flag of Namibia is divided diagonally, from the lower hoist corner to upper fly corner, by a wide red stripe edged by narrow white stripes.
The upper hoist-side triangle is blue and charged with a yellow, 12-rayed sunburst; while the lower fly-side triangle is green.
Namibia is a country located in south-western Africa.
It is bordered by Angola to the north, Zambia and Zimbabwe to the north-east, Botswana to the east, and South Africa to the south and south-east.
The South Atlantic Ocean lies to the west of Namibia.
Administrative Divisions
13 regions:
Caprivi; Erongo; Hardap; Karas; Khomas; Kunene; Ohangwena; Okavango; Omaheke; Omusati; Oshana; Oshikoto; Otjozondjupa.
Adventure and Outdoor Activities
Namibia offers a wide range of outdoor activities for adventure enthusiasts.
These include sand-boarding, quad biking, hiking, wildlife safaris, hot air ballooning, and scenic flights over the Namib Desert.
Capital City
The capital and largest city of Namibia is Windhoek; the economic, cultural, and administrative centre of the country.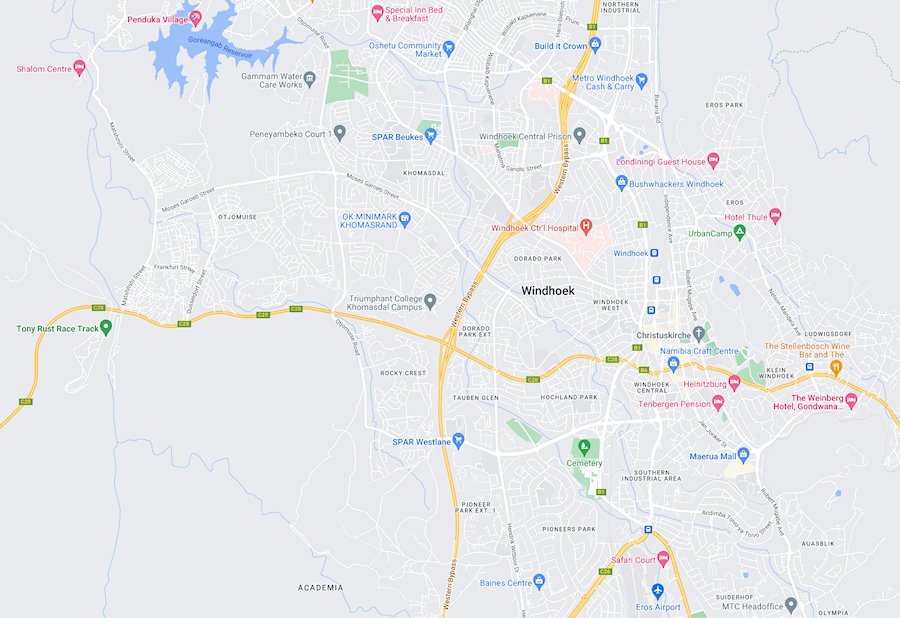 Map of Windhoek, Capital of Namibia.
Climate
Namibia has a predominantly arid climate, with hot summers and mild winters.
The coastal regions experience a cool and foggy climate due to the cold Benguela Current.
Cultural Heritage
Namibia is home to various ethnic groups, each with its own traditions and cultural practices.
The Himba people, known for their distinctive red ochre-covered bodies, and the San people, who are among the oldest indigenous groups in Africa, are of particular cultural interest.
Currency
The currency of Namibia is the Namibian Dollar (NAD).
The South African Rand (ZAR) is also widely accepted.
Geography
Namibia is known for its diverse geography, which includes the Namib Desert along the Atlantic coast, the central plateau, and the Kalahari Desert in the east.
The country is sparsely populated and covers an area of around 825,615 square kilometers.
Independence Day
21st March, 1990 (from South African mandate).
Languages
The official language of Namibia is English, while the national language is Oshiwambo.
Other languages spoken in Namibia include Afrikaans, German, and various indigenous languages.
National Parks and Wildlife
Namibia is renowned for its spectacular landscapes and diverse wildlife.
Etosha National Park is one of Africa's premier wildlife destinations, offering excellent game viewing opportunities.
Other notable parks include the Namib-Naukluft National Park, Skeleton Coast National Park, and Fish River Canyon.
Population
One of the least densely populated countries in the world, Namibia has a population of around 2.8 million people.
Rainfall is generally low and erratic.
Sossusvlei and Namib Desert
Sossusvlei is a popular tourist attraction in Namibia, famous for its towering red sand dunes.
It is located in the Namib Desert, one of the oldest deserts in the world, known for its stunning beauty and unique ecosystem.
Tourist Safety
Namibia is generally considered a safe country for travellers.
However, it is always advisable to take necessary precautions and follow local guidelines to ensure a safe and enjoyable trip.
Visa Requirements
Depending on your nationality, you may require a visa to enter Namibia.
It is recommended to check with the Namibian embassy or consulate in your country for the most up-to-date visa requirements.
Namibia Travel Guides - Namibia Maps.
South Africa occupied the German colony of South-West Africa during World War I and administered it as a mandate until after World War II, when it annexed the territory.
In 1966 the Marxist South-West Africa People's Organization (SWAPO) guerrilla group launched a war of independence for the area that was soon named Namibia, but it was not until 1988 that South Africa agreed to end its administration in accordance with a UN peace plan for the entire region.
Namibia was governed by SWAPO after the country won independence in 1990.
Hifikepunye Pohamba was elected president, in November 2004, in a landslide victory; replacing Sam Nujoma, who led the country during its first 14 years of self rule.
Namibia on Travel Notes
Namibian Cities - Namibian Lodges - Namibian News - Namibian Regions - Namibian Tourism - Namibian Wildlife.
Travel Notes Online Guide to Travel

The Travel Notes Online Guide to Travel helps visitors plan their trip with country and city travel guides, local tourist information, reviewed web sites, and regular travel articles.
Airlines and Airports.
Travel and Tourism Guides on Travel Notes
If Travel Notes has helped you, please take a moment to like us on Facebook and share with your friends on social media.


Travel & Tourism With Industry Professionals.
Online Travel Resources

Advertise on Travel Notes - Affiliates - Airlines - Airports - Business Listings - Car Hire - City Guides - Cruises - Favourite Places - Flights - Hostels - Hotels - Lodging - Rail Travel - Round The World - Timeshares - Topsites - Tours - Travel Blogs - Travel Insurance - Vacation Rentals.