Central, Hong Kong by Red John on Unsplash.
Nomadic Gatherings: Chapter Four: Colonial Gateway.
Between the modern financial offices of Central Hong Kong, old trams trundled along Des Voeux Road, and peddlers tinkled bicycle bells almost unaware of the diesel-fuelled double-decker buses behind them.
No-one stood still for a moment in Hong Kong. I had to get a visa for China.
1. Landing in Hong Kong:
The South China Sea and Fragrant Harbour were names I had romanticised about. Colonial Hong Kong; trade-winds and pirates; a Gateway to China.
2. Around Hong Kong:
The floating restaurants were still an attraction at Aberdeen, although many of the Sampan dwellers had been re-located.
3. People's Republic of China:
Customs formalities were completed at Hong Kong station as Express Train 98 waited to ceremoniously transport us into The People's Republic of China.
4. Green Tea of China:
The Express didn't travel much faster than a tube train, but at least it didn't stop at all the outlying, passenger-laden platforms. After Lo Wu, China.
5. British in Canton:
The British foreign secretary ordered the attack on Canton, which was to signal the start of the first Opium War, and the indirect fall of the Qing dynasty.
6. Guangzhou:
The station was only good for same-day tickets, if I wanted a sleeper in a few days it would be better to try the China International Travel Service (CITS).
7. Change Money:
Change money. Hong Kong Dollar, FEC? I heard the phrase about ten times within a minute. I shrugged them off and set out to find the Dong Fang Hotel.
8. Fresh Food in China:
The Chinese shop for their fresh produce early in the mornings; so fresh that the animals still breathed, jumped, wriggled, or tried to fly away.
9. Guangzhou Zoo:
The panda slept all afternoon, and as I tried to take a picture or write a few notes, I was more of a curiosity than the animals themselves.
10. Going Bananas:
Bunches of ripening yellow hung from kiosks, lay spread-out on mats on the floor. There were more bananas in baskets and even on the back of bikes.
11. Along The Pearl River:
In the shade of trees, across from the city, barbers gave a uniform cut in the open-air. Older men sat around picking their toes, spitting, or playing cards.
12. Attracting a Crowd:
There were nods of approval and sighs of comprehension. I was sure that the older people understood a lot more than they were prepared to let on.
13. The Foreign Bookstore:
I looked in at the Foreign bookstore and made a note of some of the titles on display.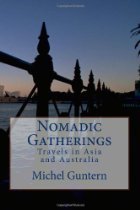 Nomadic Gatherings - by Michel Guntern.
Travel Notes Online Guide to Travel

The Travel Notes Online Guide to Travel helps visitors plan their trip with country and city travel guides, local tourist information, reviewed web sites, and regular travel articles.
Travel and Tourism Guides on Travel Notes
If you enjoy Nomadic Gatherings, please take a moment to share it with your friends on social media.


Travel & Tourism With Industry Professionals.
Chapter Five: China Travel.