Guangzhou Station by Hiurich Granja on Unsplash.
Chapter Four: Colonial Gateway - Guangzhou Station.
Today the population of Guangzhou is over 5 million, and the town is influenced by money from Hong Kong and Overseas Chinese.
I didn't want to leave as soon as I arrived, but I was advised that since an available ticket could take at least three days, I should make an onward ticket my first priority.
With the help of an Hong Kong Chinese girl, we tried the station booking-office. A mass of people queued, pushed, sweated, spat, or dejectedly sat around bags of humble possessions tied up with string.
There was one train a day to Shanghai that left at 8.25 in the morning and arrived the following evening.
The station was only good for same-day tickets, and if I wanted a sleeper in a few days time it would be better to go to the China International Travel Service (CITS).
I thanked Mi Lu, and stepped out into the mass alone.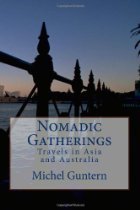 Nomadic Gatherings - by Michel Guntern.
Travel Notes Online Guide to Travel

The Travel Notes Online Guide to Travel helps visitors plan their trip with country and city travel guides, local tourist information, reviewed web sites, and regular travel articles.
Turn The Page: Change Money.
Travel and Tourism Guides on Travel Notes
If you enjoy Nomadic Gatherings, please take a moment to share it with your friends on social media.


Travel & Tourism With Industry Professionals.