Pearl River, Guangzhou by Hiki Liu on Unsplash.
Chapter Four: Colonial Gateway - Meeting The Chinese.
For a little peace, I walked along the river.
In the shade of the trees, across from the city, barbers gave a uniform cut in the open-air.
Older men sat around picking their toes, spitting, or playing cards. They didn't leer at passing women as perhaps the Italians or Greeks might.
Passenger craft headed out to Hong Kong, ferries continually crossed the Pearl River, and Sampans chugged beneath the towering White Swan Hotel. I soon attracted attention.
"What you write?" an old man had already crouched beside me.
"It's about the scenery."
"Ah," he looked at the notebook more closely.
I wasn't quite sure how much he could read of my handwriting or even understand.
"I foreign Chinese," he smiled and revealed two bottom teeth moulded in gold to fit alongside the originals, and another nugget gleamed from the top right-hand side of his mouth.
A gap in his teeth suggested that the old man was still saving, or had recently visited a pawn shop. He smelt of beer.
He said he was in Singapore, but never England. He liked the fact that I was in his land and that our countries were being friends.
"How old are you?" he asked.
I told him, and he thought that was young. I asked him what the large red sign on the bridge meant.
"It means that workers should work hard to build the city."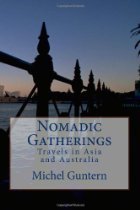 Nomadic Gatherings - by Michel Guntern.
Travel Notes Online Guide to Travel

The Travel Notes Online Guide to Travel helps visitors plan their trip with country and city travel guides, local tourist information, reviewed web sites, and regular travel articles.
Turn The Page: Attracting a Crowd.
Travel and Tourism Guides on Travel Notes
If you enjoy Nomadic Gatherings, please take a moment to share it with your friends on social media.


Travel & Tourism With Industry Professionals.