Photo by Max van den Oetelaar on Unsplash.
Chapter Four: Colonial Gateway - Fresh Food in China.
The CITS office was on the third floor of the Dong Fang Hotel.
The first train I could catch would be in four days time. I paid for a hard-sleeper and arranged to pick up the ticket the evening before departure; they had to get the ticket from the station.
Train travel in China came in four categories: hard-seat, soft-seat, hard-sleeper, and soft-sleeper. A hard-seat was half the price of a hard-sleeper, but on a thirty-six hour train journey I would need to stretch out if I hoped to get any sleep and arrive in a sane condition.
The Chinese shop for their fresh produce early in the mornings; so fresh that the animals still breathed, jumped, wriggled, or tried to fly away.
Stalls sold live turtles, frogs, crabs, eels, pigeons, and chickens. The cats, I was assured, were sold for the pot, rather than to be fussed over as a pet.
Fish swam in their tanks until they were chosen by the customer, or the stall-holder decided to scale and dice one on the blood-stained chopping-board; its gills still moved and the little heart pumped long after the initial shock of slitting steel.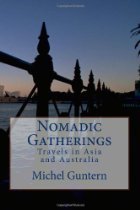 Nomadic Gatherings - by Michel Guntern.
Travel Notes Online Guide to Travel

The Travel Notes Online Guide to Travel helps visitors plan their trip with country and city travel guides, local tourist information, reviewed web sites, and regular travel articles.
Turn The Page: Guangzhou Zoo.
Travel and Tourism Guides on Travel Notes
If you enjoy Nomadic Gatherings, please take a moment to share it with your friends on social media.


Travel & Tourism With Industry Professionals.