Short URL: http://tnot.es/AUtips
The Travel Notes Online Guide to Travel helps you find out more about travel destinations and tourist attractions in Australia and beyond.
If you find Travel Notes useful, please take a second to like us on Facebook and share with your friends on social media.
Australia locals and frequent visitors share their travel tips on Travel Notes.
Australian Outback
The most important thing about travelling in the Australian outback, is to make sure you let people know where you are going and when you think you will arrive at your destination.
By Ben Wilks - Holiday Oz.
Coolangatta and Kingscliff
If you like golf, good food, kangaroos, lovely scenery, and mountain walks then number one on your list should be the area around Coolangatta and Kingscliff in SW Queensland and Northern New South Wales.
From here you can spend an easy week exploring some of the best sceneries in Australia and miles after miles of ocean beach walks.
Enjoy great food in small towns like Bangalow; climb Mount Warning (a ten hour return walk); play golf at some of Australia's best resort courses; or just try a local club and pay less - with some local characters and natives kangaroos thrown in for added atmosphere.
But the number one tip for visitors to Australia is - we don't tip. Please don't feel obliged to tip.
By Hans Sander - Australian Travel Services.
Great Barrier Reef
A boat trip out to the Great Barrier Reef means more intense exposure to the sun than on the land. Please take suitable precautions and don't let sunburn ruin your Reef experience!
By Pete Carpenter - The Great Barrier Reef Experience.
Kangaroo Island
Kangaroo Island is Australia's third largest island stretching 155 kilometres long and spanning 55 kilometres wide.
Having been separated from the mainland during the last ice age, Kangaroo Island is a true wilderness, and 30% of the island is protected as conservation and National Parks. Many plants and animals existing on the Island are no longer found anywhere else.
The high season for Kangaroo Island is between October to May.
To explore the island, plan to stay three days, or if possible a week.
You will be able to:
- See wildlife in their natural surroundings by day and night.
- Learn about the turbulent history of Kangaroo Island.
- Explore caves.
- Taste local produce.
- Relax and revitalise.
If you're pushed for time, you could even experience Kangaroo Island in a Day, from Adelaide. It's probably more of an experience to do the Kangaroo Island 2-Day Camping Safari though.
Self-drive is also popular option, though many prefer to gain a deeper understanding of the Island's history and ecology by joining a 4WD tour.
The accommodation options on Kangaroo Island include hotels, self-contained accommodation, farm stays, and bed and breakfast establishments.
By Georgia - Best of the Kimberley.
Karijini National Park - Australia's North West
Go down the Hancock Gorge via the spider walk and get to Kermit's pool. Then climb the right wall and go down using the metallic anchors. Then it's an easy walk to the centre of the earth, the most amazing place I've been.
By David.
Northern Territory
Much of Australia's Northern Territory require a permit to visit which tour operators usually arrange, unless otherwise advised. For self-drive travellers, permits should be arranged on arrival to ensure a smooth journey.
By Camilo - Travel NT.
Planning a Visit to Australia
As a general rule visit southern Australia in summer and northern Australia in winter. If you have 2 or 4 months available this is enough time to travel half of Australia either the Eastern half or Western half, but is more suited to three to four months. The extra month allows more time for sightseeing.
When travelling around or part of Australia your main costs are fuel, accommodation, food and activities. The distances and the time required travelling Australia can vary because of a lot of factors like what vehicle used, are you towing an RV or trailer, type of roads or terrain, and how long you stay at each destination.
By Tina - Travel Planning Australia.
Sydney Harbour
When visiting Sydney, be sure to do the Sydney Harbour Bridge climb, and take a high speed ride with Ocean Extreme - the fastest commercially operated vessel on Sydney Harbour.
By David Siebert - Short Stays.
Sydney Suburbs
Sydney is a vibrant multi-cultural city where almost every country is represented in either food, entertainment or demographic. There is always something to do and see. We recommend visiting the inner City suburbs of Newtown and Enmore where dining of all tastes are available and entertainment is buzzing on every corner.
By Iain Phillips - Cambridge Lodge, Sydney.
Sydney - Visit Manly
The best way to visit Manly is by taking a leisurely half-hour ferry ride from Sydney.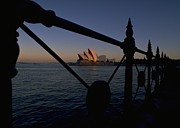 Sydney Opera House at Dusk, from an interesting perspective.
The ferry passes the Harbour Bridge and Opera House. At certain times of the year you may even be lucky enough to spot whales and dolphins on the journey.
By Mike Carr.
Tasmania - East Coast
Don't miss the East Coast of Tasmania; especially Coles Bay, Wineglass Bay and Freycinet National Park.
By Marie-Paule Leroux - A Frog in The Billabong.
Tim Tam Cookies
Make sure you eat a Tim Tam when visiting Australia. It is by far the best cookie out there!
By Sandra O'Connell - Your Australia Guide.
Tropical North Queensland
Dressing for the North Queensland tropical regions can be a bit daunting for those who are from colder parts of the world.
Locals in Cairns wear very few clothes; shorts, t-shirts, swimwear and sarongs are acceptable everyday attire. Natural fabrics such as cotton are very popular because of their ability to allow your skin to breathe.
Dress codes are very flexible here, most people you see on the street are on holiday and so attire is very informal. It is not strange to see people in their swimwear sitting at an Esplanade cafe.
At dinner, most men will not feel uncomfortable in a button up shirt and ladies should consider smart casual as their best option. Dinner jackets, ties and stockings are formalities which Cairns locals avoid (passionately).
Many activities in Cairns are based around the water - snorkelling and diving on the Great Barrier Reef, swimming at beaches, swimming in waterfalls and natural water holes - so it's important your skin is protected while you're in the sun.
Be sure to buy plenty of sunscreen and keep applying regularly.
By Nicky Jurd - Cairns Connect.
Victoria Wineries
When travelling in Victoria the Macedon Ranges and Spa Country have some of Australia's award-winning wineries so don't forget to visit them all.
By Shaun Stenning - What's on Victoria.
Visit The Kimberley
The Kimberley is one of the world's last great wilderness areas. The region covers nearly 423,000 sq. Kilometres with a population of about 30,000 people.
Its immense and magnificent landscape encompasses spectacular gorges and waterfalls, pockets of lush rainforest, magnificent pristine beaches and a huge variety of wildlife.
Open space, vast distances and a distinct lack of crowds are a pleasure when supported by excellent accommodation and tours.
Linking the two major townships of Broome and Kununurra is the sealed Great Northern Highway and the rugged Gibb River Road. Both of these routes offer adventure, however 4WD vehicles are required on unsealed roads.
The Kimberley experiences two distinct seasons; characterised by a warm, dry winter (May to October) and a hot, wet tropical summer (November to April) when unsealed roads can become impassable.
By Georgia - Best of the Kimberley.
When in Perth
When in Perth be sure to visit the Maritime Museum located at Victoria Quay, Fremantle. While in Fremantle be sure to spend an afternoon at the renowned 'Fremantle Markets' - open Friday to Sunday.
By City West Accommodation.
Australia Travel Guides
Australia Travel Notes - Online Guide to Australia:
Find out more about Australia @ Travel Notes.