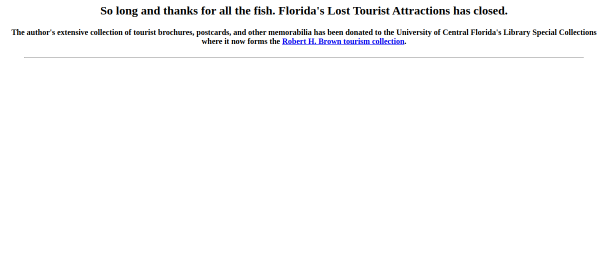 Before the giant mouse ate Orlando and Interstate Highways were built to cattle chute tourists directly into International Drive, there was another Florida.
Fast forward from the age of the roadside attraction to closed tourist sights and roadside theme parks that wiltered in the Florida sunshine.
Details
Tourist attractions have a way of springing up on the Florida roadside like wildflowers - or litter: bright, shiny and full of hope to begin with, only to wither and die when they just can't quite sustain the magic.
Tags
This site is dedicated to the history of past Florida attractions like Circus World, Pirates World, and more.
Robert H. Brown created this site as an homage to the diversity that was Florida tourism; delving into the details of those forgotten places and updating his site with a record of this largely uncharted chunk of the state's history.
e-Business Card
Website: Lost Parks.
Deep Linking
Florida Attractions Timeline - Master List of Forgotten Attractions - Never Never Lands.
Related Links
Travel Notes Online Guide to Travel

The Travel Notes Online Guide to Travel helps visitors plan their trip with country and city travel guides, local tourist information, reviewed web sites, and regular travel articles.
Orlando Off-Airport Check-in.
Travel and Tourism Guides on Travel Notes
If Travel Notes has helped you, please take a moment to like us on Facebook and share with your friends on social media.


Travel & Tourism With Industry Professionals.