Night Market, Taipei by Adli Wahid on Unsplash.
Chapter Three: Little Sister - Restaurant in Taipei.
In a restaurant in Taipei one of the five waitresses came forward with English explanations to the Chinese menu, and returned to talk a little after she had placed my order.
"Where are you from?" she asked.
"England."
"Why are you in Taiwan?"
I'd never really thought about it so I told her that I'd been to Japan and Korea and that the island was on the way to Hong Kong.
"Then you go back to England?"
England was just a memory. I told her that I hoped to travel on the trains in China.
"China!" She put her hand to her mouth and returned to her friends, laughing at the absurdity.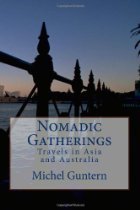 Travel Notes Online Guide to Travel
The Travel Notes Online Guide to Travel helps visitors plan their trip with country and city travel guides, local tourist information, reviewed web sites, and regular travel articles.

Join Michel on Meta-Travel.
Chapter Four: Colonial Gateway.
If you enjoy Nomadic Gatherings, please take a moment to share it with your friends on social media.