Taiwan Landscape by Yeo Khee on Unsplash.
Chapter Three: Little Sister - On The Bus to Taipei.
The bus to Taipei was smoother and the windows remained in position.
Next to me the young lady's baby dribbled a little, but otherwise slept soundly. Across the aisle two older women with old straw bags crammed with provisions, talked constantly and ate healthily.
The rest of the coach reclined in their seats with papers open on their laps, but apparently not being read. Heads rocked gently with the motion, I looked for life beyond the glass.
Flat, open fields dominated the scene, although my map showed the Central Mountain Range away to the right and the Taiwan Straits to the left.
Around Sani, the road started to climb over green hills with plenty of trees. The baby still slept, and surprisingly the women still spoke to each other and expressed themselves with enthusiastic hand gestures.
Twenty kilometres from Taipei and nearly three hours later the women still had plenty to say. The straw food-basket was still being dipped into. The woman nearest to me pulled out two slices of melon and offered one to her friend.
"No thank-you," she appeared to have eaten enough. But the offerer was persistent and kept her arm outstretched, gesturing for the other to take the melon.
Eventually they both slurped on the fruit. The baby's eyes remained shut, its mother held a bottle to the sucking mouth.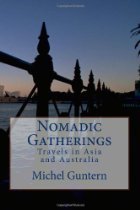 Nomadic Gatherings - by Michel Guntern.
Travel Notes Online Guide to Travel

The Travel Notes Online Guide to Travel helps visitors plan their trip with country and city travel guides, local tourist information, reviewed web sites, and regular travel articles.
Turn The Page: Restaurant in Taipei.
Travel and Tourism Guides on Travel Notes
If you enjoy Nomadic Gatherings, please take a moment to share it with your friends on social media.


Travel & Tourism With Industry Professionals.