Tainan, Taiwan by Wei-Cheng Wu on Unsplash.
Chapter Three: Little Sister - Tainan.
At Tainan, four hours south of Taipei by air-conditioned coach, the taxi-driver was pleased to see me in the early hours of the morning; but I had nowhere to go.
It was too late to find a room, so I joined the old men with their belongings in old rice bags, and settled down on a long bench in the station waiting-room.
There were no more trains anywhere; everything was quiet. It all seemed safe enough, but I strapped my bags together and sprawled across them to make sure that I still had them in the morning.
Once in Rome, a friend had had his rucksack stolen from under his head while he was sleeping at the station. I took no chances, I had better things to do than crawl to the British Embassy to announce my loss of possessions and passport.
Tainan is the oldest city on the island of Taiwan, and it was the capital between 1663 and 1885. The Ming Dynasty general, Cheng Ching Kung (or Koxinga) defeated the Dutch in the 17th Century and became a national hero.
A shrine and a fort have been restored to mark those glory days.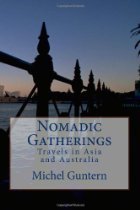 Nomadic Gatherings - by Michel Guntern.
Travel Notes Online Guide to Travel

The Travel Notes Online Guide to Travel helps visitors plan their trip with country and city travel guides, local tourist information, reviewed web sites, and regular travel articles.
Turn The Page: Chungshan Park.
Travel and Tourism Guides on Travel Notes
If you enjoy Nomadic Gatherings, please take a moment to share it with your friends on social media.


Travel & Tourism With Industry Professionals.