Chungshan (Taichung) Park by Markus Winkler on Unsplash.
Chapter Three: Little Sister - Chungshan Park.
I didn't see the boundless energy that dubbed Taiwan an economic miracle.
The sheltered serenity of Chungshan Park was littered with bodies escaping the heat and noise.
Old men, loving couples and young children wanted nothing more than to sit or sleep, take a few pictures or stroll around the lake under the portable shade of an umbrella.
I chose the sunniest patch of grass to rest with my book.
"American?" I was asked.
"No, English," I replied.
"Ah, Eengree," the stranger looked at me and moved on.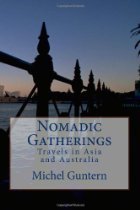 Nomadic Gatherings - by Michel Guntern.
Travel Notes Online Guide to Travel

The Travel Notes Online Guide to Travel helps visitors plan their trip with country and city travel guides, local tourist information, reviewed web sites, and regular travel articles.
Turn The Page: Bus Travel in Taiwan.
Travel and Tourism Guides on Travel Notes
If you enjoy Nomadic Gatherings, please take a moment to share it with your friends on social media.


Travel & Tourism With Industry Professionals.