Korean People by Markus Winkler on Unsplash.
Nomadic Gatherings: Chapter Two: Kimchi and Gold Medals - Korean People.
"What do you think of Korean people?"
Friendly and helpful, of course; which on the whole they were.
The streets were clean; a necessity as much food trading was done at floor level.
Street food-vendors were in abundance: hot-dogs on a stick and dipped in batter were a local favourite; bananas, slices of pineapple and water melon were also popular. Rubbish-bins overflowed with sticks and banana skins.
"What is your work?"
I would change this to suit my mood. I was away to do nothing more than move along, look and see, read and write, and take a few pictures. I couldn't say that was work.
"Would you like to read this?"
The booklet was invariably about believing and the wonders it could do to my life.
"Thank-you. I believe and isn't it wonderful," I would smile.
I had been verbally manoeuvred once again in the preacher's chess-game, that would always end with a very polite:
"Welcome to Korea," and "Have a nice stay."
We flew above darkening clouds, the sun had slipped below the horizon, the outside light slowly faded. I returned to Paul Theroux's 'Great Railway Bazaar'. I was flying, but we had a similar fascination with motion.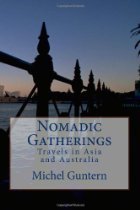 Nomadic Gatherings - by Michel Guntern.
Travel Notes Online Guide to Travel

The Travel Notes Online Guide to Travel helps visitors plan their trip with country and city travel guides, local tourist information, reviewed web sites, and regular travel articles.
Travel and Tourism Guides on Travel Notes
If you enjoy Nomadic Gatherings, please take a moment to share it with your friends on social media.


Travel & Tourism With Industry Professionals.
Chapter Three: Little Sister.