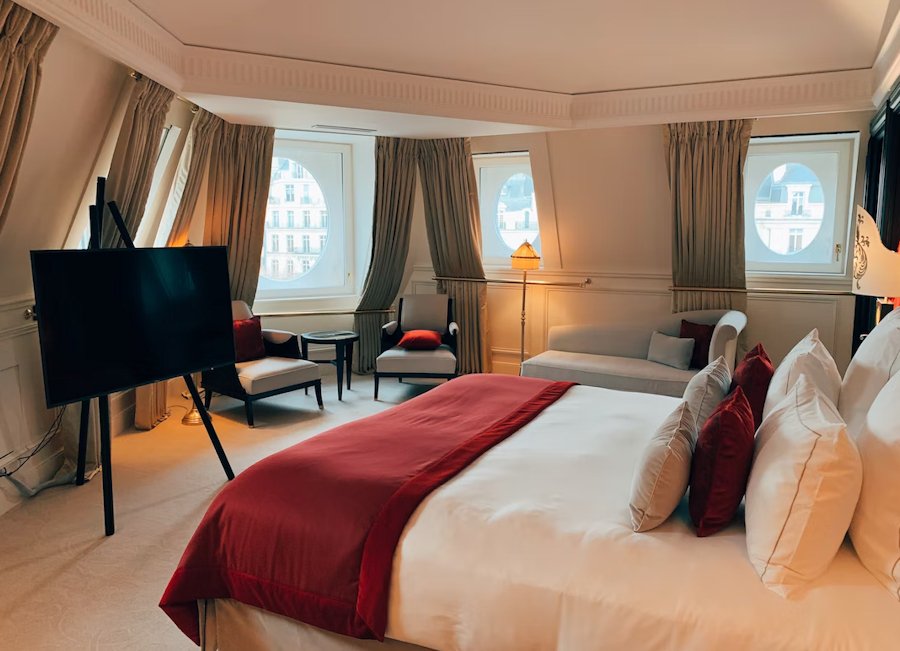 Photo by reisetopia on Unsplash.
Travel Notes: Travel Notes Directory - European TV Channels.
In most European hotels, your room will have a television programmed with satellite or cable channels from neighbouring countries.
Here's some of the programmes you might find.
3sat:
The three country German station based in Mainz targets viewers in Germany, Austria and Switzerland.
ARD:
The German channel out of Munich also known as Das Erste, or Erstes Deutsches Fernsehen. Programmes include Verbotene Liebe, Marienhof, Herzblatt, Tagesschau, Sportschau, Tatort, Morgenmagazin and Lottozahlen.
ARTE:
French and German channel out of Strasbourg with good documentaries.
Bayerischen Rundfunk:
Bavarian Broadcasting, stationed in Munich.
BBC World News:
The BBC's commercially funded international 24-hour news and information channel, broadcasting to 270 million homes in more than 200 countries and territories, from its base at BBC Television Centre in London.
Canal+:
French channel for premium sports and films.
Euronews:
Europe's news channel covering world news from an European perspective, in a choice of seven languages: English, French, German, Italian, Portuguese, Russian and Spanish.
Eurosport:
Pan-European sports channel reaching over 100 million households in 54 countries. Created in 1989, Eurosport is 100 percent owned by France's TF1.
France 2:
French television channel with some sports coverage on a Saturday, especially rugby.
France 3:
French channel with a more regional look in their news coverage. Also covers French football matches and cycling.
kabel eins:
German channel with a lot of good films and documentaries. Also shows Cheers and Seinfeld in the early hours (during the week).
KiKA:
Der Kinderkanal (children's channel) is based in Erfurt, Germany.
M6: (6 play)
One of the French commercial television networks, funded solely by advertising revenues. M6 is ranked second in French media sites and the most popular with those aged under 35.
MDR:
The Mitteldeutscher Rundfunk is based in Leipzig with regional studios in Dresden, Erfurt and Magdeburg.
NDR:
Norddeutscher Rundfunk (North German Broadcasting) based in Hamburg.
n-tv:
German news channel owned by the RTL Group.
ORF: (O3 Hitradio Livecam)
The Austrian Broadcasting Corporation offer two channels, ORF1 and ORF2 broadcasting news from Austria. The lack of interrupting advertising makes ORF a great channel for films, live football and Grand Prix racing.
PRO 7:
With the motto 'We love to entertain you', ProSieben is Germany's second largest privately-owned television company.
Rai:
Radio Audizioni Italiane is an Italian public service broadcaster operating three terrestrial television channels. Rai Uno is the main channel and targets the family market, while Rai Due tries to focus on a slightly younger audience.
RTL:
Originally broadcasting out of Luxembourg, RTL is now located in Cologne. As Germany's biggest commercial private television company, RTL also offers Formula 1 with Niki Lauda.
RTL Zwei:
Once infamous for its soft-porn, RTL Zwei has tried to move towards quality programming with science magazines and documentaries. The films they show have lots of commercial breaks and sex phone number ads later at night.
RSI:
Based in Ticino, Radiotelevisione Svizzera di Lingua Italiana broadcasts to Italian speakers in Switzerland.
RTS:
Radio Television Suisse serves Switzerland's French-speaking population.
RTVE:
Radiotelevision Española is the Spanish public broadcasting corporation.
Sat.1:
Sat.1 was the first privately owned television broadcasting station, starting one day before RTL Television.
Schweizer Fernsehen: (SRF)
Schweizer Fernsehen DRS (SF) started in 1958 as TV DRS. There are now two main channels, SF1 and SF2. Based in Zurich.
Star TV:
Film, lifestyle and entertainment for viewers in the German part of Switzerland.
Super RTL:
First aired in 1995, Super RTL is a German television channel catering to children. Based in Cologne.
SWR:
The Sudwestrundfunk (Southwest Broadcasting) is a public broadcasting company for the southwest of Germany; specifically the states of Baden-Wurttemberg and Rhineland-Palatinate.
TF1:
The leading French generalist television channel.
TV5 Monde:
The fourth largest global television network available around the world after MTV, CNN and BBC World. Most of the content is taken from mainstream networks in the French-speaking world.
VOX :
German channel showing many BBC documentaries and American films.
WDR:
The Westdeutscher Rundfunk is a public broadcaster, in the German Bundesland of North Rhine-Westphalia, with its main office in Cologne.
ZDF:
Zweites Deutsches Fernsehen (Second German Television) is a public service German-language television channel based in Mainz.
Travel Notes Online Guide to Travel

The Travel Notes Online Guide to Travel helps visitors plan their trip with country and city travel guides, local tourist information, reviewed web sites, and regular travel articles.
Writing.
Travel and Tourism Guides on Travel Notes
If Travel Notes has helped you, please take a moment to like us on Facebook and share with your friends on social media.


Travel & Tourism With Industry Professionals.