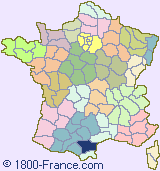 With an area of 6,139 km², the département of Aude is located in the région of Languedoc-Roussillon.
The préfecture is Carcassonne and the sous-préfectures are Limoux and Narbonne.
Neighbouring departments are Ariège, Haute-Garonne, Hérault, Pyrénées-Orientales and Tarn.
The department is named after the river Aude, which flows into the Mediterranean Sea.
The department of Aude can be further divided into the following areas: Carcassonnais, Corbières, Haute Vallée de l'Aude, Lauragais, Minervois and Narbonnaise.
Tourism in Aude:
Comité Départemental du Tourisme d'Aude
Chemin du Moulin de la Seigne - 11855 Carcassonne.
Association des Sites du Pays Cathare:
14 rue du 4 septembre - 11000 Carcassonne.
Conseil Général de l'Aude:
Chemin du Moulin de la Seigne - 11855 Carcassonne.
Alet-les-Bains Tourist Office:
Avenue Nicolas Pavillon - 11580 Alet-les-Bains.
Aude en Pyrénées Tourist Information:
Square André Tricoire - 11500 Quillan.
Azille Tourist Office:
24, avenue Pol Lapeyre - 11700 Azille.
Bages Tourist Office:
8, rue des Remparts - 11100 Bages.
Belcaire Tourist Information: (Pays-de-Sault)
Route d'Ax les Thermes - 11340 Belcaire.
Bizanet Tourist Office:
1 place Vivet - 11200 Bizanet.
Carcassonne Tourist Office:
28, rue de Verdun - 11000 Carcassonne.
(There's also a tourist office in the right tower, as you enter over the drawbride in the Cité).
Castelnaudary Tourist Office:
Place de la République - 11400 Castelnaudary.
Caunes-Minervois Tourist Information:
1, ruelle du Monestier Abbaye Romane - 11160 Caunes-Minervois.
Chalabre Tourist Office:
Cours d'Aguesseau - 11230 Chalabre.
Corbières Sauvages Tourist Information:
Route de Padern - 11350 Cucugnan.
Coursan Tourist Office:
10 bis, avenue Jean Jaurès - 11110 Coursan.
Cuxac-d'Aude Tourist Office:
1, rue Saint Jacques - 11590 Cuxac-d'Aude.
Fleury Tourist Office:
9, boulevard du Général de Gaulle - 11560 Fleury.
Gorges de la Clamoux Tourist Information:
Complexe Vitalis Cros Médiathèque - 11160 Villeneuve-Minervois.
Gruissan Tourist Office:
1, boulevard du Pech-Maynaud - 11430 Gruissan-Village.
La Palme Tourist Office:
Place de la République - 11480 La Palme.
La Piege et Lauragais Tourist Information:
Place du Teil - 11270 Fanjeaux.
Lagrasse Tourist Information:
6, boulevard de la Promenade - 11220 Lagrasse.
Leucate-Port Tourist Information:
Espace Culturel - 11370 Leucate-Port.
Lezignan-Corbières Tourist Office:
9, cours de la République - 11200 Lezignan-Corbières.
Mas-Cabardes Tourist Information:
Z.A. de Massefans - 11380 Mas-Cabardes.
Montolieu Tourist Information:
Rue de la Mairie - 11170 Montolieu.
Narbonne Tourist Office:
Place Roger Salengro - 11100 Narbonne.
Ouveillan Tourist Information
Place des Pénitents - 11590 Ouveillan.
Peyriac-de-Mer Tourist Information:
Place Aubin Fabre - 11440 Peyriac-de-Mer.
Port-la-Nouvelle Tourist Office: (Map)
Place Paul Valéry - 11210 Port-la-Nouvelle.
Rieux-Minervois Tourist Information:
Place de l' Eglise Romane - 11160 Rieux-Minervois.
Saissac Tourist Information:
La Tour - 11310 Saissac.
Sallèles-d'Aude Tourist Information:
3, Grand Rue - 11590 Sallèles-d'Aude.
Sigean Tourist Information:
Place de la Libération - 11130 Sigean.
Trebes Tourist Office:
12 avenue Pierre Curie - 11800 Trebes.