Tokyo Skyline by Louie Martinez on Unsplash.
Chapter One: Taking Off - Staying in Tokyo.
It was more luck than judgement that I steered myself out of Tokyo subway station to the exit in my direction.
I had booked a hotel at the airport, and at least had an address in a totally alien city where not all roads are sign-posted, and even taxi-drivers have to go on a paper chase; often navigating by subway stations.
The first night in my single-video/TV-slippered-toothbrush-and-toweled-business-hotel room was a soothful stay; a jet-lag convalescence.
The second was also very nice, but the third seemed a blatant misuse of funds.
How could I justify a week's food-bill on eight hours between clean sheets?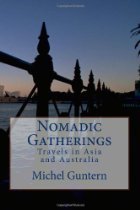 Nomadic Gatherings - by Michel Guntern.
Travel Notes Online Guide to Travel

The Travel Notes Online Guide to Travel helps visitors plan their trip with country and city travel guides, local tourist information, reviewed web sites, and regular travel articles.
Turn The Page: Pilgrimage to Nikko.
Travel and Tourism Guides on Travel Notes
If you enjoy Nomadic Gatherings, please take a moment to share it with your friends on social media.


Travel & Tourism With Industry Professionals.