Photo_Credit.
Chapter Six: Northern Capitals - Sitting in Silence.
If the three Chinese men in my compartment refused to talk to each other, then I had very little chance of striking up any sort of meaning with them.
The man opposite me wore glasses and hid himself behind one of his three papers; a man with a blue cap beside me snatched one of the other papers from the table, without appearing to ask the owner's permission; and the third stranger was somewhat overweight and had trouble breathing.
He pumped some hot water into his tea jar, and intermittently slurped at the brew.
The train squeaked its way into the night, and soon the compartment sounded asleep.
South of Shanghaiguan, where The Great Wall meets the sea, patches of green appeared in the otherwise dry, brown landscape.
A lone dog wandered away from its master; a father with his child. The little child had a red coat on, and I could clearly see it squatting.
This reminded me of a little girl I had seen in the Harbin waiting-room. She could have been no more than three or four years old. She had on three pairs of woollen trousers, each pair had a purpose-made crutch hole; the girl could squat wherever and whenever she needed.
It was certainly convenient for the parents, but a little chilly for the child - I thought.
There is a complete lack of privacy when you want a shit in China; it seems the ultimate leveller of the people.
How can anyone have any pretensions, squatting over a hole without a door to close off the space, and a head on view of the straining person opposite?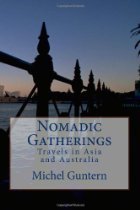 Nomadic Gatherings - by Michel Guntern.
Travel Notes Online Guide to Travel

The Travel Notes Online Guide to Travel helps visitors plan their trip with country and city travel guides, local tourist information, reviewed web sites, and regular travel articles.
Turn The Page: Wake, Eat, Sleep.
Travel and Tourism Guides on Travel Notes
If you enjoy Nomadic Gatherings, please take a moment to share it with your friends on social media.


Travel & Tourism With Industry Professionals.