At The Airport by Erik Odiin on Unsplash.
Chapter Two: Kimchi and Gold Medals - Kimpo International Airport.
At Kimpo International airport everybody had a destination.
The departure board flicked the flights away, new ones climbed the ladder towards boarding; my destination was Taipei.
Great Britain lost to South Korea's women in the Olympic hockey, to the delight of the majority of passengers watching the screen in the departure lounge.
Some of the Koreans sat on the floor, but most of them watched standing in a semi-circle with one eye on the flight situation.
Three security guards stood with their guns slung over their shoulders; the Games had so far gone off peacefully without any threats from the North or other outside sources occurring.
But surveillance and bag-checks continued.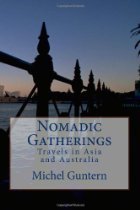 Nomadic Gatherings - by Michel Guntern.
Travel Notes Online Guide to Travel

The Travel Notes Online Guide to Travel helps visitors plan their trip with country and city travel guides, local tourist information, reviewed web sites, and regular travel articles.
Turn The Page: The Seoul Olympics.
Travel and Tourism Guides on Travel Notes
If you enjoy Nomadic Gatherings, please take a moment to share it with your friends on social media.


Travel & Tourism With Industry Professionals.