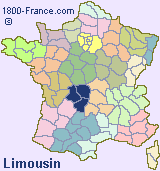 The region of Limousin has three departments: Correze (19), Creuse (23) and Haute-Vienne (87).
The regional prefecture of Limousin is Limoges.
Neighbouring regions are Aquitaine, Auvergne, Centre, Midi-Pyrenees and Poitou-Charentes.
Correze (19)
Agence Dordogne Vallee:
13, avenue Pasteur, Argentat.
Selection of properties in Correze, Cantal and Lot.
Blayez Immobilier:
48, avenue Charles de Gaulle, Egletons.
Covers all of the Limousin region.
Les Agences du Limousin:
43, avenue Henri IV - Argentat-sur-Dordogne.
32, rue du General de Gaulle - Beaulieu-sur-Dordogne.
18, place Gambetta - Tulle.
1, rue du Pont Turgot - Uzerche.
Creuse (23)
Vert et Bleu Immobilier:
1 rue l'Arrier, Bourganeuf.
Specialises in traditional stone properties in southern Creuse.
Haute-Vienne (87)
Gourdon Immobilier:
70, avenue de la Liberation, Bussiere-Poitevine.
Family-run estate agency working in the regions of Poitou, Limousin and Centre.
Live in Limousin:
38, rue Charles Michels, Limoges.
Properties for sale throughout the Limousin and Charente regions.

Add a Business Listing - Add a Destination Guide - Add a Place to Stay.


If you find Travel Notes useful, please take a moment to like us on Facebook and share with your friends on social media.
France Travel Guides - France Maps.