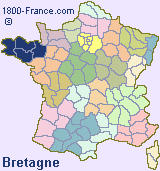 The region of Bretagne (Brittany) has four departments: Cotes-d'Armor (22), Finistere (29), Ille-et-Vilaine (35) and Morbihan (56).
The regional prefecture of Bretagne is Rennes.
Neighbouring regions are Basse-Normandie and Pays de la Loire.
Breton Homes:
Seven agencies on hand to help you find your ideal property in Brittany.
17bis, rue du Lac - Huelgoat.
20, place du square - La Gacilly.
44, rue du Val - Lamballe.
1, avenue de la Boule d'Or - Lanvallay.
3, rue Julien Le Bellour - Noyal Pontivy.
5, place du General de Gaulle - Plemet.
28bis, rue des allies - Plouay.
Cotes-d'Armor (22)
Argoat Immobilier:
8, place du Centre, Bourbriac.
Bourbriac is just over an hour away from from St. Malo, Roscoff, and Rennes while the 'pink granit rose' and its fantastic sandy beaches are only 45 minutes minutes away.
Kerizac Property Services:
14b Rue des Genets, Guingamp.
The independent agency, started by Karen Pigott and Nicholas Pepworth, was created to offer a more personal, professional and knowledgeable service to both vendors and purchasers than was available from the larger firms at the time.
L'Immobiliere des Tourelles:
Three offices to help you find a property in central Brittany.
7, place du Marche - Corlay.
19 rue de Pontivy - Mur-de-Bretagne.
14, place Kreisker - St Nicholas du Pelem.
Finistere (29)
Ille-et-Vilaine (35)
Morbihan (56)
Francophiles Immobilier:
Le Bourg, Rue des Forges, Lizio.
In the heart of Brittany, Lizio is situated between Vannes and Rennes.

Add a Business Listing - Add a Destination Guide - Add a Place to Stay.


If you find Travel Notes useful, please take a moment to like us on Facebook and share with your friends on social media.
France Travel Guides - France Maps.