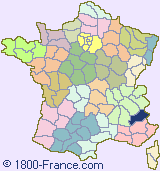 The department of Hautes-Alpes is located in the region of Provence-Alpes-Cote d'Azur.
The prefecture is Gap and the sous-prefecture is Briancon.
Neighbouring departments are Alpes-de-Haute-Provence, Drome, Isere and Savoie.
The department is named 'Upper-Alps' after the Alps mountains.
Tourism in Hautes Alpes:
8bis, rue Capitaine de Bresson - Gap.
Briancon Tourist Office:
Place du Temple - Briancon.
Champsaur-Valgaudemar Tourist Office:
Les Barraques - La Fare en Champsaur.
Devoluy Tourist Office:
Maison du Devoluy - Saint-Etienne-en-Deoluy.
Gap Tourist Office:
2a, cours Frederic Mistral - Gap.
La Grave-La Meije Tourist Office:
RN 91 - La Grave.
Les Orres Tourist Office:
Centre Administratif - Les Orres.
Montgenevre Tourist Office:
Route d'Italie - 05100 Montgenevre.
Orcieres 1850 Tourist Office:
Maison du Tourisme - Orcieres.
Pays des Ecrins Tourist Information:
Office de Promotion du Pays des Ecrins - L'Argentiere la Bessee.
Pays du Buech Tourist Office:
Rue du Lac - Serres.
Split into Le Serrois, Le Veynois, Le Laragnais, Le Haut-Buech, Le Rosanais and L'Orpierrois.
Pays du Guillestrois Tourist Office:
Place Salva - Guillestre.
Le Queyras Tourist Information:
Maison du Queyras - Aiguilles.
Covers Aiguilles, Abries-Ristolas, Arvieux, Chateau Ville Vieille, Ceillac, Molines and Saint-Veran.
Reallon Tourist Office:
Station de Reallon - Reallon.
Risoul Tourist Office:
Office du Tourisme - Risoul.
Serre-Chevalier Tourist Office:
Office de Tourisme - Serre Chevalier.
Serre-Poncon Tourist Office:
Covers , , , , , , , , , , , , , , and .
Tallard Tourist Office:
Place Commandant Dumont - Tallard.
Vars Tourist Office:
Cours Fontanarosa - Vars.

Add a Business Listing - Add a Destination Guide - Add a Place to Stay.


If you find Travel Notes useful, please take a moment to like us on Facebook and share with your friends on social media.