Tourists in Kyoto by Sorasak on Unsplash.
Nomadic Gatherings: Chapter One: Taking Off - Tourists in Kyoto.
Kyoto was not the 'old capital of Japan' that I had expected. The size of the station gave me some indication that all would not be quaint outside.
The Imperial capital for more than 1,000 years seemed to have similar aspirations today. The palaces, shrines and temples of yesteryear were scattered around a thriving modern metropolis.
A booming Japanese economy meant a healthy tourist industry.
Quite often I was the only foreigner surrounded by the ceremonious Japanese tour-guide and her flock of homely punters.
The guide's flag would go up and the group would obediently follow; 'Sureshots' and 'Nikkormatics' at the ready.
Occasionally I would get a courteous bow, and when I returned the courtesy, a chorus of giggles.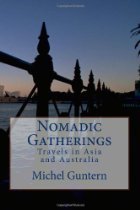 Nomadic Gatherings - by Michel Guntern.
Travel Notes Online Guide to Travel

The Travel Notes Online Guide to Travel helps visitors plan their trip with country and city travel guides, local tourist information, reviewed web sites, and regular travel articles.
Travel and Tourism Guides on Travel Notes
If you enjoy Nomadic Gatherings, please take a moment to share it with your friends on social media.


Travel & Tourism With Industry Professionals.
Turn The Page: Staying in Kyoto.