Shinkansen Train Travel in Japan by Fikri Rasyid on Unsplash.
Chapter One: Taking Off - Taking The Train in Japan.
The sleek, streamlined, white and blue bullet drew up casually, like a head waiter in a white tuxedo ready to take an order.
The Hikari Super Express to Hakata; Shinkansen in Japanese, was the 'créme de la créme' of train travel (until the Australians finally produced the Sydney-to-Melbourne-in-three-hours with either French or Japanese consultation). The station platform was neatly marked out with yellow arrows and numbers indicating where the corresponding carriage would stop.
I was in line five; carriages one to five were unreserved. Everyone waited in orderly fashion, even the 'gaijin' (foreigner) could get this one right; unlike washing and rinsing all the soap off before getting in the bath, so hot that you want to dive in a cooler immediately or add just a little cold water; not wearing outside shoes in the house or house-slippers on tatami mats; not wearing house slippers in the toilet, toilet slippers were for that; and not forgetting to change back afterwards!
So much of Japanese life was rules, rituals and ceremony; keeping grace and saving face.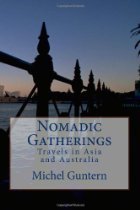 Nomadic Gatherings - by Michel Guntern.
Travel Notes Online Guide to Travel

The Travel Notes Online Guide to Travel helps visitors plan their trip with country and city travel guides, local tourist information, reviewed web sites, and regular travel articles.
Turn The Page: On The Train in Japan.
Travel and Tourism Guides on Travel Notes
If you enjoy Nomadic Gatherings, please take a moment to share it with your friends on social media.


Travel & Tourism With Industry Professionals.