Aso, Kumamoto, Japan by Superidol on Unsplash.
Chapter One: Taking Off - Ascent to Mt Aso.
The rising sun was a good cure for a night spent on an undersized wooden bench.
I had arrived too late to book into overnight accommodation and no Geisha girls offered to take me home.
Wisps of cloud veiled the sun, but the fauna-covered volcanic rises tickled my senses.
There were only ten people on the train ascent and once again I was making comparisons with Switzerland; so green, so clean, and now the mountain train.
The approach to the smoking crater was even more spectacular than the mountain train arrival.
In the cable-car to the crater's edge I was once again the only foreigner on the periphery of an all-Japanese tour party.
I could have been in a lift going up the Eiffel tower.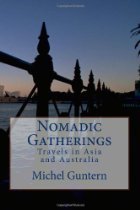 Nomadic Gatherings - by Michel Guntern.
Travel Notes Online Guide to Travel

The Travel Notes Online Guide to Travel helps visitors plan their trip with country and city travel guides, local tourist information, reviewed web sites, and regular travel articles.
Turn The Page: The Cable-Car Hostess.
Travel and Tourism Guides on Travel Notes
If you enjoy Nomadic Gatherings, please take a moment to share it with your friends on social media.


Travel & Tourism With Industry Professionals.