Great Wall of China by William Olivieri on Unsplash.
Chapter Six: Northern Capitals - Great Wall of China.
It was sunny the day I went to Badaling to see the Great Wall, although the icy wind made it feel like mid-winter.
The security guards pushed lesser mortals aside; a dignitary was coming.
The President of Finland admired the view from his own personal space, photographers after a picture and a group of blond journalists in trench-coats struggled to get through the crowds at the rear.
Then coaches and cars had to wait for the limousine convoy to snake its way back down the pass.
The Chinese often raised their voices at each other in the street, and came seemingly close to blows.
There was something in their temperament that always made them push, shove, and barge; to be the first one on or off the buses and trains, or served before anyone else.
They didn't seem to care for queues, or want to wait; even though to be seen to, we always had to queue or wait for them.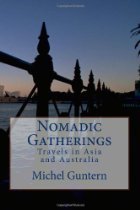 Travel Notes Online Guide to Travel
The Travel Notes Online Guide to Travel helps visitors plan their trip with country and city travel guides, local tourist information, reviewed web sites, and regular travel articles.

Join Michel on Meta-Travel.
Turn The Page: Tiananmen Square.
If you enjoy Nomadic Gatherings, please take a moment to share it with your friends on social media.