Harbin by Chengkai Lou on Unsplash.
Chapter Six: Northern Capitals - Harbin Arrival.
In the morning there were no clouds to burn off, but a light ground-frost to thaw.
Even in our double-glazed carriage I could feel the threatening chill outside. I put on another shirt, the growler put on another pair of thermals and a pair of trousers.
Disembarkation from the soft-sleeper was very civilised; perhaps no-one wanted to be first out into the cold air.
I followed my breath and made reserving an evening return bed to Beijing my first priority.
Harbin is the capital of Heilongjiang province with a population in excess of two million.
The Manchurian plains, the professor informed me, produced mainly corn; and wheat filled the fields in mid-summer. Now they were brown and bare.
Harbin was originally a fishing port; the name means fish-drying place but I only saw vegetables stacked in the sun.
The sun warmed the day, but the icy wind penetrated my thin layers of clothing and froze me.
History says that Japan invaded Manchuria in the early 1940s, and the Soviets followed in 1945.
Some of the dome-shaped architecture remains from the Russian period, although much was destroyed during the Cultural Revolution.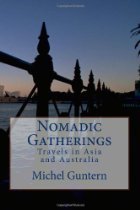 Nomadic Gatherings - by Michel Guntern.
Travel Notes Online Guide to Travel

The Travel Notes Online Guide to Travel helps visitors plan their trip with country and city travel guides, local tourist information, reviewed web sites, and regular travel articles.
Turn The Page: Noodles and Meat.
Travel and Tourism Guides on Travel Notes
If you enjoy Nomadic Gatherings, please take a moment to share it with your friends on social media.


Travel & Tourism With Industry Professionals.