February 23rd, 2015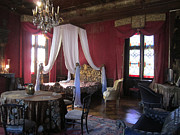 Chateau de Cormatin Interior. Located between Tournus and Cluny, in the heart of southern Burgundy, the Chateau de Cormatin was built by the Marquises of Huxelles in the early seventeenth century. This majestic 17th-century chateau features lav...
---
November 3rd, 2016
Suzhou Grand Canal in China Artwork. Navigating the Grand Canal of China in Suzhou. Although many tourists come to Suzhou to visit its numerous canals, stone bridges, pagodas, and intricately designed gardens, it's hard not to be equally impres...
---
April 29th, 2017
Plitvice Lakes National Park, Croatia. One of the oldest national parks in South-east Europe and the largest national park in Croatia, Plitvice Lakes (Plitvicka Jezera) National Park was added to the UNESCO World Heritage List in 1979. The exce...
---
November 8th, 2015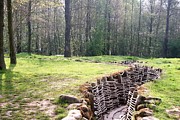 World War One Trenches - Western Front. On the Western Front, during World War One, much of the war was spent in trenches long, narrow ditches dug into the earth where soldiers lived together day and night. Held by infantry, the trenches define...
---
January 24th, 2016
New Zealand Mt Cook Artwork. Located in the centre of New Zealand's South Island, Mount Cook (Aoraki) is New Zealand's highest peak. For many, an image of New Zealand might include the snow-capped mountain of Mt Cook, or sheep. And they woul...
---
November 4th, 2016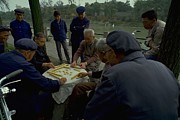 Mahjong in Guangzhou, China. Old people in Mao suits playing Mahjong in Guangzhou, China. Commonly played by four players, Mahjong originated in China during the Qing dynasty. The game is played with a set of 144 tiles, based on Chinese cha...
---
January 5th, 2018
Songkran in Vientiane, Laos. Children playing with water to celebrate New Year at the Songkran water-splashing festival in Vientiane, Laos. Initially young children poured scented, flower water over statues of Buddha while elders cleaned the ho...
---
November 9th, 2015
Fort de Douaumont - Verdun. The Battle of Verdun was the longest single battle of World War One. Fort de Douaumont was the largest and highest fort on the ring of 19 large defensive forts protecting the city of Verdun but still couldn't be adeq...
---
July 13th, 2016
Trans Amazonian Highway, Brazil. The Trans-Amazonian Highway (BR-230) is known as the Rodovia Transamazonica in Brazil. The third longest highway in Brazil runs through the Brazilian states of Paraiba, Ceara, Piaui, Maranhao, Tocantins, Para an...
---
November 2nd, 2016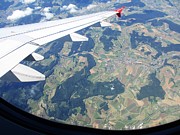 Air Berlin Over Switzerland Artwork. View from the aeroplane window during an Air Berlin flight over Switzerland, on the approach to Zurich Kloten airport, with another aircraft flying beneath the German passenger plane. The red and white airbe...
---
November 7th, 2016
Rickshaw Rider Relaxing Artwork. Waiting For Business. Cycle rickshaw driver relaxes at the side of the road and puts his feet up with a book, while waiting for customers. It's tiring work cycling overweight passengers around in the Indian h...
---
January 5th, 2016
Sydney Harbour Bridge, Australia. The Harbour Bridge is as classic a symbol of Sydney as the shells of the Opera House itself. Sydney Harbour Bridge, seen here at sunset, connects the Sydney central business district with the North Shore commer...
---
January 10th, 2018
On The Beach in Hikkaduwa, Sri Lanka. Beautiful sun-tanned woman in thong strolling along the sandy shoreline in Hikkaduwa, Sri Lanka enjoying life on the tropical beach while surfers try to catch a few waves. With blue above, blue below and so...
---
April 28th, 2016
Cows in India Artwork. The cow is sacred in India and woe betide the driver who doesn't swerve into a field to avoid them. Cows are not penned into fields here, and in the smaller towns and villages they wander wherever they like. An Indian ...
---
January 23rd, 2016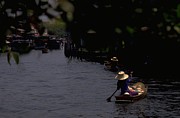 Bangkok Floating Market, Thailand. Once a traditional way of life on the numerous waterways in and around Bangkok, the floating market is now popular with leisure seekers at weekends something of a cultural spectacle for Thai tourists and foreigne...
---