Short URL: http://tnot.es/LV
Latvia was known as the Latvian Soviet Socialist Republic until 1991.
Quick Links
Around Latvia, Cesis, Latvia Accommodation, Latvia Tours, Latvia Travel Guides, Map of Latvia, Riga, Ventspils.
Available for Travel Assignments.
Countries neighbouring Latvia are: Lithuania, Belarus, Russia and Estonia.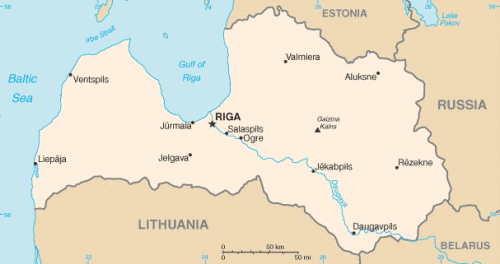 Weather in Europe:
Local weather forecasts for destinations around Europe.
The Cesis Region is crossed by the Riga - Pskov highway that goes on to St. Petersburg, and a road from Riga to Tartu.
Cesis Tourist Information
Modern-day Cesis stands as one of Latvia's three nationally treasured cities. Its location within the Gauja National Park, and its excellent rail, bus and road connections to the Latvian capital of Riga, make it an ideal centre for tourism development.
Cesis:
The Latvian town of Cesis is located in the northern part of Vidzeme Central upland, on high hillocks with terraces; overlooking the blue woods of the Gauja river valley.
Kolonna Hotel Cesis:
Built in 1938, the hotel was originally called the Tervete. In December 2005, the Hotel Cesis became a member of Kolonna Hotels Group. The Kolonna Hotel Cesis offers 40 rooms on three floors, with wireless Internet for guests.
The Jurmala health resort - with its romantic wooden houses in art nouveau (Jugendstil), its spacious beaches, forests, and calmly flowing Lielupe river - is located at the southern shore of the Bay of Riga, 22km from the Latvian capital.
Hotels in Jurmala:
Find hotels in Jurmala with special online rates.
Buses leave Riga for Ventspils every couple of hours, or you can catch one of the twice-daily trains.
The train is quicker, three and a half to four hours, but the Ventspils train station is out of the centre. The bus station is more convenient, although the bus journey to the capital takes from three to six hours.
Ventspils:
Located at the mouth of the Venta River, Ventspils' Baltic Sea port is ice-free. Visit the renovated old town and castle or relax on the nearby beaches.
Getting Around Latvia
You can enter Latvia directly through numerous ports, airports or via road from one of the neighbouring countries. Riga, the capital of Latvia, has the largest seaport with passenger facilities, railway terminal and international airport in the Baltics.
Latvia Sightseeing
There's plenty to see in Latvia, from castles and cathedrals to coastlines and forests.
Bauska Tourist Information:
Castles and museums in the Bauska region of Latvia. Photos, descriptions, opening hours and contact information.
Dobele:
Dobele is situated about 70 km south-west of Riga, on the banks of the river Berze; where the hilly part of Kurzeme meets the more flat region of Zemgale.
Latvia In Your Pocket:
Complete city and regional travel guides to many Latvian cities: Bauska, Burtnieki, Cesis, Daugavpils, Jelgava, Jurmala, Kolka, Kuldiga, Liepaja, Mezaparks, Riga, and Sigulda.
Latvia Tourist Board:
Recent changes in Eastern Europe have opened a new highway through the Baltic countries. It is called the Via Baltica. To drive along the Via Baltica is to discover places that for decades have been closed to western tourists.
Latvian Culture:
A collection of articles, from the Latvian Institute, to help you understand more about the Latvian identity and heritage.
Baltic Country Holidays:
Promoting tourism in the Latvian countryside, 'Lauku Celotajs' (Countryside Traveller) is a rural tourism association, established in 1993, with some 300 members around rural Latvia.
Kolonna Hotels Group:
Hotels under the Kolonna umbrella are located in Cesis, Kuldiga, Rezekne, Riga, and Saulkrasti.
Liepaja: Hotel Amrita:
Liepaja's Hotel Amrita has 83 comfortable and quiet rooms and luxurious suites, in cosy Scandinavian style. 220km from Riga and 60 km from Palanga airport, Liepja can also be reached by passenger ferries from Karlshamn (Sweden) and Rostock (Germany).
Compare Hotel Prices in Latvia
North Latvia
Leaving Riga and driving north-east will take you to the nature park of Gaujiena, and its palace and estate dating from the 19th century.
Southeast Latvia
Riga is the perfect base to begin a tour of the south-eastern region of Latgale, home to some of Latvia's most spectacular scenery as well as charming towns and villages.
West Latvia
The picturesque town of Tukums, nestling on the banks of the Slocene river between the hilly Kurzeme region and the plains of Zemgale, is an ideal starting point for a tour of the north-west of Kurzeme.
Latvia Tours:
Regular sightseeing tours in Riga and Latvia every week between May and September.
Via Riga Travel Agency:
Via Riga provides travel services to corporate travellers and tourists visiting Latvia and The Baltics. Also offers bus and walking tours of Riga and the surrounding area.
Latvia Travel Guides - Latvia Maps.
If you find Travel Notes useful, please take a moment to like us on Facebook and share with your friends on social media.